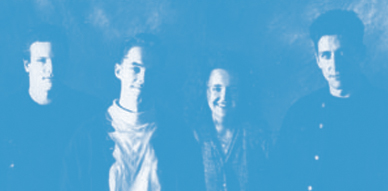 This is the last part of my NYC Popfest review. And then onto Indietracks because there's less than three weeks for the greatest indiepop festival of the year. Time does fly.
Let's say this is just gossip, but when Pushy Parents got offered a place to practice before their Saturday gig, well, they couldn't say no. I had vaguely met the band on Thursday, after been baked in the Cakeshop's basement oven, just outside the front door of the venue just in that moment when people are  about to go home but don't want to leave. Those extra fifteen, twenty minutes, outside the venue, hoping for something exciting to happen. Something else. Amanda and Helena, who were staying at my place, were figuring out with the rest of the band the plans, and what way were people walking towards their subway train. They spoke in Swedish naturally. And the rest of the band thought I was left behind, ignored. And then is when I briefly met them, as I say, "don't worry about me, I understand perfectly what you are saying", in my broken svenska. That's when I briefly, really briefly, met Petter, Therese and Frida. Isak, the other member of the band, I had met last year in London Popfest as he had also joined that time Amanda to be part of The Andersen Tapes.
Friday I left early to work and the girls headed to Flushing for authentic Chinese fare. Saturday they were the ones who left early. They had the chance to practice just before their gig at some place in Brooklyn. They've never been to this rehearsal studio but they had an address and a key. The story goes a bit like this, they find the address but there are like 20 doors. All of them are locked. Now, which door will the key fit. Kafakaesque and post-modern as it seems, the key turns on one of the doors, and they end up in a sleek and fancy Brooklyn bar. There are no instruments around, no microphones, just a drum kit. This can't be it, but there's beer. It's a bar after all.
They end up practicing outside the bar with the few instruments they've been carrying.
Meanwhile I've been attending the afternoon show at Spike Hill in Wiliamsburg. Chelsea and Bayern are playing the final game of the Champions League. Some people are caring about the game more than the shows. I bring in some tacos I bought from the truck outside and the bar tender is nice enough to not kick me out as this venue also serves food, and bringing your own is not allowed. From far away, biting my tortillas filled with cecina and having a pint of Hoegaarden, I enjoy one of the best NYC bands at the moment, Pale Lights. I talk a bit with Comet Gain's David Feck and get him to sign me an old 7″ I have. Then with Felipe from Cola Jet Set we head to Academy Records and later for some bulgogi to get ourselves back together. It's already 8pm so we head to Public Assembly.
What can I say about the Pushy Parents gig. First of all this night had the strongest lineup of the festival, with Electric Pop Group, Comet Gain, Seapony and Pooh Sticks. But it was Pushy Parents the one I enjoyed the most. You may think it's sacrilege, with some indiepop classics up there on the billboard. It may be that I've seen Comet Gain and Pooh Sticks before, so the impact wasn't much of an impact. Seapony sadly didn't sound like on record and Electric Pop Group were nice but you couldn't stop wondering what if they had their full band. Still enjoyable though. But Pushy Parents, they were the openers but they felt as the ones who were closing the gig. There wasn't anything else after for me. I had my dose of fantastic indiepop and why keep on listening. I was done for the night. Especially after their last song, a rendition of Amanda's old band Free Loan Investments. The song: "Bomb the Bourgoisie". I remember asking her on chat to play this one months ago. It made my day, it may as well made my year.
This was the first time Helena played live. The rest of the band were much more experienced. They've been in many bands. And you could tell. They were so tight. They were having great fun. From the already classic "Secret Secret" to "Dear John", they played a flawless set that encompassed their one and only 7″ record on Elefant and some songs of the upcoming 10″ on Elefant. It was glorious. And all of you missed it, well, pray that they will play again. As far as I know, this was a one-off.
On Sunday, things were a bit quieter. The venue this time didn't have as much people and the lineup wasn't as strong. I left just as soon White Town finished as the next three bands were a snorefest as my friend Scott put it. In a sense that was good as I was exhausted and had to go work the next day. But Sunday had a couple of highlights that have to be mentioned. First off, Dot Dash. Great, energetic, and punchy, the band that Terry Banks have put together sounded so good that it was a shame they played so early. Hopefully they become a bit bigger and come back. And what about the Holiday Crowd? They were a huge hit for me. I wonder how I didn't know about their existance before Shelflife put their CD out. Where were they hiding? Fantastic jangle that for some reason goes unappreciated here. I feel it might be much bigger in the UK. They had songs, they had great chorus, and had stage presence. All the members exuded different personalities, and that is always a plus in my book. They seemed interesting. Would  have loved to exchange some words.
And then my good Canadian friends Sleuth. With Jainy pissed because the sound engineer sucked. Understandably so. They were fun to watch and listen. You could tell they have something special, just a bit of tightening here and there and they'll be one of the most interesting indiepop bands around. This was cleared the next day, on the Popfest hangover show at the Rock Shop, where the sound was much better and songs like "Fishing for Moonlight" or the "Honey is in the Hive" shined brightly as Jainy's Postcard Records' cat tattoo. I look forward to their new recordings a lot. And to have Korean food with them again. It was a fun weekend.
It feels like I'm leaving a lot of Popfest stories out of these posts, but it's time to move to the obscure indiepop band of the week, Macguffins.
Let's all transport to Melbourne, Australia, in the 80s. There are many great bands at the moment, some more successful than others. Some good labels too. And there's one band whose one 7″ always escapes from me. Always at last minute on eBay someone bids more than me. And my excitement, my hopes, are all killed, destroyed, buried. This is one of the 7″s I want the most, it's the Macguffins and the single is "Rich Together". A song that makes me tremble for the sincerity of it's lyrics and the romanticism behind it.
The first time I heard this song was on a mere MP3, a rip from a tape compilation Keith D'Arcy had done for the indiepop-list. The compilation was called "A Sandwich and a Sweater" and I feel it has become some sort of lost classic. It has a lot of fabulous and obscure tracks on it, were every song and every band are worth investigating. Years later I would listen this song again and the B side as well, "Dirty Ol Life", on a compilation Peter Hahndorf made called "The Sound of Glen Waverley". It was only CDR and handed to a couple of friends. He intended to release it one day, as the sort of "The Sound of Leamington Spa" but with Australian bands. It never happened because Jim from Egg Records wanted to do the same, so not to step on his toes, Peter let the project on a side. Sadly Jim never got around to releasing it anyways.
Since then I've been in love with one of the finest songs I know. A song that deserves to be in thousands of mix tapes and burned CDs.
This fab record was released on the DEX label (catalog 218E) in 1988. The sleeve art is a photo, taken by Gary Moore, of the band though I can't pinpoint who is who. The band was formed by Rowan Smith on vocals and guitar, Michael Paxton on bass, Michael Wilkins on drums and Philippa Nihill on vocals and keyboards. On "Rich Together", Glenn Bennie added some guitars. The record was produced by Mark Woods. The single was recorded in Sing Sing studios.
Originally popularized by Alfred Hitchcock, the term "MacGuffin" refers to the object in a movie that drives the action. In most cases, what the MacGuffin actually is irrelevant. It exists solely to get the characters moving and drive the plot forward. The only real requirement is that it must be something people are willing to cheat, lie, steal, kill, or be killed for. As long as it sounds plausible, it'll work. Still, despite the very loose qualifications for a MacGuffin, great films have used some pretty memorable ones.
I don't know whatever happened to this great band. I assume they didn't  have much success. I wonder if they had more songs recorded. If they played live often. When and why did they break up. But there is information about what happened to some of the band members after.
Rowan Smith went to join a couple of bands, Barefoot, Antenna, GB3, Coda, Youth Group, as well as helping recording and playing instruments with a couple more bands. Michael Wilkins played in Redfish Bluefish (who I've never heard but it's said they were proper guitar indie pop!). And Philippa would also join GB3 as well as releasing some records as a solo artist, though she had some sort of breakthrough along Glenn Bennie, as the Underground Lovers, a band that is well known in their native Australia.
The Underground Lovers officially assembled in 1990, playing their first gig in May that year at Melbourne's Corner Hotel, supporting The Macguffins. In addition to Bennie and Giarrusso, the original lineup featured Philippa Nihill (vocals, guitar, keyboard), Stephen Downes (bass) and Richard Andrew (drums); Maurice Argiro replaced Downes on bass following the first show.
Interesting fact, the Macguffins were still going two years after the release of their 7″. Perhaps it was the success of Underground Lovers that made the Macguffins split? Who knows. But if you know anything else about this long lost band, if you have spare copies of "Rich Together" and want to help a soul in need, please get in touch. Would love to know more about the Macguffins!
::::::::::::::::::::::::::::::::::::::::::::::::::::::::::::::::::::::::::::::::::::::::::::::
Listen
Macguffins – Rich Together