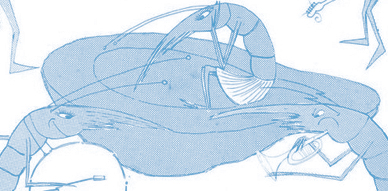 A couple of weekends ago I visited Los Angeles. It was Labour day weekend here in the US, meaning it was a 3 day weekend. Monday being the holiday. As my work schedule allows me, I could fly on Monday night and arrive Tuesday morning and not lose a day of work. On every holiday I try to squeeze a trip, like I've done previously to visit many North American cities. I love the traveling drill, from airports to trains, from picking up tickets to taking off my belt at the x-ray security check. It just builds up my excitement, and then of course, the destination is the cherry on the cake.
Although I'm a formidable planner (if I may say so), this time I didn't plan any fun activities in LA. My current mood and a dear friend, who I guess is not that dear, in Santa Barbara that bailed on me, made me go to the other coast of the continental US without any expectations whatsoever. Of course I wanted to see the Hollywood sign, the Chinese Theater and the Walk of Fame, don't get me wrong, but I didn't actually have an itinerary unlike all my previous trips this year. Of course I did plan to have one, I did plan to have things lined up, contact friends, and more. I even bought a Los Angeles Lost Planet guide, whose pages I never flipped through until I stepped in Californian ground.
I guess my trips to Spain and the UK set the bar too high for me. And just to think that these experiences might not repeat ever again was a hard blow. And what's worst I have this same gut feeling for my upcoming trip to Chickfactor, but hell, that's another story. There's a couple of months to regroup and get the mood up. I'm positive that this UK trip will be alright. Actually I have started looking into Rochester Castle and Bodiam Castle, two of the places I want to visit this time. Prices, train schedules, and history. I probably will end up going there alone, but that's fine. I was always a loner.
It was at the last NYC Popfest that I met Marion for the first time. We've been good friends online for some time, chatting and emailing about indiepop. She hosts this great club in LA called Hungry Beat and also has a radio show from 3am to 6am on KCRW. A pop activist. The kind of people I like. When she was here, which was just for a day, as she only came to see Comet Gain and Pooh Sticks and then take the plane back to LA, she told me to come and visit LA this year, that it would be fun. She wasn't the first to invite me though, before also Jackie and Joey from Sweater Girls had been keen in me going and visiting them. So after I came back from Indietracks, bummed to be back at work, needing to look forward to something, I decided to book a flight on Virgin America to Los Angeles.
So I walked all over Sunset Blvd. I saw the pink stars on the sidewalk. Keanu, Britney, William Shatner. The Wedding Present I thought. Sean Connery, Marilyn, Burt Lancaster. Hombres G came to mind. The strip was packed with tourists but also by groups of quinceañeras. The neon lights of the different museums and stores reminded me of my old neighborhood in Miami. Walked to the Chinese Theater and saw James Bond Sean Connery's hands and feet on the cement. Judy Garland's too. And Marilyn, where "Gentlemen prefer them blondes" was written. I guess I'm a gentleman.
The Guinness World Record museum, the Madame Tussaud one, and Ripley's Believe it or Not. Chain-store museums, that you see at every touristy downtown in the US. The culture of capitalism. I wanted to go to the Jim Henson's museum, but that was closed. Would have loved to see the history of the muppets, Mr Kermit and Miss Piggy, and the Dinosaurs, Baby Sinclair. For lunch we stopped in an In-and-Out Burger, a Californian staple I was told. It was quite alright for a fast food joint. Reminded me of Five Guys. But less expensive. Next door was Hollywood High, with a big mural were Laurence Fishburne was the centerpiece. Cantinflas and mighty Bruce Lee were there too. Excellent students, why didn't I study there?
But the apotheosis was definitely the visit to Amoeba Records. Then all these non-expectations I had were shattered. Cheap 7″s galore! And box after box my hopes of great finds increased and increased. I definitely didn't score nothing out-worldly but i grabbed at least 20 7″s and a couple of LPs for a fantastic price. All indiepop, all in bonafide labels. It's just that they are the lesser known releases, but I don't care. I love them all. While an auction was taking place at the store, I picked every single 7″ box and found the likes of Lois, Courtney Love, Girlroy, Witching Hour, Le Mans and more. And then a 12″ by The Groovy Little Numbers. And for the first time in a month I was smiling.
That same day I tried for the first time Chiles en nogada, a Mexican dish whose name comes from the Spanish word for the walnut tree, nogal. It consists of poblano chiles filled with picadillo (a mixture usually containing shredded meat, aromatics, fruits and spices) topped with a walnut-based cream sauce, called nogada, and pomegranate seeds, giving it the three colors of the Mexican flag: green for the chili, white for the nut sauce and red for the pomegranate. The walnut used to prepare nogada is a variety called Nuez de Castilla or Castilla Walnut. I have to say I can't recommend this dish enough. It was glorious.
We bought some Modelo beers that night and enjoyed a quiet time with Jax, the cat, and playing the Loveletter LP Marion found at Amoeba. Talked about music, relationships, cats naturally, and the plans for the next day. I was exhausted that Saturday, I'd been up since 3:30am. So I headed to bed pretty early.
The next day I walked across Hyperion Avenue and over the LA river. Ended up in a Salvadorian/Mexican restaurant for breakfast. I had Huevos Mexicanos of course, in honor of The Hit Parade. Then I walked back to Silver Lake, up the hill and down the slope for The Loft. I must have been the only person walking these huge avenues that mostly looked like freeways. That's LA. But it wasn't that terrible, just a 15 minute walk where the only sights were huge houses, big yards and concrete.
The plans were to meet Brian and Yvonne from The Tartans, we were going to head to the Huntington Library. Some issues with our cellphone networks threw these plans to the trash. In the end, I didn't get to see them, and dear Brian ended up injured. Time to rethink our plans. Alright, let's go up to Griffith Observatory. From up there, I could see the Hollywood sign. I posed for a couple of pictures. Then in the Observatory, which was free, I got some amazing views of Los Angeles. The spread of civilization, houses, houses and houses, and in the horizon a couple of tall buildings rising. It was such a view. Quite enchanting I thought. Inside the observatory I was perplexed with the Camera Obscura and thought of my days in Glasgow, and then astounded by the Tesla Coil purple rays. That was quite something.
We then met with Joey from Sweater Girls and went to another record store: Wombleton Records. Lots of goodies here, but everything way overpriced. I ended up buying a couple of 7″s and LPs, just for the sake of it. If you have money to burn this is your place, they will stock and have plenty of rare records, but they will price them quite high. I guess they save time for you, no need to look to hard for that rare TVPs 7″s.  Walked to a bar some blocks down, called the York, and got some fries and beers. It's in this place where Hungry Beat will take place soon. Shame I wasn't there for the come-back party. By now I was starving, and the rest too. So we drove to Pasadena, to Jackie's vegan restaurant. It was a nice late lunch/dinner. Catching up about indiepop, their band, festivals, future plans, friends, a bit of gossip here and there, was great. One last stop for me this night, The Smiths night party that was held at the Echo by Michae and his Part Time Punks.
Neither Marion or Joey stayed too late. I stayed until the end of the night. Michael was kind enough to give me a couple of drink tickets. I spent them all in those tall Sapporo cans that I always fall for. What's this Smiths night, you'd ask? Well, they only play Smiths songs and Morrissey songs. The crowd goes wild. I was amazed how much the Moz is loved by Mexicans. And not just regular indie Mexicans, but the gangster type too, the ones they call "cholos" in California. I was surprised by it. I always thought it was the sensitive, whining guys, who loved The Smiths. Not here. Not in LA.
I met with Nick from Catwalk and talked quite a bit about his next album. I look forward to it a lot. And while I was waiting for dear Elisabeth from Leaving Mornington Crescent to arrive, some Mexican girl came to me and asked me about the Cats on Fire t-shirt. I wasn't really in the mood to be hit, but I went with it. She was obviously not my type, "why someone like you is alone here?"she asked. Of course I had asked me this question before too, where's my girl?, but I politely replied that I was waiting for my friends to arrive. She instantly picked up my accent and asked me where I was from. She was surprised that I was originally from Peru, "so exotic", but of course, as a true American, the poor girl thought my country was close to Puerto Rico. "If you feel like it come and join me and my friends at the dancefloor", and she left.
(to be continued…)
————————————————————————————————————————————————
Talking about Mexico, Mexicans, did you know the word Avocado arrived to English dictionaries through Mexico?
The word "avocado" comes from the Spanish aguacate which in turn comes from the Nahuatl word ahuácatl (testicle, a reference to the shape of the fruit). Avocados were known by the Aztecs as 'the fertility fruit'. In some countries of South America, such as Argentina, Bolivia, Chile, Peru, and Uruguay, the avocado is known by its Quechua name, palta. In other Spanish-speaking countries it is known by the Mexican name and in Portuguese it is abacate. The fruit is sometimes called an avocado pear or alligator pear (due to its shape and the rough green skin of some cultivars). The Nahuatl ahuacatl can be compounded with other words, as in ahuacamolli, meaning avocado soup or sauce, from which the Spanish word guacamole derives.[8]  The modern English name derives from the Spanish form avocado, "advocate", which was formed as a folk etymology that substituted (and obscured) the Nahuatl origins of the word. The earliest known written use in English is attested from 1697 as "Avogato Pear", a term which was later corrupted as "alligator pear".
True. I call it 'palta' myself and I had the best of memories when being a kid climbing the avocado trees and picking as many as you could, passing them to my brother so he could put them in a plastic bag and then take them home, so they could ripe, so we could have some great salad. Avocado with onions and rocoto chili pepper. Add salt. Add lime juice. Fabulous days. I can't seem to find avocados here as big as the ones in Peru.
It was a couple of days ago that Nana, my dear friend, my big sister, probably trying to cheer me up, sent me a youtube link. A link to a song. She must have known I was going to like it immediately. She doesn't really send me songs anymore, not since prehistoric times. It was quite a surprise. I was hooked immediately. Why has this song been missing in my life? The song was "I Never Knew" by The Avocados.
This is the long lost single by Dolly Mixture! I wanted to scream. I love, utterly adore, Dolly Mixture. And here I was presented with a song that could have been part of that pretty box set I got some years ago, that could have been part of The Demonstration Tapes. Right? I don't think I'm hallucinating here. This is really fantastic, spot on Nana! She was telling me that it was a friend of hers and Andreas that was visiting them in Hamburg that showed them this track. Always so humble Nanita. In any case, what a find!
Immediately I checked eBay, Discogs, Musicstack, to see if I could find their 7″. As I expected there was no luck. But even worst, the information about them on the web was almost none. Of course this song was rediscovered through the Messthetics CD series. The Avocados were showcased on "Messthetics #107 DIY London 78-81".
The 7″ was released on Choo Choo Train Records, catalog number CHUG 03.  Released on 1981.  The band members listed on the sleeve are: bass, flugelhorn – Steve Beresford, drums – Else,  guitar – Dave,  guitar, bass – Oisin  and vocals – Etta. The producer was Captain Strike. The B side of the single is "Television Brought Me Up", but sadly I have never heard it. So if you want to cheer me up too,  be nice and share it with me.
About Choo Choo Train, there's a little blurb on Discogs: Small-time label run by Andrew Brenner, mainly to release records by his band, The 49 Americans, and his friends – namely, the I Never Knew 7″, by The Avocados.
But that's about it. The fun sleeve of some shrimp (?) playing music with a seedless avocado on the middle, way ahead of the indiepop halcyon days to come. Proto-indiepop. Fantastic lyrics, chirpy jangly guitars, and the vocals, so so Debsey! That's all I seem to find and gather about this fantastic band. There were no other releases or any compilation appearances it seems. Probably they had more songs, but who knows, perhaps they are still in moldy tapes in someone's cupboard. Anyhow, if you know anything about The Avocados, their songs, their whereabouts, or if you have a spare 7″, please let me know. I'd love to hear their B-side, I'd love to interview them and find out more about their time in the band. This is such a great finding!
::::::::::::::::::::::::::::::::::::::::::::::::::::::::::::::::::::::::::::::::::::::::::::::
Listen
The Avocados – I Never Knew