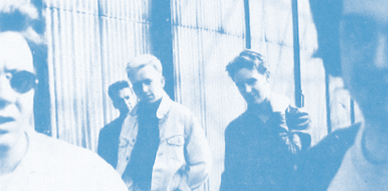 Sandy. Ugly storm. I've spent the last couple of days away from home, away from my records, my books, my computer. Due to work I've been staying in a fancy hotel in Manhattan, 5 blocks away from our offices. We have to cover the storm, that's our duty. I would love to go home right now, but the subway system has been shut down and the bridges won't open until later today. Yesterday I worked 12 hours.
The hotel lobby is packed with people. Are they feeling cabin fever? There's families sitting down in couches, on the floor. Everyone with laptops and ipads. They barely talk to each other. There are sirens wailing and it rains intermittently. The streets were empty and peaceful. The distant sound of things cracking. The tourists queue at the couple of bodegas still open. All of them have better jackets than the New Yorkers. They were better prepared.
At the hotel a black plush gorilla welcomes me at the room. There's a kitchenette. There's a bunch of white towels. We had wi-fi one day, but we have no more. There is no room service. The beds are unmade. The heating is way too high but I don't have control over that. So I turn on the a/c, see if they cancel each other. Cars are honking.
At work there's only one elevator working. And the newsroom is empty. We are just a handful cracking some news. But at the same time we are clueless about what's happening. Always waiting for the major to come with some press release, updating us the state of the city. We see photos of destruction and flooding. We watch a video of an explosion on 14th street. It doesn't feel that bad around here, but some areas seem to have been battered considerably.
I end up at St. Luke's hospital. I have an issue on my right eye. My cornea has been scratched. The ER is empty. I don't know if that's a dream or a nightmare. ERs are never empty. The wind is blowing hard and you can hear it from the bunker like facilities of the hospital. They test my vision. I get a bunch of different drops on my eye. They numb it. With some tweezers they pull. I get prescribed some ointment that I have to apply directly in the eye. It's odd. Meanwhile everyone is at home and are silently going through a blackout.
We get free food at work. Tasteless tuna and chicken wraps. Warm cans of diet Coke. Some fruit. That's for lunch. For dinner some pasta. They arrive in big aluminum trays. I haven't seen who delivers them. We eat quietly assuming this is not going to get better. At night we drink, but we run out rapidly of beer. The hotel bar closes at midnight.
The days are bleak. There's not much to do other than finish reading some novels I've brought. The pillows are awful and the mattress feels strange. Maybe the bed is too high. The shower is terrible, there's little pressure of water. And on top of that, it's so low, it barely reaches my neck. I have to crouch to shampoo my hair. It's only making me miserable.
I wonder how much longer this will last. On average they say it may take 4 more days to pump out the water from the subway tunnels. From my Miami experience I know these things take time. And perhaps it takes longer here as people are not used to this inclemency of the weather. I want to return home. This has been already ugly.
—————————————————————————–
The first time I even read the name of Twelve Angry Men was on the "Future" section of The Leamington Spa website. I think after that some other guitar pop friends have asked me about them on several emails. They knowing barely nothing about them, and me knowing absolutely nothing. I didn't have a clue how many records they had released but I think we were all certain that they were British.
A couple of weeks ago I found this blog called "From a Northern Place". I don't know who runs it, but it seems this fan owns a nice bunch of obscure and rare records. Sadly there is no write up of the records he posts, but he seems like a reasonable person and only links to one song from the release. The only issue being that he links to a WAV file instead of an MP3, being considerable bigger in size, usually around 40 megs and counting.
In any case, I feel a visit around this blog is really recommended as I'm finally listening to many bands that I only knew by them. So I'm thankful for that, for the work he is putting by scanning in hi-res fashion not only the cover and back cover but also the labels of the record.
Among these posts there is one of Twelve Angry Men. At last I could confirm they had one release, a 7″. And maybe now you call can help me start filling in the blanks. The sleeve artwork in black and white. Some band photos on the cover. On the back more band photos. The A side is "Magdalene", but the 7″ is titled "… the Heart of Magdalene". The B side is "Clyde".  Sleeve design by Steve Godfrey. Photography by Neil Stockwell and Ian Firth.
The back cover has some more information. There is a quote on the top that says: "… he left the land of freedom for the promise of religion". I wonder what they mean by that. All songs by Paul Flinton. Recorded by Stewart Field at Meadow Farm. If it's the Meadow Farm studio that I found online, then it's closed to Ripley, in Derbyshire. Very close to where Indietracks takes place every year.
The release is number 009 on Everbimes Records. They seem to be a record label fro Nottingham. So yes, close to Ripley. It starts making some sense. I can't find more info on the label, especially as according to Discogs there are 2 labels with the same name. Should I pick one? Probably not.
The band lineup at least at the time of the release was: Nick Smith (v0cals), Paul Lillie (bass), Paul Flinton (guitars & vocals), Chris Zani (mandolin) and Steve Godfrey (drums and percussion). On the B-side, "Clyde", the cello was played by Vicky Evetts.
So far I've only had the chance to hear the B side, and it's a nice slow jangly song. But I'm very curious about the A side, I would love to have a chance to listen to it. If anyone knows anything else about them, has spare copies, or even an MP3 of "Magdalene" that can share, please share!
::::::::::::::::::::::::::::::::::::::::::::::::::::::::::::::::::::::::::::::::::::::::::::::
Listen
Twelve Angry Men – Clyde