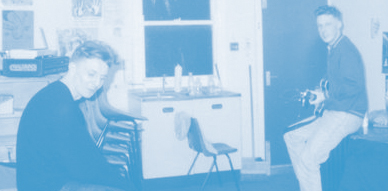 NYC Popfest just announced the lineup for this year's edition. What can I say aside that it's a fantastic one. Getting to see for the first time The Bats and The Wolfhounds is something I've been wanting for a long time. Seeing The Close Lobsters again, after their Madrid Popfest show, the best gig I saw last year, is making me giggle of excitement. Maz told me last Saturday that this was the Popfest that he is the proudest of organizing so far. And I can see why he says that. I can only hope for May to come fast. It's just two months and change away!
The Monochrome Set, the mighty Monochrome Set, are headlining too. I saw them two years ago at the 100 Club in London. Next to friends who were making out, pints pouring, me and a girl, the red curtains which I hear are no more at the club, and that big 100 sign on the stage. Bathrooms always all the way to the left. That was the day of the infamous DJ party. I hear this year was a bit like that, with Rihanna and Beyoncé being played for the indiepop crowd. Who knows what happens in London sometimes. Still my favourite city and would have loved to attend London Popfest last weekend. But anyhow, yes, The Monochrome Set. And they'll play "Jet Set Junta" and "He's Frank". Can't ask for more.
For the label it's also a great time. Our two latest 7″ releases will be here represented by the bands. Alpaca Sports and Flowers are coming! On top of that other Cloudberry graduates like Zipper, Cassolette, The Hobbes Fanclub and The Proctors will also be here. I'll be very busy filming many of their songs it seems!
Now what else can I hope for this fantastic festival? I do know many international friends will be coming, and lunches and dinners will happen. I'll be hosting friends too, so maybe I'll get to play them my favourite records. and gossip about indiepop. And there will be a Mondo dance party on Saturday which should be the bomb. Partying there every month is fine, but can't compare it with a crowd full of indiepop people that do know by heart "Sensitive" by The Field Mice, instead of silly girls looking at you like you are outworldly for knowing songs that they have never heard in their life, and shouting your lungs out!
But before all this I have a date with Madrid Popfest this weekend. And then my birthday party the next weekend with Alpaca Sports and The Garlands. It is already shaping up as a great year. So don't miss me too much, I'll come back with indiepop stories from Europe in two weeks time. No gossip though. I'm so not into that 😉
————————————————————
This week obscure band is Rawhide Chomp, a band I discovered years ago on Myspace. So straight from there a little bio:
Formed during the mid 80's in St.Helens, Rawhide Chomp were born when ex Riotous Hues Phil Smith and Gaz Capper bumped into pie king Paul Cross and his mate Jamie Flannery. Many an happy hour was spent practicing at the Fringe offices before the Chomp played their first gig. This was supporting the Tractors upstairs in McDonalds. Many gigs, real and imaginary, followed before this Chomp played it's final show supporting the La's at the Monro in Liverpool. After a brief spell of laziness, Rawhide Chomp reformed without Gaz and Jamie. Ex -Dixie Cartoon Mike McCauley joined as singer and Simon Pratt (Kingston and the Hunters) became drummer for a brief spell. Now 21 years later, the Chomp are reborn. Polish your shoes so you can gaze into them again. Expect new material soon!
So they were back together it says. They joined MySpace in 2008, so that might be the time when they were making new songs together or perhaps only rehearsing the old ones. If they ever played again live or recorded new songs I don't know. It seems their story ends there. But let's dissect that bio.
St Helens is a large town in Merseyside, England. It is the largest settlement and administrative centre of the Metropolitan Borough of St Helens with a population of just over 100,000, while the larger metropolitan borough had a population of 176,843 at the time of the 2001 Census. Today, St Helens is very much a commercial town. The main industries have since left, become outdated, or have been outsourced leaving the float and patterned rolled glass producer Pilkington's, a world leader in their industry, as the town's one remaining large industrial employer.
Never been to Merseyside myself. It's one of the places that's on my list for this year if I don't end up going to North Wales.
The band Riotous Hues. They probably deserve another blog post on the blog, so wait for the next episode in this same channel. For the time being you can listen to "She's Left" in Youtube.
I see the Monro as a fancy Gastropub in Liverpool. I find it a bit odd that it was there that they played with The La's their final show. Maybe it was another Monro? Or perhaps during the years it evolved into a more of a upscale place? It doesn't look like a place for electric guitars!
About the band The Tractors I couldn't really find anything. Perhaps too much of a common name to Google. Maybe somebody there knows anything about them? Were they guitar pop?
And so what is a Rawhide Chomp? It seems they are according to some stores:
Great value for money and super tasty, these Rawhide Chomp Stix are a great treat that can be used for rewarding positive behavior, training and snacking between meals.
Helping to improve the health of both their teeth and gums, the treats can also freshen their breath. Dogs love rawhide as it satisfies their natural instincts to chew.
There is also some other tidbits I could gather from the photos they have on their Myspace.
– Their first gig was at the McDonalds restaurant supporting The Tractors on Tuesday 17th June 1986
– On Saturday August 16th of that same year they supported Half Man Half Biscuit
– It's amazing to see gigs back then cost 75p to attend!
And that's all there is online about this band who seems to have put a couple of demo tapes out but no releases. But perhaps, I ask, they had songs on some compilation albums? Their previous band, Riotous Hues, appeared in a couple, so I wouldn't be surprised. Maybe someone out there can recall.
So yes, if anyone knows anything else and wants to fill in the blanks about this obscure but very chiming-guitar band, just how I like them, please leave a comment! Would love to hear more about them.
See you in two weeks!
::::::::::::::::::::::::::::::::::::::::::::::::::::::::::::::::::::::::::::::::::::::::::::::
Listen
Rawhide Chomp – Louise