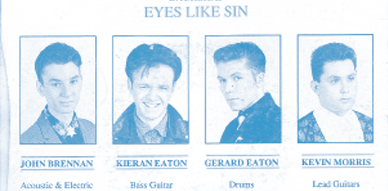 A strong feeling that something is about to happen, esp. something unpleasant.
I'm suddenly changing my idea of going to China in autumn, postponing it for next spring, and instead going to Germany. Thing is Throw That Beat in the Garbagecan, one of my favourite bands ever is doing a reunion gig in Berlin for their 20th anniversary. I've always said that McCarthy is my favourite band, and it is. But before I even knew McCarthy I was already in love with the German outfit. Can I consider them a second favourite band then? Possibly yes. That would be very fair, and it's not like I like just 10 or 20 bands. I like hundreds, thousands. So they are very very dear to me.
To be honest I don't remember how I heard about them first. The year must have been 2003. I was young. Younger than now. I was 19 back then. I had just moved to Texas that winter. At that time I hadn't even started blogging as Mira el Péndulo. I was on Soulseek though and perhaps it was there that I met them for the first time. I used to hang out in the Twee Folks room, a place I made many great friends, but of course the best being Cris in Spain. Did he introduce them to me? Possibly not. We were mostly gossiping. There were some people that had amazing stuff. I do remember getting the video for "Suburbia" from Chris Jigsaw on Twee Folks. But I'm 100% sure that wasn't the first time I heard their music.
The fact is in 2004 during a weekend trip with my dad, from San Antonio to Texas, I bought two of their albums. I was still 19, it was winter, and I remember that drive as if it was yesterday. Five hours of talking about football, history and politics, the three topics we usually talk about. My dad is not really a music-fan you see. But he grew up seeing Peru in the world cups unlike me. So he has these vivid memories of the golden age of Peruvian footie. On the highway, passing by outlet malls, ranches, and fast food restaurants, we agreed that at least we were going to go to a record store while in Dallas. We weren't really going as tourists, my dad had to attend some business there. We didn't even stop by the Dr. Pepper museum in Waco (I love Dr. Pepper), just to get to Dallas in time.
I don't remember liking the city much. Just another American city I would say. The food wasn't that special. I had Mexican food one day, and it wasn't the best I've ever had (arguably the best I've had has been in San Diego, I'm yet to visit Mexico). On another day I remember having Brazilian rodizio, all the meats you want, but that is the same every place you go. For that, still the best, the ones I had in Sao Paulo. Anyways. On Sunday morning, after a terrible night sharing room with my dad (he snores heavily), we visited a record store. Problem is now that I don't remember the name of it. It was in that store that I found the two albums that Throw That Beat released on the American label Spinart: "Large Marge Sent Us" and "The Cool Album".
They weren't priced. I took them to the cashier and possibly because he saw I looked a bit out of place he charged me $15 for each. And they were used! Total rip off. But my dad insisted in getting them for me. Happy days. I was just a student and in Texas I hadn't found a job yet. Now I had to wait until I got back to San Antonio so I could listen to them. I was so eager but I knew I couldn't play these in the car, my dad would hate me eternally haha.
And so on my old cd-player, the one that lasted almost 10 years (rip 2009), I started a very close relationship with those albums. It was love at first-sight, or listen. I played them over and over for months. Both of them. I rode the bus to university listening to them every single day. At home will I was still honing my skills on Pro Evolution Soccer, I played them. At every moment of the day, I played them. And this went for months. That whole 2004 for me is a year defined by Throw That Beat in the Garbagecan!! I can say their songs always gave a smile to me, and that let me survive a whole year in Texas. That is way too long. Nobody should live for that long there. By 2005 I moved back to Florida and I found a job and well, eventually started buying other records. But, it wasn't that long that I was going to return to TTB.
My next encounter would be when I visited Germany for the first time. In Essen I stayed with my dear friend Nanita. What a surprise for me that she had a gift for me upon my arrival. What was it? It was the "Tweng" LP on September Gurls. I didn't know this one existed! There was no Discogs yet, and their discography wasn't easily available online. Some days after I was at Peter Twee.net's home and he was giving me a bunch of TTB stickers he got from back in the day. I was back in love and from that time on, my hunt to find all their records started though to my shame I haven't got them all yet!
Since those days I always go back to Throw That Beat. I don't think there are months that I don't listen to at least one of their songs. The videos on Youtube always work when I need a little cheering up. So when on the Facebook group it was announced that they were going to play a reunion gig, it made my the happiest. And now I want to go. It seems it's happening on the 13 of September. At the Lido in Berlin. Supposedly all original members will be there, even Lotsi. I hope so. I cross my fingers. I should start planning how to get there. Could be my 30-year old present in advance!
———————————————————-
And now one way more obscure band that Throw That Beat. One that requires more researching, but I don't seem to find much information about them: Premonition.
Let's transport all of us to Dublin, Ireland. It's the mid 80s and there's this band called Loudness of Whispers. We don't know much about them only that they played the Mood Club at Tommy Dunne's Tavern in June 1985. From their ashes a band called Premonition will emerge.
The only information regarding the band comes from that great Irish site called Irish Rock, an encyclopaedia of the Irish scene. From there we learn that Premonition were:
John Brennan – rhythm guitars, loud voice
Kevin Morris – lead guitars, mandolin, alto voice
Kieran Eaton – bass, bass voice
Gerard Eaton – drums, tenor voice
Safe to think that Kieran and Gerard were brothers?
The small bio on Irish Rocks says:
Blades-influenced band also compared to the Housemartins. Winners of the Dublin Millenium Battle of the Bands competition held at The Underground on 8 July 1988. Standout track of their set was "Clutching at Straws". This competition was organised by Danceline and involved 9 heats and 3 semifinals. The prize was a single recorded at Sun Studios, released on EMI.
So another question arises, is there any recordings for "Clutching at Straws"?
Then they released their 7″. On the A side the song "The Streets are Paved with Lead" and "Eyes like Sin" on the B side. Catalog was IEM 004 though the back cover incorrectly lists it as IEM 006. The record was produced by Premonition and Pat Dunne.
I haven't yet heard the B side. But the A side is quite glorious! It's classic jangly pop. Of course there's The Smiths influence, but you can also hear classic sounds from Mighty Mighty, The Brilliant Corners or Hey Paulette! Not your usual fare on EMI! You got to love the guitars, the trumpet arrangements! Should have been a classic! That opening line: "Please don't go, you are tearing my life to shreds", always gives me goosebumps!
And then they disappeared. There is no sights about them online. Whatever happened to them? Does anyone remember them? Did they play live often? Did they release anything else? Did they leave any other recordings? Would love to know more about them. Just listen to this song, and you'll understand why!
::::::::::::::::::::::::::::::::::::::::::::::::::::::::::::::::::::::::::::::::::::::::::::::
Listen
Premonition – All the Streets are Paved with Lead