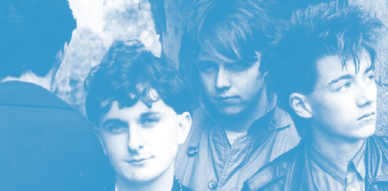 So this month I'll be unveiling Cloudberry Radio. It's an idea that I've been thinking aloud for years now and I think suddenly I have the proper drive to put it together. So what is this about?
It's definitely not a proper radio, or me having a show on the FM. It's more like a podcast. I will record my beautiful voice and introduce you to a bunch of songs that you might or might have not heard before. Perhaps tell you some news, gossip a bit, tell  a story, who knows. But the idea is to try and promote indiepop in yet another way.
The original plan is to do this monthly. At the moment there isn't a set day for when I will publish every month, but sometime during the month I'll be putting it out. I wish I could promise it for a deadline, say every 15 or something like that, but because of time constraints I don't want to promise a fixed deadline. How to know if it's ready for listening? Well, I will definitely let you know through the blog and also through the Facebook page that I always update with the latest news.
On this enterprise I've received a lot of help in the brainstorming process from ToniPoni, so big thanks to him. I guess those long conversations have helped a lot in me finally giving it a chance and getting this drive. I mean, for a long time I hoped that one day I was going to have a radio show somewhere, I always have wanted to show and share some amazing indiepop songs to fans out there. But of course, which radio was going to have me doing this? Not even an online station would. I even applied to some years ago, to have an hourly show. No answers from them. Of course.
I hope this becomes a small success. 10 listeners would be good to start. Or something like that. Would be nice to know some people are interested, that definitely would give me the excitement to keep doing it. And as soon as the first episode is released I hope I hear from you too with suggestions, criticism, and ideas. I'm new at this so I assume I will be making a lot of mistakes. Oh! If you wonder where my lovely accent is from, it's from Peru. So no need to email me and ask me that.
There will be many sections that I will repeat every episode, you'll get to know them very soon. In any case, know that there will be new songs, there will be classics, there will be obscure bands, and some from the Cloudberry vaults. There will be a little bit for everyone. In the long run it would be great to have proper conversations with indiepop people on the radio and so on. But first let's make this work smoothly, right?
So keep an eye on this page, or the Facebook page, because very soon we'll have this out! 2015 should be an exciting year!
——————————————————
Cypress, Mine!
Who were they? They are obscure but there's a bunch of good information on the Irish Rock website. So that's a very good start in my investigation.
From there we immediately get three important facts. Firstly they hailed from Cork. Secondly they were active between 1984 and 1989. Thirdly there were four members, Ciaran O'Tuama (vocals), Ian Olney (guitar), Dennis O'Mullane AKA Skoda (bass) and Mark Healy.
Out of curiosity, if you didn't know, Skoda is an automobile manufacturer based in the Czech Republic. The car manufacturer was founded in 1895 as Laurin & Klement, it was acquired by Škoda Works in 1925, and became a wholly owned subsidiary of the Volkswagen Group in 2000, positioned as the entry brand to the group. Its total global sales reached 931,696 cars in 2013.
Where does the name Cypress, Mine! comes from? I've seen their name written Cypress Mine too.
Originally the band had a different singer, Sean O'Riordan. Mark Healy before being in Cypress, Mine! had been in a band called Urban Blitz who were active from 83 to 84. Ciaran had been a photographer of the early punk scene in Cork and he replaced O'Riordan eventually.
The band was managed by Tony O'Donoghue of Hot Press. He is now a sports commentator and he has a Wikipedia entry:
Tony O'Donoghue is an Irish Sports commentator and Group Soccer Correspondent for RTÉ, Ireland's national radio and television broadcaster. He reports on Republic of Ireland, League of Ireland, Champions League and English Premier League games and occasionally presents RTÉ's Monday Night Soccer programme, MNS, as well as presenting and reporting on various live games for RTÉ Television.
On Irish Rock they mention a gig in 1985, at the Lark by the Lee (a free outdoor gig) where they played along The Stargazers, Porcelyn Tears and U2. They also appeared on TV (including "TV Ga Ga" in 1986). There must be videos of that. Why aren't they on Youtube?!
They played London in 87 and 89. It's said that one of those shows was videoed. But I haven't found those videos either.
Their single "Sugar Beet God" was played by Larry Gogan during his show on RTE.
After Cypress, Mine! Ian, Mark and Dennis went onto Dancing Bastards from Hell where they were joined by Morty McCarthy of the Sultans of Ping on drums, Graham Finn (guitar), Niall Twomey and Jim O'Mahony (keyboards).
It's said that Cypress, Mine! recorded a bunch of demos, many unreleased until this day.
Ian Olney later would join Power of Dreams in 1990. Mark Healy formed Lift and recorded an unreleased LP.
There discography starts with a 2-song demo tape in 1986. Included were "Swallow" and "Talk to the Wall". This tape was mostly sold at gig. According to Irich Rock there was another demo at that time that had the songs "The Bible – Part 2" and "The Rifle Range".
They appeared on the compilation "Comet EP One" on Comet Records (COME 1T). Comet Records was a small retail chain based in Dublin and Cork.  They contributed the song "Swallow".  That was in 1986. The next year they appear on the second Comet compilation, "Comet LP Two" (COME 2 TP). This time they contribute the song "Sounds Like Rain".
In November 1987 they release their first proper record on Solid Records (ROC 706). It's the fabulous "Justine" 7″! I hope I get my hands on a copy one day. It's such a great single! The other songs included are "Sounds Like Rain" and "Funny Street".
That same year they release another 7″ on Solid Records (ROC 708). This time the songs are "In the Big House" and "Bee's Knees".
The next year, in 1988 they release their LP, "Exit Thrashtown" (Solid Records ROC 1). It was produced by Dennis Herlihy. The LP title, according to Irish Rock, refers to emigration and also to a place in County Cork called Trasherstown. The album included 10 songs, "Welcome", "The Big House", "Wedding Dress", "On Hillside", "Justine", "Bee's Knees (and Cat's Pyjamas)", "Letter from Abroad", "Walk Out to Jesus", "Helpless", "Phone Call from Heaven".
So far I can say I really love the artwork for all the records. It's very 80s, of the time.
July 1988 sees the release of another 7″. Again on Solid Records (ROC 712). The songs are "Sugar Beet God" and "Beet Dat!" (this is a Sugar Beet God remix).
In that same year they played in Waterford, Tralee, Ballybunion, Limerick, Kilkenny, Dublin, Carlow, Galway and Cork during the promo tour of their album.
It seems there also was a video filmed in London by Roy Fairweather of Super Channel for the song "Sugar Beet God". But this is also not on Youtube sadly.
The last time we hear from them it's on a tape compilation on Solid Records called "Solid Citizens" (ROCC 1). The track included is "Sugar Beet God".
Pretty comprehensive information right? But still their records are not easy to come by. I don't own any sadly. Their videos are nowhere to be seen, even though they even played on telly. So, you wonder, how come a band that actually had following, many releases and you could say were more popular than your average indie, disappear into thin air? A band that made such precious and classic indiepop as you'll see after listening "Justine", doesn't deserve this treatment! It's startling really!
If you know, or have any other information about this great Irish band, let me know!
::::::::::::::::::::::::::::::::::::::::::::::::::::::::::::::::::::::::::::::::::::::::::::::
Listen
Cypress, Mine! – Justine