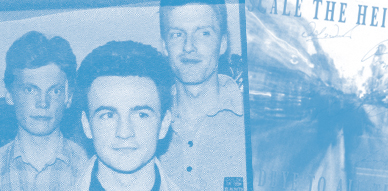 Since the last post things have been very quiet. I asked for new band recommendations and I got none. Ha ha.
Podcast is still in the works. I hope that this week it gets published. Aside from that here at the label I'm just waiting for the Fibi Frap release and the 7″s that have been already announced on the website. I updated the site with some more info about these upcoming releases. That's more or less what's going on. As soon as I have news I'll make sure to let you know.
As it gets closer, I feel a bit sad that I won't be going to Indietracks. I know I've been critical, but that doesn't mean I don't like going there. Maybe I'll return next year. I also noticed that there is going to be a Manchester Popfest in August. It's going to be happening on the 15th and 16th of that month at two venues, the Kraak Gallery and the Islington Mill. I haven't been to any but the lineup seems pretty interesting. There's a bunch of bands I don't know, so perhaps I should take a look? The prices for the festival are very reasonable, 13.50 pounds per day or 22.50 pounds for both days. It's a good deal indeed. They will also be screening the Sarah Records documentary (I'm looking forward to watching it at NYC Popfest), they'll have zines and djs as well. Seems like a good time to me! It's really great that other cities are embracing the Popfest idea.
About these unknown bands to me, well, let's check them out? That could make a good post, right?
I'm starting with Slowcoaches, who seem to be headlining one of the days. This is not indiepop per se, it's a punk band and I actually like it. I usually don't enjoy much of the punk being made these days, but this one is pretty good, they have a great sense of melody without losing their rawness. Quite a surprise. I'm 100% more into this sound, this mash-up of indiepop with punk, than when they bring me these folky-hippie-pop stuff. This is much more interesting. Definitely a band to keep an eye.
Keel Her is another new band for me. There's so many releases on their Bandcamp.  Again a much punkier approach to pop here. Sometimes this reminds me to the early 80s, a bit of Modettes, Slits, Kleenex. Not bad. Some other times I hear the sound of Brooklyn, of the new generation of hipster bands and I'm not 100% convinced. There are a bunch of releases as I said, but only a handful of songs to actually listen. I can't make up my mind, but I think I'd be curious to watch them if I was going to Manchester Popfest.
So far Pega Monstro is my favorite new band at Manchester Popfest. What a nice discovery. Indiepop from Portugal! Haven't heard any indiepop from Portugal since Safety Matches! I just love how Portuguese blends with the distortion, the bass, with the crazy drumming. Punky indiepop. And of course, extra bonus points to Manchester for booking a band from a country that doesn't get much attention at indiepop festivals.
Seeds of Doubt is yet another new band for me. I'm surprised by this, see, that's why I was asking for new band recommendations. Not the kind of indiepop that drives me crazy, more angular than jangly generally, but when they go jangly, they have top songs like "Shelf Life" that has that classic indiepop feel. Looking forward to check the bunch of releases at their bandcamp site later today.
The Scottish band Spinning Coin seem to have a following and they are releasing a tape soon. First time I hear about them, and I feel the blog post is getting longer than I expected. There are many more bands for me to cover, so perhaps I should stop here with this band and next week continue with the rest. From Spinning Coin, I can't say much, I have only heard the one song called "Pimp" and I'm not sold. A bit too cavernous and rocky for me. I will keep investigating.
And of course, I've added links to all of these bands for you to check out. You know it can happen that you like them much more than I do, or the total opposite too. So check them out. It's always a nice thing to do, spending countless hours listening to new music. And thanks for that to Manchester Popfest for offering a totally new group of bands! That's is exactly what Popfests are all about, introducing and supporting up and coming bands!
Oh! And before I forget, you should all listen to Roger Gunnarsson's new project Leaderboard new song: Noble Heart. I know it's not indiepop, but he is a genius.
————————————————————–
Lately I feel that Ireland is a country most of us indiepop, neo-aco, C86, or whatever name you want to call us, collectors and lovers, haven't really explored much. Perhaps it's not a bad idea to dig deep there, especially if when you do you find bands like Scale the Heights!
According to the Irish Rock website, Scale the Heights were an energetic guitar band (no synths) compared in the press to The Smiths and Housemartins, with American influences, including some 'cowpunk' influences though perhaps that would now be called 'Americana'. Recorded a well received demo in 1988 and won the Carling/Hot Press  Award for best unsigned act the same year, the prize being a one-off single deal with WEA. Still active in 1990. Liam Kirkpatrick and Paul McAllister currently (2011) record as Latecomers.
From that site we also find that they were from Maynooth, Kildare.
Maynooth is a university town in north County Kildare, Ireland. It is home to Maynooth University (also known as The National University of Ireland Maynooth) part of the National University of Ireland, a Pontifical University and Ireland's main Roman Catholic seminary, St Patrick's College. Maynooth is also the seat of the Irish Catholic Bishops' Conference and holds the headquarters of Ireland's largest development charity, Trócaire.
Okay that makes sense, university town and bands usually go hand in hand. We also get to know that the band started around 1987 and the members were David O'Driscoll on vocals, Tony Doherty on guitar, Liam Kirkpatrick on bass and Paul McAllister on drums.
It was the next year, in 1988, that they start selling a demo tape with the songs "Where Will We Be", "Goodbye to All That" and "Two Wives". It is the second song that I'm guessing made Warner Records sign them.
Yes, WEA was to release a 7″ record the next year. In 1989 we find on the A side "Goodbye To All That" (recorded December 1988 at Lansdowne Studios) and on the B side the song "So Soon" (recorded November 1987 at Lab Studios). The first song was engineered and produced by Chris O'Brien with assistant engineer Robbie Adams. The second song was engineered by Eoghan McCarron.
I haven't found this record yet. Doesn't seem to be listed on Discogs and haven't seen it on eBay. This is quite strange as the record was put out by WEA so it's kind of obvious to assume that a bunch of copies were pressed. Perhaps there's little interest or knowledge. But if anyone has a spare copy or know where I can get one, please help this man in need!
The only other place I found some information about the band was on the superb Fanning Sessions blog. From there we learn that: On 01/05/1989 they recorded a Fanning session featuring tracks 'Cold', 'Happy Ever After', 'One Step Away' and 'Go Hang Yourself'.
They also have some reviews from that time:
They featured in a number of Hot Press end of year critics roundups, here's what Damian Corless wrote:
"Band Of The Year, however, without a shadow of a doubt, were Kildare's Carling/Hot Press winners, Scale The Heights, who combine an incendiary live attack with some of the finest songs ever written in the history of the planet – I kid you not" HotPress Critics Roundup 1988
"On the home front there was nothing to equal the thrill of Scale The Heights' live attack." HotPress Critics Roundup 1989
Also on that post on the Fanning Sessions blog you can listen to more songs by Scale the Heights like "1938", "Proud of You", "Down the Hill" or "Blindman's Clothes". My favorite of them all is the single. That's the song you can't and shall not miss is the fabulous "Goodbye to All That", a true indiepop gem!  My second favourite is "Down the Hill" for sure. It comes packaged in chiming jangly guitars.
Anyways, that's more or less all I could dig from this obscure Irish band. But perhaps someone out there, perhaps you, could help me fill in the blanks, what happened to this band? Have you heard the other songs on the demo? Did they record anything else? What are they doing now? So many questions that would love to see answered!
::::::::::::::::::::::::::::::::::::::::::::::::::::::::::::::::::::::::::::::::::::::::::::::