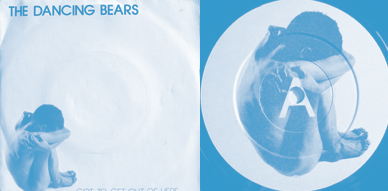 Hello everyone! I'm very happy this week as The Color Waves 7″s arrived home! Just waiting for the inserts to arrive home and as soon as I do will start posting all the pre-orders! The sleeves look beautiful and they have received a lot of praise for the beautiful design. Can you guess what sort of bird is in the cover?
But it's not only the beautiful design on this record, it's also the beautiful music. One that I loved since the first time I heard these two songs many months ago. For those who don't know the Color Waves, it's a transatlantic collaboration between Alison and Garry. She is based in the UK while Garry is in the US. Both were once part of the great band All My Friends from Scotland.
Anyhow, this time around we've pressed 300 copies. We hope to sell them fast enough to keep releasing more records! The music as I said is just so beautiful, please have a listen at their Bandcamp.
Also I've just updated the website with some more info about Don't Cry Shopgirl and their 7″ coming out soon. You can now listen to one of the tracks, and as well see a small thumbnail of the beautiful artwork that Amanda Åkerman has done for us. I should be sending the record to press in a week or two. And adding at that time the pre-order button. You can't miss this one either, you'll get 4 songs of pure bliss!
What else? Well, we run out of the pink vinyl copies for the My Favorite LP, only blue vinyl now. Then we do have in project the Suncharms release on Cloudberry Cake Kitchen. So it's not like I'm lazy here! Also I've been doing a bunch of interviews for the blog during this last week, so hopefully we'll learn soon more about many of these fantastic obscure bands I've been featuring!
Then I should start planning the next fanzine. I will go back to the blue color and as I said it will be the last fanzine in the 400 series. Any suggestions on which Cloudberry bands you'd like to see on it, please send my way.
And that's for the moment on the news side. But I do have a request today, if you have discovered lately a band that you think would fit nicely in the label? I'd love to hear it.
PS. I was once again called the indiepop police. I was insulted too. And they tag me. They really want my attention. Must hurt not to like their band?
——————————————————————–
Abercorn is a village and parish in West Lothian, Scotland. Close to the south coast of the Firth of Forth, the village is around 5 km (3.1 mi) west of South Queensferry.
I believe The Dancing Bears hailed from Abercorn. So you see, it says on the back sleeve of their one sole single: "Thanks to The Mussy Boys, The Abercorn Crowd and Steve for breaking the ice on so many occasions and also to JAM PA for the sound".
No clue who The Mussy Boys were, but Abercorn is a town and it might have had a good crowd though on Wikipedia says the population continues to decline.
The Dancing Bears released one single in 1987, on the Big Noise label (BGN 1). It had two songs, one on each side. They were "Got To Get Out of Here" and "She's My Girl". I have only listened the A side, sadly I don't own a copy of the record! In any case, I could find online, thanks to the great From A Northern Place blog the sleeve were I learn that the band was formed by Ritchie on guitar and vocals, Shaver on drums and Dave on bass. The record was produced by POC and The Dancing Bears. Not sure who or what is POC. The photography of the naked person on the cover was taken by Louise Mackay.
I looked a bit on Discogs. There's not much of course. But I find that the label Big Noise was based in East Calder in Scotland.
East Calder is a small town located in West Lothian, Scotland. It is located about a mile east of Mid Calder and about a mile west of Wilkieston.
The remains of St Cuthbert's Kirk look amazing there.
It seems they also released a band called Political Asylum, but they seem more punk than the Dancing Bears. Well, way more punk.
On the labels, there's a credit for a last name, for the lyrics. That's of Lambert. Which of the band members had that last name?
That's all I could find about them. Pretty obscure sadly. But a good song. Maybe someone out there knows more about them?
::::::::::::::::::::::::::::::::::::::::::::::::::::::::::::::::::::::::::::::::::::::::::::::