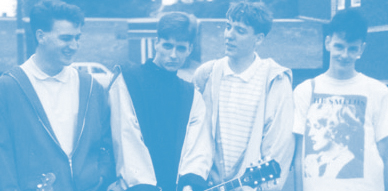 As promised this week I'll check out the San Francisco Popfest bands that are new to me, next week I'll check Lima Popfest's. It's definitely a good thing that these festivals, all of them, including Indietracks, are digging new bands for me to listen. Even though most of the times, honestly, they are not of my liking, far far away from my taste, I never feel disappointed. And that's because I always think the next band I'll discover will be amazing. Just like that one time that Glasgow Popfest had booked the then unknown Spook School, who I immediately fell in love with.
San Francisco Popfest is happening in June for three days, on the 3rd, 4th and 5th of that month. That's Friday, Saturday and Sunday. The venues are Hemlock Tavern, Brick and Mortar and The Knockout. I can't say if these are good or bad venues, I haven't been in San Fran since 1994. I was a kid back then.
On Friday I know most of the bands, the one I don't is The Dyson Spheres. Sadly I couldn't find a Bandcamp or a Soundcloud for them. Maybe they have something else where I can listen to their songs?
Then on Saturday we have The Shivas, who happen to be from Oregon, Portland. There's a lot of releases on their Bandcamp and they are thrown into the garage/surf rock genre basket. They have releases on the once upon a time good label K Records. As I'm doing a quick listen, just to get the gist of what sort of music they make, I go straight to their latest release, dating from February 2016 and called "Better Off Dead". And even though I don't hate this, I just don't like it. Kind of folky, and slow tempo. I don't see the pop in this band, so time to check the next one.
Another band that plays the same show at Brick and Mortar is Emotional. They hail from San Francisco and also have a bunch of releases under their belt. I check out their latest called "Ahh the Name is Emotional" released in March this year. It's not strictly my style again, but at least this is pop music, and to be fair it doesn't feel alien in a Popfest. I wonder what makes it pop but not indiepop. My theory more mainstream influences. What's yours?
The last band on that Saturday show is Smoke Screens. From LA. And to my surprise when I hit on the play button some jangly and chirping guitars start sounding. Oh! This is a discovery. Sounds good!! Proper indiepop that actually reminds me of so many CDR bands from Sweden circa 2003. Lo-fi and charming, Smoke Screens have 3 songs on Bandcamp, "Out of Time", "Vanity" and "The Bar". These were released (I assume just digitally) on August 2015. It seems this is just the solo project by  Chris Rosi and recorded with the help of his friends.
I think I might have heard the name Burnt Palms before. But as I live under a rock when it comes to a lot of music, I'm pretty sure this is the first time I'm listening to them. I have the idea that they are quite popular. Am I right? I check their latest release, a limited 12″ titled "Back on My Wall". It actually sounds good. The song "Fold" surprises me as it sounds to a bunch of American indiepop bands from the 90s. And that's a good thing in my book. The Seaside, California, band make fuzzy pop, straight to the point. And it works.
Horrible/Adorable, is the last band I check out. They are 2 girls from Oakland, California. And Popfest keeps getting better. After two first bands that weren't that exciting, the last three are strong, including Horrible/Adorable. I check out their bandcamp and their song 37th Street starts playing. It's sugary and fun. They list a bunch of genres on their bandcamp which is a bit confusing, as I don't see any noise for example in their sound! On this, their latest release called "Lookin' Healthy" they have 4 songs, the aforementioned "37th Street", "DMV Dream", "You Suck!" and "Hail Sk8tn'". All of them are really nice, though my favourite is "DMV Dream", with kinda All Girl Summer Fun Band lyrics.
——————————————————
The Apache are culturally related Native American tribes from the Southwestern United States and Northern Mexico. These indigenous peoples of North America speak Southern Athabaskan languages, which are related linguistically to Athabaskan languages in Alaska and western Canada.Apache people traditionally have lived in Eastern Arizona, Northern Mexico (Sonora and Chihuahua), New Mexico, West Texas, and Southern Colorado. Apacheria, their collective homelands, consists of high mountains, sheltered and watered valleys, deep canyons, deserts, and the southern Great Plains. The Apache tribes fought the invading Spanish and Mexican peoples for centuries. The first Apache raids on Sonora appear to have taken place during the late 17th century. In 19th-century confrontations during the American- Indian war of ethnic cleansing, the U.S. Army found the Apache to be fierce warriors and skillful strategists.Apache groups are politically autonomous. The major groups speak several different languages and developed distinct and competitive cultures. The current post-colonial division of Apache groups includes Western Apache, Chiricahua, Mescalero, Jicarilla, Lipan, and Plains Apache (also known as the Kiowa-Apache). Apache groups live in Oklahoma and Texas and on reservations in Arizona and New Mexico. Apache people have moved throughout the United States and elsewhere, including urban centers.
I heard The Ferocious Apaches a long time ago, thanks to a rip from the "Are You Ready?" tape that I probably got from Soulseek. A classic indiepop compilation that included 20 songs from the likes of well known bands like The Pale Saints, The McTells, The Driscolls, The Haywains, Strawberry Story, Big Red Bus, The Mayfields and more. There were a few not very known bands in there, like The Lowthers or The Pilgrims (which have been featured in the blog). It was released in 1987 on Windmill Records with no catalog number. Who ran Windmill Records by the way?
On this tape The Ferocious Apaches appeared with a gem of a song called "Golden". It was just a few weeks ago that I reconnected with it thanks to Heinz. He had uploaded the song to Youtube and well, I started wondering what about this band, it looks and sounds very obscure.
It turns out there's actually some information about them online. Strange for a band that didn't leave much recorded output as far as I know. I honestly have only heard this one song. The thing is that the always amazing Tamworth Music website has a lot of facts about this band and I will try to get you the basics.
The Ferocious Apaches were:
Rob Cross – guitar
John Hodgkiss – lead vocals
Mark Hynds – drums
Bob – bass
No last name for Bob the bassist. And Rob Cross had been in a couple of bands like Herb Garden, Big Muff, Liberty Caps, The Hamilton Hammond and Extension. Actually the Liberty Caps appear also on the "Are You Ready?" tape.
There's a gig listed from February 1988, at the Sonic Noise Happening show at the Tamworth Arts Centre. They played along Emma Gibbs Loves Badges (another band that I've written about and interviewed), Ruby Blaze, The Outside, Flowers in the Attic and The Eppies.
Rob Cross has written some memories of those days, from 86 to 87, about his time in the band. He mentions him and Mark being very influenced by The Jesus and Mary Chain, The Pastels, The Shop Assistants and The June Brides. They met John through Mark's art school connections.
They recorded songs at Expresso Bongo studios. How many? It's not mentioned. Were these songs released on a tape? I wonder. They had been receiving some sort of patronage from Ian Gibbons who owned the Rathole, a venue were the band was able to book bands, design posters, DJ and use it's photocopy machine to make their own fanzines. Sounds like they were having a good time.
At the end of the band's life they seem to have done another recording session but there are no more details.
Checking clippings from the Tamworth Herald, I notice that the band played with The Rosehips, yes the fucking Rosehips!, in 1987. Wonder if Rocker or Pete remember them. Emma Gibbs Loves Badges were also on the bill.  There's another gig from 87 when they played along The Searching and The Filipinos.
And finally, Ferocious Apaches. The band were absolutely brilliant. For me they can't do a thing wrong, their music is so full of youth, enthusiasm and arrogance and other important punk ideals, which seem to have been forgotten in a fashionable haze of studded leather and spiky hair. The anarchic aura that shines from them clearly proves that these are people who, even though they were only eight or nine years old at the time, were there in 1977.

So says a clipping from the Tamworth Herald. I wish I had been at one of their gigs. I'm just so very curious how their other songs sounded like. And I'm also wondering why they never released anything! They seem to have been quite popular, at least in their town!
More gigs, now from 1988 we know they played with The Believers, Emma Gibbs again and Psychedelicatessen. What a name of this last band.
The last bit of information I found is a poll from 1987 where the band gets the 10th place on the"What's Your Favourite Local Band?" question. On the first place is Dance Stance who I don't knowwho they are. Fetch Eddie (also covered in the blog) appear on 8th place.
I wonder what happened to the members of the band after the demise of The Ferocious Apaches. It seems they played shows together with Herb Garden, Rob Cross' other band, by they end of their time as a band. But were they involved with other bands after? What are they doing now? There are so many questions left to be answered. Do any of you remember them?
::::::::::::::::::::::::::::::::::::::::::::::::::::::::::::::::::::::::::::::::::::::::::::::