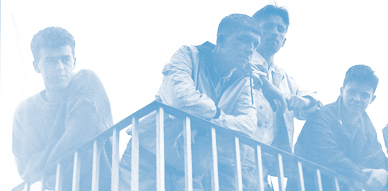 Back from 9 days in Mexico and there's so so so much to do! There was barely indiepop related things in this vacation, but got to eat great food, see the lucha libre, visit pre-columbian ruins and colonial churches, and even got sunburnt. It was a happy time in good company.
But as I promised I will review my experience at NYC Popfest, three weekends ago. It all started on Thursday at Le Poisson Rouge. I arrived late because of work so I only caught the last band, The Trashcan Sinatras.  I had already met many friends before Popfest even started. On Wednesday Alpaca Sports played at Cake Shop, and even though I missed them again because of work, we went for a legendary karaoke session.Tiny Fireflies' Lisle and Kristine also joined as they become part of the Alpaca Sports team this year. From cheesy to cheesiest, the song choices were really funny and we had two great hours in the Lower East Side.  It was so much fun!
When I arrived to Le Poisson Rouge, Young Romance were playing their last songs. I wasn't keen on them so I stayed outside the main room where the merch tables were set. It was great to meet again with Chris Jigsaw once again and with Jerv who I hadn't seen for years. One after another I saw friends passing by and that was so great. I saw Joanny and Emmanuel who came all the way from France for Popfest, Alex and Scott who I haven't seen in many years, and Vernon from Singapore who gave himself a New York Popfest trip as a birthday gift.
I found a small spot in the front row to the left to catch The Trash Can Sinatras. To the right was Frank Reader's mum taking pictures. They started with "Easy Read" and went onto play many favourites like "Only Tongue Can Tell", "Hayfever" or "I've Seen Everything". They ended with "Weightlifting" and played "Obscurity Knocks" as their encore. The band was promoting their last album titled "Pendulum", which for some reason I didn't buy at Popfest but hope to get it soon.
Friday we met Vernon at Cafe Himalaya for lunch special Nepalese food. Two blocks down the afternoon show was happening at Cake Shop. We were mostly going there to see Silver Screen. I had met Cris Miller before in LA but have never seen him play. We arrived on time for the first band but we really didn't pay much attention. We met Alex who was going to play guitar alongside Cris on this sort of two-man Silver Screen that was playing that day. They played a gorgeous gig on the strength of their songs. Cris was very kind to dedicate me the song "Little More Each Day" that first appeared on a Cloudberry 3″ in 2007!
I met Remi from Japan there too. I hadn't seen her since Indietracks 2014. It was very cool that she was carrying all over Popfest a Cloudberry tote bag. Least I could do was help her get tickets for her and her friend for the next show later that night as it was sold out.
We all headed to Brooklyn afterwards, took the J train to Marcy Ave. and went for an early dinner at Bia, blocks away from Baby's All Right. After some beers and some noodles or banh mis, it was time to go see Chorusgirl! But there was a surprise before I even saw them as Vernon introduced me to Mary from Even as We Speak. Wow! I won't lie if I say that the band I wanted to see the most this Popfest was EAWS. But that Friday night the band I wanted to see and listen was Chorusgirl. So again moving forward to the front I enjoyed up close one of the albums I've enjoyed the most lately. How I wish I had discovered them earlier, would have loved to put a 7″ before they signed to Fortuna Pop, but oh well, can't be up to date with every single band! Anyhow they played fan favourites "No Moon", "Dream On" and "Oh, To be a Defector". It was a bit of a short set, but it was powerful and exciting. I hope they become even more popular and come back to the US!
The only other band I liked that night was Spook School who once again proved to be one of the best indiepop bands around. What can I say? For the last three years they might be the favourite band of many of the Popfest goers. Niall always cracks me up with his jokes and their songs are a burst of pure pop and energy, hook after hook.
I wasn't feeling that well at the end of the night but still headed to Trophy Bar as I had promised Joanny as he was DJing alongside Emmanuel the afterparty. Joanny, with his pretzels and always looking for the better deal when it comes to beers, and Emmanuel played a superb selection of indiepop. They even played a Les Calamités song as I had requested them a song by them. The Hit Parade, The Haywains, Pushy Parents, Another Sunny Day, Girls at Our Best, Barcelona and more!
Two days of Popfest and I was having so much fun. But two long days were ahead, Saturday and Sunday. A lot of great bands, more beers, merch to buy, and friends to meet were on the way. But that's for next week post. Now is time for the obscure band of the week.
——————————————————-
Clondalkin is a town situated 10 km west of Dublin, Ireland, in the county of South Dublin. The name is also used in relation to the area's religious parishes. Clondalkin is home to an eighth-century round tower that acts as a focal point for the area. Acknowledged as one of the oldest and best preserved in the country, it is 25.6 metres high and has its original conical cap.
Based in Clondalkin, The Cherry Brogues is a band I've been curious for a long time. I remember them on Myspace but these days the songs uploaded there don't even stream. That must have been the first time I heard them, I'm talking of 2006 or 2007. And since them I've been trying to track their one and only record they released without any luck.
The Brogue (derived from the Old Irish bróg) is a style of low-heeled shoe or boot traditionally characterised by multiple-piece, sturdy leather uppers with decorative perforations (or "broguing") and serration along the pieces' visible edges. Modern brogues trace their roots to a rudimentary shoe originating in Ireland that was constructed using untanned hide with perforations, allowing water to drain when crossing wet terrain such as a bog. Brogues were traditionally considered to be outdoor or country footwear not otherwise appropriate for casual or business occasions, but brogues are now considered appropriate in most contexts. Brogues are most commonly found in one of four toe cap styles (full or "wingtip", semi-, quarter and longwing) and four closure styles (Oxford, Derby, ghillie, and monk). Today, in addition to their typical form of sturdy leather shoes or boots, brogues may also take the form of business dress shoes, sneakers, high-heeled women's shoes, or any other shoe form that utilises or evokes the multi-piece construction and perforated, serrated piece edges characteristic of brogues.
The songs that were on their Myspace don't appear on the record and it would be interesting to know where they come from. Perhaps from demo tapes or rehearsals. The song names were "Undercurrent", "Just Like Saturday", "Only Better", "210", "What the Boy Say" and "Temptation".
The band was active between 1991 and 1994 and was formed by Ray Gilligan, Ray Murray, Joe Rodgers, Des Connaughton and Phil Healy. From the Irish Rock website we know that Ray Gilligan went to play on The Josephs (perhaps a band to cover on another post?).
The one and only 7″ they released came out on C.G.B.G. Records (catalog CBGBS 8) in 1992. The songs included were "She Makes Me Nervous" as the A side and "Here Comes the New Kid" on the B side. They also had another song released in 1993 on a compilation called "Break Records Present… 100% Irish '93". On this CD they contributed the song "Look Back in Anger" and was released by Break Records.
The only other important information we could find about them was that they recorded a Fanning Session. The great Fanning Sessions blog has written a bit about the band and have asked for help without any luck in 2012. They shared the song "Numbers in Your Heart" which happens to be the third track from five from the session the band recorded in 1992. They (and now I), are looking for the other 4 songs.
Youtube also gives as a couple of clues. Someone has uploaded a song called "Options 1,2,3" and because of the intro I dare to say this might come from the Fanning Sessions though of course I can't confirm it. Then there's a reworked recording of the song "Two-Ten" (also written 210) by Joe Rodgers uploaded as well. This one dates from 2011.
And it was in 2011 that the band actually reformed for a reunion gig at the Grand Social in Dublin.
The band also have a Facebook page were there are a lot of photos and goodies. Time to do some archaeology on old posts there and find more about the band.
I learn the names of other songs by the band like "Weekend Teen", "Buckle at the Knees", "Buttercup", "Only Better", "It's Over", "Another Leo", "No Reaction (The Penny Song"), "Trusting Emma", "Stormin' the Gulf" and "Social Butter".
I also read that they went into the recording studio in 2009. Don't know if these recordings ever saw the light of day. They also mention having played a gig at a venue called Fox and the Phaesant back in the early 90s. Other gigs happened at the Rock Garden, Whelans, Route 66, Round Towers, Tivoli and the Tower Road Clondalkin. But their first gig was at the Red Cow on New Years Eve 1991. They were the 2nd band after Big Sky while the Headliners were Jamie Cotton.
Thanks to this Facebook page I could find a recording of "Buttercup" on Youtube. And from there I could find a live recording of the song "Stormin the Gulf" being played at the Baggot Inn in 1992.
That's all I could find about them. But I'm sure many remember them. Was wondering if anyone have a spare of the 7″? Or the other Fanning Session songs? Or what about all those songs that seem to have been recorded? Would be great to know what happened to the members afterwards, or if they had played in other bands before or at the same time. If they are playing any other reunion gigs? What do you remember about them?
::::::::::::::::::::::::::::::::::::::::::::::::::::::::::::::::::::::::::::::::::::::::::::::