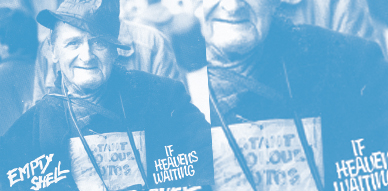 Yet another week with very little news for indiepop. I know that Indietracks is around the corner but I'm not going. There must be some new releases coming out (aside from the new Starry Eyed Cadet album that I'm so looking forward), but I don't think I know about them. In the last week I ordered the new Helen Love and the C87 compilation. I have yet to listen to them. I've been listening to much older stuff, catching up with the piles of CDs that I have by my computer, finally about to finish listen the Lush and the Creation Records box sets. I've taken a while to do so.
Haven't bought many vinyl records either in the past weeks. I think I got some stuff from France the last time, I ordered a couple of 12″s. Blammo! and something else. It's been a while then! Maybe I should check out any cheap finds on Discogs or eBay. I haven't been hunting records much lately.
I've been playing Pokémon Go since it came out though it servers suck. I'm a Pokémon fan as many of you might now and I'm having a good fun with this new game. I do see people go out in big groups to play together. I do it alone. I don't enjoy much playing any games with random people unless they are competitive I guess. It's odd when I walk by the park with my phone and people just ask me Pokémon related questions. I don't really like that. Also I signed in with the Trainer Club account and as the servers are always down, Google people have had the advantage and now have all the gyms filled with powerful critters. Oh well…
I got some photos from the pressing plant for the new Stephen's Shore 7″ and they look really ace. It's only a couple of weeks for release date. I will get on writing and printing the inserts soon. I'm a little behind on that. Also I've received a semi-finished artwork for The Seashells 7″ and looks really classy. I can't wait to start promoting their songs!
I guess all of you are looking forward to Indietracks. I'm only jealous of missing Po!. What a band. I love them. I wonder which songs will Ruth Miller play. Will she have a full band? I hope people record her gig and post the videos on Youtube. She is playing at the same time as my friends of Flowers and also while the movie of Indietracks is going to be screened. I know Flowers would understand if you go see this legend of indiepop. The movie you can catch on Sunday as it will be screened again then just after Red Sleeping Beauty (who I'm jealous of you seeing them, but I feel there are bigger chances for them to come to NYC than Po!).
While I was at that, checking the schedule and all that, I was looking at the discos and workshops. You know I never attended to any workshops in all of my visits to Indietracks. I wonder why. Must be that I prefer checking out bands or hanging with friends. I assume some of these workshops must be fun. I see this year they have quizzes, printing lessons, portraits, tea making, poetry, and more. Niall from Spook School is even doing life coaching for all of those who need that sort of thing. That could be fun.
The discos on the other hand don't add much to the festival I think. Same old story, DJs that love going to an indiepop festival to play anything but indiepop. I hope this year is different though, it's the 10th anniversary, so I hope they show some respect for a festival that, even with their mistakes and successes, has been carrying the indiepop flag with pride.
Well, that was more of a rambling than a proper post. As I said not many news in indiepopland as far as I know, but I'm hoping things start changing soon. Summers are usually slow, the heat slows us all, it's ok. But things should be getting more exciting anyways in Cloudberry HQ with new releases in the coming months. And I know too that I have to get on writing a new fanzine. I've been putting that off for too long!
—————————————————————
I was planning to do a post about Rex & Dino, the band that came after Empty Shell, but I thought that to get the story straight I should start from the beginning.
I have doubts about when was that I heard first Empty Shell's  "If Heavens Waiting". It was either on the Shelflife blog or downloading from Soulseek one of those "future Leamington Spa folders" that some indiepop fanatics had with a bunch of not so known pop gems. Either way the song struck on me and so I wonder why I never tried finding out more about them.
They released only one record as far as I know and as far as I could find on the web. It was a 7″ released in 1986 on their own label also called Empty Shell (catalog SHELL001). The A side was the brilliant, romantic, and classy "If Heavens Waiting" compared by Ed from Shelflife to The Wild Swans and The Railway Children, while the B side was called "Theme". As I don't own this record (I wish I did of course), I have never head the B side. I wonder what it sounds like even if Ed from Shelflife says that it sounds like an 80s goth song.
The band hailed from Dublin and was formed by:
Dermot Lambert – vocals, guitar
Neil Tyrrell – bass
Ellen Leahy – vocals and keyboards
Richard O'Connor – drums
About gigs, I could only find one mentioned online, at the Roundstown Town Hall in Galway. I'm sure they played many more.
Another interesting fact is that Empty Shell recorded a Fanning Session in January of 1985 with Declan Farrell on vocals. Even the great Fanning Sessions blog hasn't posted these tracks. They remain a mystery.
In 1987 Dermot Lambert and Ellen Leahy would start a new band, Rex & Dino, but that is another story. Even later Lambert would form Blink, his longest running band (1991-2007) and release a bunch of records with a sound that reminds us of the Madchester era. These days he seems to be making music solo.
Next week I'll get onto the Rex & Dino story and releases, but for now let's enjoy this cracking tune and try to find out all the answers to the many questions we have about Empty Shell. Was this the first band Lambert was on? Where else did they play gigs? Did they ever play in Great Britain? Did they record more songs? More releases? Any compilation appearances? What songs were recorded for the Fanning Sessions? And so on!
Do you remember them?
::::::::::::::::::::::::::::::::::::::::::::::::::::::::::::::::::::::::::::::::::::::::::::::