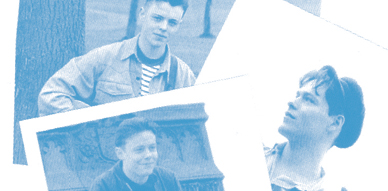 With the release of Stephen's Shore debut 7″ I want to invite you all to a couple of things. First to like their Facebook page which is brand new. Show support to their gorgeous music and to themselves, lovers of 12-string guitar janglepop like us. Secondly, on September 14th, if you are in Stockholm, you should know that they will be playing a release party at Riche Lilla Baren in Östermalm. The gig is scheduled from 6 to 9pm. Also there will be two DJs at the gig: Henrik Burman and Leo Forsell. Here is the Facebook Event page and I hope you can make. If I could, I would be there for sure. Would love to see this band!
Also The Legendary Hearts who we interviewed some time ago got in touch with me to let me know that they have a brand new recording. You can stream it in their SoundCloud and it is called "Make A Home". It is their first official release since 1988. They are announcing that there will be more tracks coming up and a 2017 album is expected. This is really great news!
And that is not all when it comes to news from indiepop friends from around the world. Tore Höghielm from the fantastic Visby, Sweden, band Alfie that released that amazing 7″ in the 80s got in touch too telling me about the great news that the band reformed just for a one-off gig for the 50th birthday of one of their members, Stefen Wesley on July 23rd. There are two videos on Youtube of this special moment that I can only recommend you all having a look and a listen! Here is part 1 and here is part 2.
More news? Of course! George Matzkov also updates us, he has now published the book "Way Out West". This book covers the west Australian music scene from 1976 to 1989. It is a bit pricey the postage to the US, and so I'm trying to save a bit before ordering (this past week I bought maybe too many records!!), but I'm sure I will order it pretty soon. It seems the book is filled with photos and memorabilia and it even includes an MP3 archival CD. I think this is one of the most important releases this month!
Boring Productions, the Chinese label from Shenzhen who released the brilliant Chestnut Bakery CD, has a new release by the band The Cheers Cheers. A 6 song EP released on both CD and cassette titled "Carinae". Dreamy pop worth checking out.
Perhaps my favorite discovery this week comes from Falmouth in the UK. The band is called The BV's and they have two songs on their Bandcamp and they are very very good. Two very promising songs that deserve to be released physically. The song titles are "Ray" (my favorite one) and "Speaking from A Distance". Who are they? I don't know. There's very little information on their page. But finds like this always make me look with hope to the future of the British indiepop scene that seems a bit boring these days.
The last bit of information comes from Cloudberry HQ. The Seashells 7″ is being pressed at the moment, masters and artwork approved at the pressing plant. Then today I received the liner notes for the Some Other Day CD compilation and so we are now only missing mastering for a handful of songs and then we can send to press this beauty. It is looking like a very good way to close the year, busy and with very exciting projects ahead!
——————————————————————–
It was a three day weekend here in the US and I had a bit of spare time to just check old CDs and records. I've been feeling like there are so many bands that I've heard on compilations, that I know so little, that I never tracked their whole discography or at least part of it! A good starting point is always the Sound of Leamington Spa series that Uwe Firestation used to compile with great knowledge and taste. One of the bands that I remember loving their song on the compilation was The Sandalwoods, and then I was thinking, but I don't have any release by them, did they ever put anything out?
Well, they didn't put anything out. I guess most people know them by the song "The Day is Mine" that appeared on the Sound of Leamington Spa Vol. 2 that was released by Firestation, Billberry and Clarendon Records in 2002. Luckily there was a full page about them on the booklet included in the CD saying:
We were Paul & Mark McCole and myself Will Deegan. We had many extra musicians that we called on as we required. Forming (in our minds-'85) in 1986 we began as an acoustic Velvet Underground!! All three of us wrote and the writer sang the song. We swapped around a lot to keep it fresh for ourselves and the audience. We usually had an acoustic act or comedy act supporting us. In our 4 years we dabbled in:  country, reggae, blues, jazz, cajun, psychedelic, skiffle, rock, rockabilly. We used vocals, bass, acoustic & electric guitars, drums along with keyboards, percussion, sax, clarinet, harmonica, accordion, and anything that wasn't cool to use at the time!
We never got a deal but did contribute to a couple of compilation albums of the time; "This is Manchester Vol. 1" (Vanessa) and "Manchester" (Calendar Girl).
We split up in 1990. Mark & Paul went to form "Widehead" and I played with lots of bands including: Bryan Glancy (Too Many Foxes / The Mouth / I Am Kloot), Kill Laura, Glow, The Rillington Rockers, Grace, Widehead and plenty of cover bands. In 1994 we decided to reform with a much heavier sound Teenage Fanclub meets Neil Young / The Pixies then ditched it so we could have more fun playing covers!! Since then I have played with Pete Wylie (Mighty Wah) and a Who tribute band!! I've just returned from a short tour of U.S.A. (East coast) with a band comprising Mike Joyce & Andy Rourke of The Smiths.
The Sandalwoods still get together to play for family / friends / charity dos every now & then for a laugh. Funnily enough, I spoke with Paul today about writing / recording again in the near future!!
P.S. – The late 80's was a fantastic time to be in Manchester!!
It actually feels more like Will Deegan is writing an email to Uwe than he wrote actual liner notes. It feels like two friends exchanging emails. I like that. I'm also impressed by Uwe tracking a small band like this for the 2nd volume of Leamington Spa. Those days it wasn't as easy as today to track band members from the 80s. There was no social media. I wonder how he did.
There is no mention as to where "The Day is Mine" comes from. Maybe just a demo tape? We do know though two other song names, "Vanessa" and "Calendar Girl". I couldn't find anything at all about "Calendar Girl" or the compilation titled Manchester. But I was able to find "Vanessa" today. I actually just placed an order through Discogs for the compilation "This is Manchester (14 Songs from the North West)". I think you should be able too for a good price.
The curious thing about the Sandalwoods appearance in this compilation is that their name seems misprinted as The Sandle Woods. The song seems to credited to the three Sandalwoods members and copyrighted to White Metal Music. It is the 3rd song in this compilation that also includes very cool bands like The Candidates, The Chrysalids or The Paperboys. I look forward a lot to hearing this song! Hopefully it is as good as "The Day is Mine".
I found some information too about this compilation released by Essential Music in 1990 in both CD and LP formats (catalog ESS 133). On the back sleeve, aside from small thumbnail sized photos of the bands we learn that the original concept for this compilation came from Pete Mitchel at Piccadilly Key 103 FM and Tony Davidson of T.J.M. Records. Tony passed the tapes of The Obimen, the band he was working on, to Pete and that was the seed that started it all.
I keep digging for more information. I now dive into the Manchester District Music Archives website. What will I find here?
A gig flyer from 1988 where a bunch of bands played. The gig was named "C.C., Phil C. and Simon D's Birthday Fun Box" and happened on June 2nd at The Gallery in Peter Street, Manchester. The bands that played were The Psycho Surgeons, The Sandalwoods and Capitol Hill. There was also comedy with John Thompson and I guess acoustic songwriters with Claire Mooney, Paul McCole (from The Sandalwoods!) and D.J. Phil C.
Then another gig flyer. This time from the famous venue The Boardwalk. The date was Thursday 12th January 1989. The bands playing were The Sandalwoods, The Waterglass and the great Asia Fields. Seems The Next Step was to play but they canceled. Just 2 pounds to attend.
The third memorabilia item I found was another "Fun Box" event by C.C. / Brickwall. I learn that C.C. was a guy named Chris Coupes. This is more a running order of bands than a gig flyer. We see that most bands played just 2 songs. And actually most of the people playing were just going solo. Among the names I recognize from this list is definitely Johnny Dangerously who was going to be I Am Kloot later and was part of the amazing DeBuchias I've covered in the blog.
About the other bands Will Deegan mentions in the liner notes, I couldn't find anything really about Widehead. Found a Kill Laura flyer from a Hacienda gig in 1995, photos and some flyers for Bryan Glancy, but nothing really that would uncover more of The Sandalwoods mystery. I would definitely like to know if they recorded more songs. What are they doing now? How did their other bands sounded like? What about that obscure compilation "Manchester" and the song "Calendar Girl"? If any or all of their songs are like "The Day is Mine", well, I really want to hear from them!
::::::::::::::::::::::::::::::::::::::::::::::::::::::::::::::::::::::::::::::::::::::::::::::