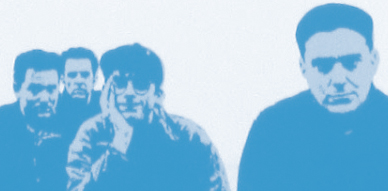 Two posts this week? Yes, yes, I need to fix something I said because I remembered something and I can't believe how I forgot about it! Well, the thing is that saying that the past week was quiet is kind of not true. I did attend the Lush concert at Terminal 5, didn't I?
You know I've been having this thing called Bell's Palsy and that has been boring and annoying at the same time. Not embarrassing or anything like that, no one really notices it. It is just me who notices it. But at the same time one of my ears is much more sensitive than the other one and at the concert that was really noticeable. Only when I was closer to the left side of the venue, with the speakers closer to my left ear I more or less normalized the sound and I had a very good experience. Didn't I say it was annoying?
I had bought my Lush tickets last year. I thought the concert might sell out as some others have. Speaking of which, I haven't bought Radio Dept. tickets. Maybe these are sold out already! I should check. They are touring America early next year and even though I'm not the biggest fan around my girlfriend quite likes them and well, I like them too. Anyhow, I did buy Lush tickets very early, before they announced they were playing another gig in Brooklyn. Most people actually went to the Brooklyn concert it seems. I didn't see many familiar faces in Terminal 5, which is located in Manhattan, in the West side, quite close to the East River.
The concert wasn't sold out, but still there was a big crowd. It was hard to get to the front when I arrived. I arrived late. I had to work until 9pm. Also there were some issues with the trains. I took a bus in the end to the venue and that was actually quite speedy and efficient. The M11 bus. First thing I did at the venue was go straight to the merch stall and get what I wanted. A t-shirt, and also they were selling the Thoughtforms fanzine and a signed Blind Spot EP. I really liked the t-shirt design though I wish that instead of navy blue they had in black. They did have a black t-shirt but I wasnt keen on the design. My only complain is that these three items ended up being $50. That is quite expensive for what I got. I think around $30 was the right price. But hey, if I can help them tour the US once again after so many years, I don't mind supporting them.
I didn't meet the band though. The people from the venue were kind of mean at the end of the gig. I wanted to get a setlist and the people that were taking away the instruments and the equipment from the stage had such a terrible attitude with fans. They kicked around one setlist and then kind of threw it away to the security people  in between the crowd and the stage. The security guy just threw the paper up to the sky for people to fight for it. One of the employees took away a setlist with himself. Then another guy just started asking everyone to leave, not letting one try to catch the attention of someone nice enough to pass me a setlist. Oh well… they don't get it. They must just work all the time rock and macho concerts where they can treat people like this. Me used to indiepop gigs, this was really mean and made me quite angry at the end.
But what about the gig? They sounded great, Miki's voice is intact and I think that was the best part for me. I enjoyed it so much! Of course I wanted them to play "Shake Baby Shake" and they didn't play that one. I was surprised that they didn't. A fan favourite. But they did play "Hypocrite" and "Ladykillers" and much more. I started the gig on the right side, close to the beer, then trying to find a better place went up to the 2nd floor and it was impossible. So hard to get a good nice little video of the band. Then up to the 3rd floor. Again impossible! Then back again to the first floor, and little by little, went about 3/4 in towards the front on the left side. I could record some nice little snippets of many songs. It made me happy. Dancing around and singing along.
Guitars soaring, the purple and blue lights dancing on stage, Emma's backing vocals and Miki just going and going on an inspired performance. Another song, and once again she changes guitars. How many times did she change guitars? The fact is, they sound great. Miki says for the thousand time the word "Fucking". Talks a bit to the crowd, thanks the crowd. She seems to really enjoy playing live again. The drummer takes photos of the crowd with his phone. The band is having fun. And here's another brilliant song. And yes, we all are having a good time. Who would have thought we'd be seeing Lush in 2016!
But I don't know about the crowd though, as I said, the fans are not what I expected. Some were in some sort of rave. Some others did seem your stereotypical college radio kids from the 90s. I don't mind it much, but at the same time being with this sort of crowd makes me nostalgic of Indietracks. Maybe the same thing happens to you all?
The gig was long. More than an hour and a half. And the band was so kind that they did two encores. I don't know if they had that planned. But they went away and we kept asking for more. They came back. And then again, the same story. They went backstage, and we kept clapping and clapping until they came back. If it was an act or not, it didn't matter. It made us all happy I think.
After the gig, we went for pizza and that was it. A Thursday night in the city. There was happiness for seeing a band that I never thought I was going to see, I never thought they reform after what happened.
Now I've seen so many classic bands, and some others much smaller that split back in the 80s and 90s. I wonder to myself now what are the options of me seeing the best band ever McCarthy? or other smaller favourites of mine like The Man From Delmonte? or Rumblefish? Hey Paulette? And so many more…
I remember when Indietracks was booking classic bands and they reformed bands like Mighty Mighty or Friends, two bands I missed and I regret deeply. Hopefully they retake that path, I think that made things special. NYC Popfest did this year with The Railway Children, The Chesterf!elds or Even as We Speak (oh dear, it makes me terribly happy remembering that gig!)
But yeah, Lush was great and they are still touring the US. Catch them in your city! So worth it!
———————————————————————-
Well, now the summer is ending, maybe a week or two left of this warm weather (thank god!). I will see some of the warm weather though when I travel to Thailand in November for vacations, and then it seems to Lima, Peru, in January! So I can't really escape the sun! But I thought, why don't I find a song about the summer ending. It didn't take me long to find a song that actually fits this idea, I went to look into the Leamington Spa compilations and on the first volume no less I find The Clamheads' "Summer's Coming Down". That was easy I thought. But these Clamheads, I actually know little about them, I don't own their record. It would be interesting to find out more about this obscure British band.
According to the Urban Dictionary a clam head is: A person who will talk shit non-stop, no matter who or what is around. Like a clam, it'll open&close it's mouth non-stop. Is that why they called themselves The Clamheads?
Or they just liked clams?
Clam" is an informal term used to refer to any molluscans within Class Bivalvia. Remains first appeared in Cambrian age rocks 510 million years ago. They presently live in both freshwater and marine habitats, and range in adult size from nearly microscopic to the giant clam, which can weigh 200 kg (440 lb). Some have life cycles of only one year, while at least one has been discovered that may be over 500 years old.[2] They lack heads but most can react to changes in light and some, such as the scallops, have rudimentary eyes. Though a common food item, many are too small to be useful as food, and not all species are considered palatable. All clams have two calcareous shells or valves joined near a hinge structure with a flexible ligament, and all are filter feeders.
I look for them on the booklet included in the compilation to find the first clues, the first bit of information regarding the band:
""Summer's Coming Down" was recorded about November 1988 at Scruttocks, London EC2. It was written by Ian Nixon.
The Clamheads were/are Mike Hughes, guitar; Ian Nixon, bass; Gary Payne, drums; Matt Tanner, guitar and voice. The first ever Clamheads were a duo, Mat and Maccy (now main man in Arthur Turner's Lovechild), who did some great gigs but were often too drunk to play. The four-piece Clamheads got together in March 1988. Mike and Ian were members of art-thugs the Shrew Kings.
They played around London and the provinces and did two tours of South-West France before taking a sabbatical in 1991, only to reform in 1995 as Borgnine, under which name they released the full-length "None the Wiser" CD in 1998″
Two names, The Shrew Kings and Borgnine. The Shrew Kings would appear on the Leamington Spa Vol. 5 while Borgnine in Vol. 7. Both bands would be interesting to dig more information in the blog sometime unless we get in touch with the band members before for an interview! Right? there hasn't been that many interviews lately. I have done my work and have sent questions to a bunch of bands but sadly I haven't received their answers yet (and I hope I will at some point though I'm not that positive now!).
They went to the South-West of France. Yes, and we have proof. There are two videos on Youtube of a TV presentation in Toulouse.  They appeared on the TV channel TeleToulouse in 1991 and played at least the songs "Woodenface" and "She's a Funny Girl". Where else did they go in France? Who supported them in gigs? Did they appear on any other TV shows, or perhaps radio interviews? Did The Clamheads learn any French?
So there's the one release they put out in 1989. The label that was to release them was Jericho and their 12" EP "Summer's Coming Down" got the catalog number JR002, only the second release after this label released the compilation "The Jericho Collection". It is important to note that The Clamheads were already familiar with this label, they had appeared on the aforementioned compilation with the song "Suddenly" in 1988. I haven't listened to this song sadly, and I'm not familiar with the bands on this compilation (only know The Anyways and The Wild Poppies), but I believe this label was supporting bands from the Oxford area. It is said that this label was an offshoot of the listings/review magazine "Local Support" who also organized live gigs and club nights in the area. Wonder why the name Jericho though? Sounds kind of religious, doesn't it?
Anyways, the record included four songs, on the A side "Summer's Coming Down" and "Everybody Loves Me Cept You" and on the B side we have "Never Crack On" and "Reprobate Blessing". The photo on the cover I can't figure out if these are famous people on it, there's a guy and a blonde girl hugging. On the back there's a small photo of the band on the bottom.
The credits confirm that most songs were recorded in Scruttocks but not all. The song "Reprobate's Blessing" was recorded at Stargoat in Banbury. The engineer for the first three songs was Matt Stoddart. "Summer's Coming Down" was mised by Matt Barry. "Everyone Loves Me Cept You" and "Never Crack On" were mixed by Nick Page. They thank a Simon for giving them money. The photos are credited to a Jasper. They also give their address, and so we know they band lived in Stoke Newington. Don't know how it was back then, but now that is definitely a hipster area.
Thanks to the blog From a Northern Place I was able to listen to another song of theirs, "Everybody Loves Me Cept You". And it is GREAT! Perhaps I like it better than their most known song, the one I'm sharing here. But maybe it is because it's newness to me? Now I hope to listen to the B side sometime, and also to "Suddenly" from the compilation. But was that their only recorded output? 5 songs? What about those songs they played in the TV in France? Did they record those? Were there demo tapes by the band with more songs? I would like to know!
Sure, they later released more stuff under the name Borgnine, but that is another story for another blog post, for another day.
What are The Clamheads doing now? Was The Clamheads their first band? Were they involved with other bands aside Borgnine and The Shrew Kings? Were in England did they tour? And how come they didn't release any more records?! Many mysteries that require an answer!
Now, let's see summer go away, summer's coming down…
::::::::::::::::::::::::::::::::::::::::::::::::::::::::::::::::::::::::::::::::::::::::::::::