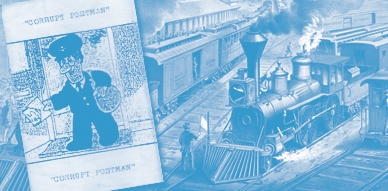 What a quiet week for indiepop!! I think I'm starting to get used to weeks were there are absolutely no interesting news for our favourite music. And that is starting to worry me! Long gone are the day when I would find new bands all the time. Now who is making music, releasing zines or setting up labels?
The only nice surprise this week is the arrival at home of the 2nd issue of the Botanic Garden zine, all the way from China. As I don't understand what is written I don't have a very objective view about it. I just know it is lovingly put together, on quality paper and printed in colour. If you want to order a copy you can from their website.  I don't see number 2 listed though, hopefully it will be available soon.This time again they asked to translate an article from the blog, one relating to New York Popfest. It also includes other articles, some recommendations, and a CDR with a bunch of cool songs from various acts.
There's also the book Robert Forster from the Go-Betweens published not long ago titled "Grant & I". I haven't ordered it yet, but is definitely on my to-read list. I think it has only been published in Australia but there are ways to get it from different stores online, depending where you live.
The past week, on Facebook, the page C86 and all That: Indie 1983-86 was showing around some visuals for the book Neil Taylor is writing about C86. The artwork is really nice, recalling the fanzine style of the time. It is very clean and polished I thought, and I really like that. I wonder if purists would argue that there's too much negative space on the art, and it should be much busier, like most fanzines were. Supposedly the book will be out early next year. Looking forward to that.
Aside from this small little news, I haven't seen anything else worthwhile around. Maybe I missed something? Maybe there were some ace releases?
Next week I'll go over Lima Popfest's lineup for their 2016 Spring Edition to be celebrated on October 1st. Again they have a lineup of bands from Argentina, Chile and Peru. Hopefully there will be some new discoveries as there has been in previous years.
What else is coming up? Would love to hear your thoughts on the state of our beloved music.
—————————————————–
Steamtown, U.S.A., was a steam locomotive museum that ran steam excursions out of North Walpole, New Hampshire, and Bellows Falls, Vermont, from the 1960s to 1983. The museum was founded by millionaire seafood industrialist F. Nelson Blount. The non-profit Steamtown Foundation took over operations following his death in 1967. Because of Vermont's air quality regulations restricting steam excursions, declining visitor attendance, and disputes over the use of track, some pieces of the collection were relocated to Scranton, Pennsylvania, in the mid-1980s and the rest were auctioned off. After the move, Steamtown continued to operate in Scranton but failed to attract the expected 200,000–400,000 visitors. Within two years the tourist attraction was facing bankruptcy, and more pieces of the collection were sold to pay off debt.
Don't know if Birmingham's Steamtown took their name from the American museum. Perhaps. English people are very fond of trains and railways and I always thought that was a very good thing. But the truth is, it has been years since I wanted to write a piece about a band I barely know anything, Steamtown.
The only known song by them is "Living & Loving". It appeared on at least two tape compilations. On the legendary "Corrupt Postman" released in 1988 on Windmill Records and on "Hacia La Luz" on Elefant Records in 1990 (catalog ER-5). That's it. But hey, I love this song.
When guitars sound like this, when they ramshackle like this, I feel in heaven. Everything crashing and breaking, guitars going fast, fast, fast. Crash-pop at its finest. But it gained no attention from labels it seems? There were no releases!!
I think I remember there was a post about them on The Cudgels' Stephen Davies'  blog about Steamtown. Sadly the blog is no more and even looking into old snapshots on the Internet Wayback Machine I couldn't find this post. The only thing I could really find on old emails was that Stephen told me that a Spencer Roberts was part of the band. I was told he was a big fan of Postcard Records but not really of indiepop, according to Stephen he didn't own any Field Mice records or anything like that.
The other tip he gave me was that Spencer was, at the time, part of The Leaking Machine. The Leaking Machine being a band that included some ex-members of Mighty Mighty. And then doing a bit of research I could find that Spencer was also part of Oporto who released a 7″ on Sunday Records in 1994. The last news from Spencer comes from around October 2009. He appeared under his name on a CDR compilation titled "The Garage Pop EP" released by Stephen Davies on his own Please Rain Fall Records.
But about Steamtown nothing. I can't find anything at all. I wonder if there were more recordings made in the same session of "Living & Loving", or even before or after. It doesn't matter. I would really like to hear. I'm a sucker for this sort of shambolic pop!
Who were the other band members? What other bands were they involved? Does anyone remember them?
::::::::::::::::::::::::::::::::::::::::::::::::::::::::::::::::::::::::::::::::::::::::::::::
Listen
Steamtown – Living & Loving