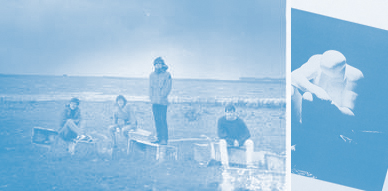 How is this week treating you all? I hope everyone is doing well. It is October now and it is definitely my favourite time to be in New York. The autumn foliage and the perfect weather, not too cold or too hot, make my living here pretty enjoyable.
Feeling much better now from the paralysis, I have almost recovered 100%. I'd say I'm on a 95% and with more exercises on my own, I don't attend therapy no more, and with the days passing I should be fine which is a big relief.
There were a few interesting bits of news last week. But first I want to say that I started reading today, on the subway on my way to work, Martin St. John's book about his years as a tambourine man in Primal Scream. I've only read 30 pages and I'm already hooked! The writing is just like a blog or a fanzine and not "technical" or "serious" at all. I feel I'm reading a book written by a friend, by another fellow music fan! So I totally recommend it.
Talking about books finally ordered the "Grant & I" book as well. For those who are in the US and don't know where to get it as I believe it is not yet available on Amazon, I got it from the Book Depository who have free shipping for the whole world, which is  quite convenient. I hope it arrives soon.
Last week I got a nice package from the German label Kleine Untergrund Schallplatten. They are based in Augsburg and have released already a nice string of records. I got their last releases, a CDR compilation with outtakes, demos and rare recordings by bands in the label and a fabulous 7″ by a band from the same city called Zimt. I wasn't aware of this band I have to be honest, and I only found out now that they have a video for the A side of their single, "Du Kannst So Leben Wie Du Willst" and it is ace. Maybe not that new, but you might have missed this gem!
I hear news from the UK too. The band E'spaniel, who feature 3 members of Pale Man Made (who were part of the split singles we did some years ago in Cloudberry), will have a new single out on November 7th. You can stream both of the songs that will appear on this release on their soundcloud at this link. "Just Another Day" and "Knots" are really really good. I just hope these get released on physical format. They are just quality indiepop songs in times when there's a lack of this sort of thing! They give me a big big smile listening to pretty melodies and jangly guitars like this. More please!
And I guess the news that surprised me the most is that Cherry Red will release another boxset. This time focusing on the music from Manchester from the years 1977 to 1994. The title for the boxet? The very original "Manchester North of England", just like the compilation released by Bop Cassettes on both vinyl and tape format in 1988. And some of the bands that appear on this compilation will be included in it.
The 6 CD compilation has been organised together with the Manchester Music District. I've visited many times the website of this organisation to find lots of flyers, photos and setlists from bands I have featured in the blog. In that sense I trust these people, they do a great job. You know I have some sort of distrust with Cherry Red, what can I do, they run their label as a big business and that pains me, feels wrong to support them. But in the end, if the booklet is very good, with lots of information, you know I end up happy. That's the main reason I buy these boxsets they release, the songs and bands that appear are the obvious ones usually, songs I already own in some format or another. And I understand, these boxset's public is that one that needs an introduction to the wonderful world of guitar pop! And as long that works, and more fans appear in the world, then it is a good thing, isn't it? Maybe one day it will be easy to sell records again!
Anyhow, the tracklist is already available for this compilation and definitely disc 4 is the one that will interest us more as indiepop lovers!
DISC 1: 1977-1979
1. BUZZCOCKS Breakdown
2. SLAUGHTER & THE DOGS Cranked Up Really High
3. THE NOSEBLEEDS Ain't Bin To No Music School
4. THE DRONES Just Want To Be Myself
5. JOHN COOPER CLARKE Psycle Sluts Pts. 1 & 2
6. JILTED JOHN Going Steady
7. MAGAZINE The Light Pours Out Of Me
8. ALBERTOS Y LOST TRIOS PARANOIAS Heads Down, No Nonsense, Mindless Boogie
9. SPHERICAL OBJECTS The Kill
10. STEVE MIRO Up And About
11. V2 Man In The Box
12. THE DISTRACTIONS Maybe It's Love
13. JOHN THE POSTMAN Louie Louie (NB: Edited Version)
14. GROW-UP Stay Awake
15. FRANTIC ELEVATORS Hunchback Of Notre Dame
16. JOY DIVISION She's Lost Control
17. FRESHIES Baiser
18. THE SMIRKS To You
19. THE SALFORD JETS Manchester Boys
20. 48 CHAIRS Snap It Around
21. FOREIGN-PRESS Downpour
22. X-O-DUS English Black Boys
23. THE OUT Who Is Innocent
24. THE MOTHMEN Does It Matter Irene?
25. FAST CARS The Kids Just Wanna Dance
26. ANY TROUBLE Yesterday's Love
27. HARLEM SPIRIT Dem A Sus (In The Moss)
DISC 2: 1980-1982
1. A CERTAIN RATIO The Fox
2. THE FALL Totally Wired
3. THE TILLER BOYS Big Noise In The Jungle
4. MANCHESTER MEKON No Forgetting
5. MANICURED NOISE Faith
6. ERIC RANDOM Fade In
7. SMACK Edward Fox
8. DURUTTI COLUMN Lips That Would Kiss
9. BLUE ORCHIDS The Flood
10. IF ONLY If Only
11. THUNDERBOYS Fashion
12. CRISPY AMBULANCE Deaf
13. LUDUS My Cherry Is In Sherry
14. THE DIAGRAM BROTHERS Bricks
15. BEE VAMP Valium Girls
16. THE CHAMELEONS In Shreds
17. CARMEL Storm
18. NEW ORDER Temptation
19. GOD'S GIFT Discipline
20. DISLOCATION DANCE You'll Never Never Know
21. SWAMP CHILDREN You've Got Me Beat
22. NICO AND THE INVISIBLE GIRLS Procession
23. SYNCOPATION Marking Time
24. 52ND STREET Cool As Ice
DISC 3: 1983-1986
1. THE SMITHS Hand In Glove
2. JANE & BARTON I Want To Be With You
3. QUANDO QUANGO Love Tempo
4. TOOLS YOU CAN TRUST Working And Shopping
5. THE PASSAGE Sharp Tongue
6. INCA BABIES Grunt Cadillac Hotel
7. MARCEL KING Reach For Love
8. LIFE Tell Me
9. STOCKHOLM MONSTERS All At Once
10. SECTION 25 Looking From A Hilltop
11. MEMBRANES Spike Milligan's Tape Recorder
12. JAMES What's The World
13. BITING TONGUES Aair Care
14. JAZZ DEFEKTORS Hanki Panki
15. A WITNESS Kitchen Sink Drama
16. MIAOW Belle Vue
17. GRAHAM FELLOWS Love At The Hacienda
18. EASTERHOUSE Whistling In The Dark
19. BIG FLAME Why Popstars Can't Dance
20. THE BODINES Scar Tissue
21. TWANG Sharp
22. YARGO Carrying Mine
23. THE WEEDS China Doll
24. BIG ED & HIS ROCKING RATTLESNAKES Skulldiggery
25. FRANK SIDEBOTTOM Christmas Is Really Fantastic
DISC 4: 1987-1988
1. INSPIRAL CARPETS Garage Full Of Flowers (Flexi Version)
2. THE RAILWAY CHILDREN Another Town
3. THIRST Let Go
4. THE FALL Hit The North
5. HAPPY MONDAYS 24 Hour Party People
6. METRO-TRINITY Spend My Whole Life Loving You (or Die Young)
7. MAN FROM DELMONTE Drive Drive Drive
8. JOHNNY DANGEROUSLY Black And Blue
9. THE DANNY BOYS Days Of The Week
10. MIRRORS OVER KIEV Take Me Down
11. TOT Kill All The Boys
12. MEAT MOUTH Meat Mouth Is Murder
13. T-COY Cariño
14. KISS AMC Kiss AMC
15. MONKEY RUN Falling Upstairs
16. AMBITIOUS BEGGARS Man In A Suit
17. MORRISSEY Suedehead
18. LAUGH Time To Lose It
19. THE WALTONES The Deepest
20. BRADFORD Skin Storm
21. FALLOVER 24 Pessimistic Man
22. THE DESERT WOLVES Passion In The Afternoon
23. TOO MUCH TEXAS Hurry On Down (When Will I See You Again)
24. JEAN GO SOLO In Salford The Sun Doesn't Shine
25. BARRY ADAMSON The Man With The Golden Arm
26. US Born In The North
27. A GUY CALLED GERALD Voodoo Ray
28. CHAPTER & THE VERSE All This And Heaven Too (Radio Edit)
DISC 5: 1989-1990
1. KING OF THE SLUMS Fanciable Headcase
2. THE SUN & THE MOON C'est La Vie
3. INSPIRAL CARPETS Joe
4. THE TRAIN SET Hold On
5. JAMES Sit Down
6. DUB SEX Swerve
7. THE MOCK TURTLES …And Then She Smiles
8. THE REEGS Chorus Of The Lost
9. THE STONE ROSES What The World Is Waiting For
10. REVENGE 7 Reasons
11. ELECTRONIC Getting Away With It
12. HAPPY MONDAYS Hallelujah
13. MC MUZZ B How Sleep The Brave
14. WHAT? NOISE Vein
15. MC TUNES vs 808 STATE The Only Rhyme That Bites
16. RUTHLESS RAP ASSASSINS And It Wasn't A Dream
17. KRISPY 3 Coming Thru Clear
18. HYPNOTONE Dream Beam
19. NEW FAST AUTOMATIC DAFFODILS Big
20. PARIS ANGELS Perfume
21. NORTHSIDE Shall We Take A Trip
22. THE HIGH Box Set Go
23. THE CYGNET RING 18 Daze
24. THE RAINKINGS Get Ready
25. ASIA FIELDS Dazed
26. SWIRL Giant Sea
DISC 6: 1991-1993
1. THE CHARLATANS Sproston Green
2. 808 STATE Cubik
3. WORLD OF TWIST Sons Of The Stage
4. INTASTELLA Dream Some Paradise
5. THE ADVENTURE BABIES Camper Van
6. SUB SUB Space Face
7. AUTECHRE Cavity Job
8. THE DUST BROTHERS Song To The Siren
9. LIONROCK Lionrock
10. PURESSENCE Offshore
11. KILL LAURA Murder
12. THE POWERS THAT BE Crude Sound
13. ROBINSON Soup
14. WONKY ALICE Caterpillars
15. NEW ORDER Regret
16. MOLLY HALF HEAD Barny
17. BANDIT QUEEN Dirt And Soul
18. OASIS Columbia (Demo)
Wonder what your thoughts are? I do find it refreshing that smaller, not so well known bands like Asia Fields, Cygnet Ring, Train Set, Fallover 24 and some other ones appear in this boxset.
The compilation is to be released next summer.
———————————————————–
When I wrote two weeks ago about Waving at Trains I said: "What about Paul Gill? I found that he was involved playing keyboards and piano in another band called Bluenose B who released two 2″ singles with three songs on Blues Records (1985 & 1986). He only was part of the second single though where they included the brilliant song "My Diary"! I'm glad that I found this band through this detective work. Maybe they deserve a blog post at some point. I will also try to track this record for my collection. It is really good!"
It seems then it is now a good time to do some detective work on this Bluenose B band, why not?
Though it seems that officially the band was called Bluenose B, Bluenose altogether, Discogs lists the band as Blue Nose B. I will use the two words together name throughout this post of course.
We already know they were around in the 1980s in Liverpool. We also learn immediately that the band was formed by:
Stephen Lawson on bass
Michael Lawson on drums
John Briody on guitar
Dave Billows on vocals
The first record we see listed is a tape demo released in 1984. Yes, that early. Bluenose B is not really part of the indiepop explosion we all love, they are more of a post punk bands but some of their songs are just brilliant pop that I have to introduce, recommend to you. And that is what matters, right?
This demo tape included 6 songs: "The Loneliest Dogs", "Physically Satisfied", "Escape", "The Dream", "Summer Girl", "When I Love".
None of these songs were to appear on their first proper release, a 12″ single released in 1985 on their own (?) Blues Records (catalog Blu-001). On the A side we find "Forever Passing Trains" and on the B side "Burning Up" and "Maybe". All the songs are written and produced by Stephen Lawson. The record being engineered by Roger Boden. The artwork by Alan Rawcliffe. Special thanks to Peter Clark and recorded at Cottage Studios in Cheshire. Included with this record was a photocopied sheet with the lyrics of all three songs.
Their last release was another 12″ single, the one I was talking on the Waving at Trains post. This is the one were Paul Gill plays the keyboards. This record was also released by Blues Records (catalog Blu-002) and the year was 1986. The songs on it being, on the A side "My Diary", and "My Beatiful City" and "Hold Me (I'm Alive)" on the B side.
Three more songs were released on compilations. "Why Do I Need You" appeared in the compilation "Modesty Kills – A Merseyside Compilation" in 1987 on the label Audio Visual Records (AVA 001). A year after, in 1988, on the compilation "Desperation", also on the Audio Visual Records label (AVA 002), they contributed the songs "Beneath the Sheets (Hey Marianne)" and "Is That a Crime".
The next stop is their BandCamp which was set up last year. Here we find 9 songs under the title "The Sinking of Liverpool: A Retrospective 1983-1989". The songs being "Hold Me (I'm Alive)", "Burning Up", "Blade", "Discussion", "My Diary", "Physically Satisfied", "Loneliest Dogs", "Forever Passing Trains", "My Beautiful City". All of them free to stream.
This compilation to be put together by a label called Modern Polymath, so I head to their Facebook as their website is no longer up. What I'm looking for is any news about this release, saying if it was released physically as it only seems to be a digital release. I couldn't find anything about that. Don't even know if the label is still going on as I said that the label's website is down.
Next stop is a Bluenose B soundcloud. Here though the band has the name with the two words separately, Blue Nose. I start doubting which is the right way to write their name. Here there are a bunch of songs that I believe are much newer, not from the 80s. Songs that seem to be new are "Forever One (Radio Edit)", "Dream of You", "Look Deep Inside (You are Good)", "Faded Photograph", "Forever One", "My Sweet Girl", "Back to Bed", "Nelly", "History", "If They Could Fly", "That Last Love", "Prayer", "Lost Your Hand (Instrumental)", "I Lost Your Hand", "The World Fell Down", "So Hard To Do", "Wounds of Love", "Funk all Night", "Lost", "Ravages of Love", "Easy to Insanity", "A Riot Song", "Fury", "Burn Away Her Sight", "Space Programme".
There are also some songs from 1983 like "When I Love" and "Summer Girl" not available in the retrospective compilation.
This Soundcloud seems to be updated, the last song being uploaded 9 days ago. I think Stephen Lawson, the driving force behind the band still uses the name Bluenose B for his music. I wonder though if these new recordings include other past members of the band?
And so I end up on a Bluenose B website. Here it is clear that the website is owned by Stephen Lawson. There's a biography and a blog. On the biography we learn that the band toured extensively and played many of the important independent venues. They were also featured in Sounds, NME, Melody Maker and BBC Radio.
On the blog we see mostly Youtube links for his songs, one that is not on Soundcloud, "The Three Graces".
I keep googling. I find a forum where it says that the name, the "blue" and the "b" are a reference to Everton FC. Then at the Link2Wales website I find that the band hailed from Aintree.
Aintree is a village and civil parish in the Metropolitan Borough of Sefton, Merseyside. Historically in Lancashire, it lies between Walton and Maghull on the A59 road, about 5.5 miles (8.9 km) north-east of Liverpool city centre, in North West England.
We then know that Dave, John and Mick had been previously in a band called Indadais. That "Summer Girl" was released as a demo tape in 1984 and that there was a demo called "Blade Discussion" from October 1984.
It seems to that in 1986 most of the band left, Stephen continued with Dave Billows (vocals), John Murphy (guitar), Jay Naughton (keys), Paul Thomas (sax), Gary Gilmurray (drums), Dave Rielly (percussion). By the end of 1987 Stephen had settled with Danny Woods (guitar) and Paul Denners (drums). Paul Denners had been previously in a band called Emily's Suitcase.
And that's where I hit a wall. There's a lot of songs, but little information online. Where did they tour extensively? Whey all the changes in the lineup? In which other bands they played? And where are they now?
Now, please enjoy "My Diary", what a great song!
::::::::::::::::::::::::::::::::::::::::::::::::::::::::::::::::::::::::::::::::::::::::::::::
Listen
Bluenose B – My Diary