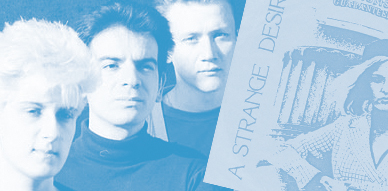 Merry Christmas to all the popkids in the world!
We are closing down this 2016 that has been quite rough. Even today we get terrible news from Berlin, I city I love so much, that many dear friends call home. It has been non-stop bad news in 2016, so hopefully 2017 will be much much better.
Indiepop got some bad news last week. Not comparable of course to what's going around in the world, but it definitely affected many of us. Last Monday just after I posted my weekly blog post, after saying that we didn't know what was happening with NYC Popfest, we got news. And for sure it wasn't the sort of news we were hoping for. NYC Popfest was not going to happen in 2017. The message was clear:
Hello everyone,
As the year comes to a close and inquiries about performing at and attending Popfest come pouring in, I'm faced with delivering some sad news: NYC Popfest will go on hiatus beginning in 2017. This was an incredibly difficult decision for me to make. Over the past ten years Popfest has been a labor of love for me; however, at this time I need to focus on several important personal matters. I'll re-evaulate next year to see what lies ahead for the festival. My deepest thanks go out to everyone who supported, played, and came to NYC Popfest over the last decade.
That was the message that appeared on the festival Facebook page. The organizer, Maz, also posted the same message on his personal page. Immediately countless of comments and shares showing fans support, surprise, sadness and nostalgia were made. I was a bit shocked. I mean, I kind of suspected it by conversations I had with Maz during 2016's edition, but I was just very hopeful that in the end, after the fantastic lineup he put together this year he would have the inspiration, the drive, to do it again.
I totally understand why stop now. Of course, stopping when you are on top is great. It is much better than when you are on the low. So that's that. But I don't think that's the main reason. The reason is that life happens. And it is definitely time for other people to take over. People that have the time, the drive. Doing a festival for almost 10 years is no easy task, and even though it gives you many fantastic moments and all, in the end you need a break.
True, on the message it says that it is a hiatus. That means many things, perhaps it is just a break. Maybe it takes a year, or two, and then Maz comes with full force and organizes another glorious festival. That would be ideal. He already has the know-how and has so many band contacts that he is the perfect candidate to keep doing this. The other possibility is that he is planning to hand the name to a new team of organizers. If that was the case hopefully those interested in doing so have the same good taste as Maz has. Many times we've seen how festivals, after changing organizers, or just even adding new organizers, become less exciting.
For me, NYC Popfest was a perfect festival. First it was the best thing that could happen when I was living in Miami, I could escape to New York and catch some fabulous bands and meet new and old friends. Then when I was in NYC it was a good time to host friends, go show my favourite restaurants to other popkids and dance until I didn't feel my legs! It was just perfect having the festival in town. I was so lucky to attend to all editions but one, the 2009 one… one that still hurts because I missed it.
I DJed the festival twice. The first time it was the better one. When people danced nonstop. I treasure that night dearly. I think, within the US, that was the one time I felt happy to DJ. It was very sad when I had to hand the decks to someone else that day, for once, I had the energy to keep going for 3, 4 more hours. I usually get bored of DJing after the 1st hour now!
My memories of Popfest are all written over the blog. The bands I loved, the bands I didn't like, the friends I made, the adventures, the places we visited and so on. I think all of the Popfests are documented in many posts here throughout the years. Even 2007, that happened before this blog was started, was covered extensively. Like that first meeting with BMX Bandits' Duglas or going around with Poppolar's Erico in a little car around town. Or Pete Hahndorf at Coney Island's boardwalk looking very summery.
I can only thank Popfest for many of my best memories when it comes to indiepop. I wish it returns. I do. But if it doesn't, I will carry with me so many fantastic friendships, songs and endless nights of partying. We were lucky to have it happen here in New York, in true a city with just a handful of indiepop bands and maybe 20 indiepop fans (am I exaggerating?), for 10 years. Cities with more indiepop fans like Glasgow or London didn't have Popfests that lasted this long. That means Maz worked hard and believed in the community. And that matters to me.
That's why I always championed Popfest, even if sometimes I disagreed with some decisions. Of course this were tiny details, nothing really important in the end, but you know who doesn't have an opinion and who doesn't want this or that band to play. But as I said before, in the end, because of the whole lineup, even if there was one or two bands you didn't care, was so strong that these opinions didn't matter. It was going to make any popkid happy.
So I just want to say thanks again to Popfest, to Maz, to all the bands that played there and to all the people that attended. I know this is a blow to the indiepop community, that it feels there are less and less releases, even less labels, not many festivals, and that indiepop is kind of going much more underground than before. It is like back to 1994 or so when indiepop was kind of forgotten, only a few carried on and would see a little rebirth in the late 90s and then later in around 2006 see a true renaissance of our favourite music. I know, I feel that way, that things are just kind of disappearing… but I hope there will be a new generation that will carry this over. There are new bands that sound great for starters. Now the other pieces in the puzzle, that of festival and gig organizers, fanzine writers, label people, have to start appearing and fitting in.
Thanks to Popfest for everything. You were amazing.
—————————————————————————————
So there are is one more post after this one and then that will do for 2016. I always wonder what would be a good band to cover. I got a request not so long ago about the band Storm House that had one song released on the compilation "I Might Walk Home Alone" on Wilde Club Records. The song being "Inside". I could find nothing at all about this band. So I wonder if anyone might help me?
I still don't have that CD compilation. I know it is not crazy expensive and I should get it soon. But when I remember about it I already had spent all my budget for record shopping of the week! Oh! My bad memory. And so I looked into which other records are on my wantlist and I noticed that I still haven't round getting an indiepop classic, A Strange Desire's flexi single.
Released in 1987 as a self release (catalog ASD 001 – clearly ASD being A Strange Desire), it included 2 songs on the flexi's single side, "Promie to Lie" and "Until Tomorrow". Both songs credited to Simmons, Nicolas.
I believe the photocopied sleeves came in different colours. I've seen pictures of blue paper sleeves and yellow ones too with black ink. I've also seen yellow with red ink. I look into some scans of the back cover for more information thanks to 45cat. From it we can figure out that the two songs were recorded at BB Studios in Kingston, Surrey in January of 87.
Kingston upon Thames, also known as Kingston, is the principal settlement of the Royal Borough of Kingston upon Thames in southwest London. It was the ancient market town where Saxon kings were crowned. Kingston is situated 10 miles (16 kilometres) southwest of Charing Cross and is one of the major metropolitan centres identified in the London Plan.
The record was produced by A Strange Desire and engineered by James. Who is this enigmatic James with no last name?
We do know that the members were Tony Simmons on vocals and bass, Nick Nicolas on guitar and Yvette Haynes on drums. And they were not based in Kingston but in Harrow according to the contact address.
Harrow is a large suburban town in the London Borough of Harrow, northwest London, England. It is centred 10.5 miles (16.9 km) northwest of Charing Cross. Harrow-on-the-Hill includes the conservation area with a high proportion of listed buildings with a residential and institutional array of Georgian architecture and a few 17th century examples.
There are thanks on the sleeve for John Simmons and Julie Haynes. Family of the band members? I suppose so.
Another song is listed on Discogs that doesn't appear on the flexi and that is "On Another Day", another jangly gem. This track appeared on the compilation"The Timebox" released in 1987 on the Timebox Records label (catalog TIME 001). This compilation was engineered by Yukio Yung (of Yukio Yung fame!). This record included another band we really like in the blog like The Black Cillas. The Timebox was then a club based at the Bull and Gate pub in Kentish Town, London. So this compilation was some sort of a representation of the bands that had played the club, a very cool initiative indeed. The compilation was put together by Jon Beast and Ben Chalis.
The last appearance of the band was on, surprise surprise, The Sound of leamington Spa Vol. 5. They contributed the song "A Promise to Lie", the same one as in the flexi. That fantastic lo-fi jangly gem. And even though it wasn't a new song for me to listen it meant that there was going to be some more information about this obscure band on the booklet:
A Strange Desire formed in 1985. Guitarist Nick Nicolas and me, Tony Simmons (bass/vocals) had played together in various bands before; Yvette Haynes (drums) answered our advert in a music paper. We did loads of gigs, often together with My Bloody Valentine, mostly in the Camden area (me and Nick are both from Camden). We played at the usual venues – The Enterprise in Chalk Farm, The Bull and Gate, The Sir George Robey; plus quite a few squat gigs, including one at the Hope and Anchor. We never quite fitted in the indie scene of the time, not so much musically, but through our unwillingness to crawl to the "important" people. In early 1987 we released our one and only flexi – John Peel played it a few times which was a high point. In May 1987, we played a gig at a university in Paris. In our usual style it went from disaster (starting too loud) to triumph (the audience started to really get into it after a few songs), only to end in farce – the flexis we had taken with us to sell had been locked away in a room for safety, and after the gig no one could find the key. And that was that. We drifted back to London, sick of playing to small audiences at the same old places, and moved to other things…
Wow, what a story… I really hope they got back those flexis from the safe. And what about the other bands they had played in? Did they have a similar sound? And that gig in Paris? Did they play other places in France? Other countries too? I wonder who are the "important" people Tony mentions…
My last stop is a Myspace the band used to have. There is a very discography/biography there that I copy here:
1. "On Another Day" (Recorded in Shepherds Bush in 1986) Released 1987 on the Timebox Various Artists Compilation, Timebox Records in 1987 (I don't even own a copy of this… You can hear it on Youtube)
2. "Promise To Lie"/"Wait Until Tomorrow" (recorded in Kingston (Surrey, not Jamaica:) Xmas 1986) released as a privately pressed flexi in 1987 on ASD Records. An absolute highpoint for me was when John Peel played the single a few times (see our song list for a recording of him talking about it). That he played it was all down to the lovely Klair Baldwin from Stowmarket who went round his house with the flexi. Thanks again, Klair (27 years on!) If you read this – please get in touch!
3. "Promise To Lie" released on "The Sound of Leamington Spa Vol 5" An obscure 80's Indie Compilation released by German label Firestation Records in 2005. And that was that…
There were also some more songs other than the ones I mentioned before on the Myspace at some point. Sadly they don't stream anymore. Would love to hear them. They are:
– Insanely Jealous (live 1986)
– Sometimes (1986)
– Wait Until Tomorrow (1986)
– It Has to End (1986)
There seems to have been a clip of John Peel introducing and playing A Strange Desire as well.
And that's all I could find. Maybe some of you remember them from their Camden gigs? Or you own a spare copy of that flexi for me? Or you saw them in Paris? Maybe you even found the key for that room were all the flexis were stored! I wonder too what did they do after, if they were involved in any other bands. Such a cool sounding band and we know so little…
::::::::::::::::::::::::::::::::::::::::::::::::::::::::::::::::::::::::::::::::::::::::::::::