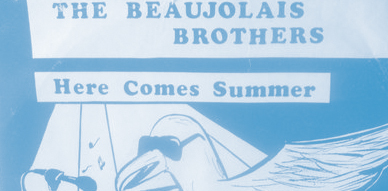 Happy New Year!! Back for another year, the tenth year anniversary of Cloudberry, and the 9th for the blog. Let's continue this indiepop dream for one more year!
What's new then? I still haven't recovered my hard drive, but I have received some new nice packages on the mail that I feel need to be recommended. Well, I did recommend one of them last week, the BV's new EP "Runaway Neon" that came out on tape. Luckily the band was super nice to me and sent me a CDR version so I could listen to all the tracks, and wow! They are so good! Definitely one of my favourite newish bands in the indiepop world.
It seems then that the label Kleine Untergrund Schallplatten from Augusburg is kind of a King Midas now, every band that they are involved with, like the Bv's, is really good. I got two new records from them today too and aside from the beautiful presentation, the music is fab. The records I got were a 7″ by the band Botschaft and a 12″ by Endlich Blüte.
The 12″ EP by Endlich Blüte is titled "Der Schöne Junge Mann" and you can actually stream all songs from their Bandcamp. There are only 200 copies of this record and I feel the price is very good. So there is no excuse for not getting it! On top of it all the band has a new video for the song "Eigenwohl" and you can check it here.
About Botschaft you can hear their jangly and elegant song "Niederlage" here, on their Soundcloud. You can also stream "Reproduktionsfunktion" there as well. Happiness. Germany keeping indiepop alive!
I hope Kleine Untergrund keeps on this perfect run!
On other indiepop news I could gather during the past few days I saw that Horsebeach have announced a new album titled "Beauty & Sadness" to come out on March 17th.
Desperate Journalist another favourite band of mine have a new song out too titled "Resolution" and it is gorgeous. Sadly it is not available for me to link to their Soundcloud, only a select few hipster websites seem to be able to, but I found it on a non-official Youtube. So you can listen to it there.
But is it an end of an era? I was thinking about this last week when Cake Shop, the iconic venue in the Lower East Side, announced that it was closing. At least it is an end of an era in New York. With no Popfest and now with no venue that was extremely friendly and supportive to indiepop bands, New York seems like an island. I don't know what will happen here. Not even there's a Mondo to listen a few indiepop hits and dance. That's it. Indiepop, I believe, is agonizing in NY. Time to resurrect it somehow?
The news of Cake Shop closing wasn't a surprise. Years ago they were looking for investors. It must be so hard to pay the rent in an area that is hip and happening. CBTweeBs as Michael Grace calls the venue was a place where I got to see so many amazing bands during the years, even before I moved to the city. Many bands associated to the label played there like The Pains of Being Pure at Heart, Alpaca Sports, Zipper, Lost Tapes and so on. I saw many other cool bands there like Love is All, My Favorite, Airiel, Cola Jet Set and many more.
I used to start the nights with the cheap Genesee beer, and then continue with the Brooklyn lagers. The basement could get so warm, so hot, when it was packed of people. Standing on the seats on the righthand side of the basement just below the AC was the solution. The big table there were all the merch was sold, were I sat so many times and the line for the bathroom where one would meet always new people will be missed.
I didn't go to the last shows, sadly the bands playing weren't my cup of tea. I feel a bit bad for not supporting during the last days, but in due honesty I did go there quite often, even when there were no bands playing. If I was in the area and was up for a beer, the Cake Shop was always the first option. I liked the first floor for that, it wasn't loud and the people that visited weren't obnoxious, they were just like you and me, usually.
I have so many photos of friends and myself in this venue. Somehow it will be remembered by all our memories, for all those great nights of gigs and Popfest. I do hope that Andy can start another Cake Shop with the same name or another somewhere else in New York. It is important for the city to have the sort of people and venues that support bands like they did.
———————————————————-
How do we start the new year? What about a fantastic obscure band? Well, that's the usual isn't it? Let's see what can we find about a band that a lot of serious indiepop fans love: The Beaujolais Brothers.
Beaujolais is a French Appellation d'Origine Contrôlée (AOC) wine generally made of the Gamay grape which has a thin skin and is low in tannins. Like most AOC wines they are not labeled varietally. Whites from the region, which make up only 1% of its production, are made mostly with Chardonnay grapes though Aligoté is also permitted until 2024 (on condition the vines were planted before 2004). Beaujolais tends to be a very light-bodied red wine, with relatively high amounts of acidity. In some vintages, Beaujolais produces more wine than the Burgundy wine regions of Chablis, Côte d'Or, Côte Chalonnaise and Mâconnais put together.
Were they wine lovers then?
I don't know much about the band, I've only heard the one song "Here Comes Summer", and it is such a good song! Classic indiepop! Where does this song come from? From a 7″ released in 1988 on the Seagull Records label (CORK 001). I believe this is a self-release as there are no other releases on this label as far as I know. This was a double A side record, the other song was "Day After Day".
Two people are credited on this record, the songs were written by M. Jamieson and R. Maberley.  Sadly there is no back sleeve photo uploaded to Discogs.
Keep digging. An unexpected turn of events. I find on Google some messages of Japanese fans to a Facebook page for Rodney Maberley. I think I hit the target. I will get to know more about the band now. Someone did the detective work for me.
I find on this profile page a small biography:
'Le Mc Rod' was a name borne of his busking in France and Scotland. He was a man of great musical talent and loved his life to be as simple as possible! He was full of cheesy one liners and cheese and picklle sandwiches. God bless you Rod love ya!
His full name was Rodney Keith Maberley and was born in Brighton, UK. There are more bands listed that he was involved with, aside from The Beaujolais Brothers he played with The Sexed up Lambeth boys, Ol' Dirty Bar Stars, The Introze, The Dolphins, Heroes, Scuba Divers, Slime Time, Red Sox.
Sadly from this page I learn that it has been 8 years since he passed away. Terrible news.
I see some messages from people I know, there's one saying that there's a German label that wants to re-release the 7″ and probably a retrospective. Would that be Firestation? I bet on that.
It seems the page is being managed by his niece. It seems at some point there was a Facebook music player on the page were more songs by him were uploaded. Not sure if they were from The Beaujolais Brothers or from other bands.
There are also lots of photos on this page, many of him as a musician though I'm not sure which ones are from The Beaujolais Brothers. I could tell there are some by The Dolphins.
On Last.fm I could find people listening to songs by him, two songs that I don't know if to which of his bands they belong. The names being "Moon Equipment" and "Julia". I also tried to find out more about the other bands listed that he was involved with. But I couldn't track any of them.
I then tried to track M. Jamieson, the other name that appears on The Beaujolais Brothers record. I couldn't find anything either. Dead ends.
A true mystery. The one 7″ record that is classic. Were there unreleased songs? What about Rodney's other bands? Did they sound similar to The Beaujolais Brothers? What happened to M. Jamieson? Was he involved in other bands? Would be great to know more about them and MAYBE find a copy of this 7″, would be nice to have it!
::::::::::::::::::::::::::::::::::::::::::::::::::::::::::::::::::::::::::::::::::::::::::::::