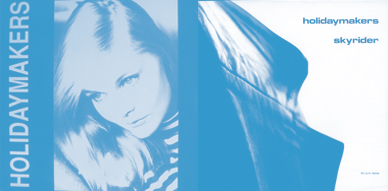 Next week I'm off to Lima and there won't be any blog posts until the week of the 23rd. For those Peruvians that read the blog, who must be a few but nonetheless, if you are interested in any records please let me know so I can bring them with me and you can save some postage costs (which as you know are quite high).
Speaking of that, I did book another vacation for the last week of May and early June. I'll be visiting Finland! Very excited. I've been to northern Europe a few times, to Sweden, to Denmark, to Norway, so I was missing Finland, the land of some amazing pop bands like Cats on Fire or Leevi and the Leavings. The same offer goes for Finnish fans, if you want any records please let me know and I'll bring them with me and even if I don't visit your town it won't be a problem to use the Finnish postal service to send you the records as it is probably cheaper than the US one!
I have also announced on the website the Some Other Day release details. I will add a pre-order button soon. Just waiting some small details before I can send it to the pressing plant. You should be able to download one song too. Will update the Soundcloud soon with a song by them as well for you all to share. Hopefully all of this before Friday that is when I start vacations.
So let's go through some new discoveries on the web.
What about Bitter Cherry Jam? This Japanese band have a new release titled "Sayonara" and you can stream it on Bandcamp. The surprising thing for me is that the label releasing it is a classic Japanese label that I thought was no more: Galaxy Train! I think I must have it all wrong then! The label have a full website with details and all (though sadly the shop seems to be Japan only). I think I only own one record from this label, and it comes comes to mind instantly, the 800 Cherries 7″ with "La Pa Ti Ta". Maybe I could try to collect them somehow.
Then I saw that John Jervis' WIAIWYA was promoting their 21st anniversary celebrations sharing a Girlfrendo demo, the first demo by this beloved band of mine. That I saw on Facebook. Little did I know that there were copies of this tape (well, a replica) being sold in their Bandcamp. Today I noticed, but of course it is already sold out. I missed it. Even if I hate tapes, I would have gotten this one just because. I love LOVE Girlfrendo. There are 4 songs on this tape but only "Easily Impressed" can be streamed.
I remember the band Maria from California on Yay! Records. They were ace. Today I found another Maria, but this time with an accent on the I. María hail from Buenos Aires, Argentina, and they have an album out titled "Tan de Repente" released on CD by Paper Heart Records. You can stream this nice girl fronted band's album on Bandcamp.
And well, this one is quite late to be recommended, but I totally forgot about it. I listened to it almost a month ago but it slipped somehow from the blog. It is a 2 song digital single by the great Night Flowers from the UK. The songs being "To Rest" and "Christmas" (this is why I say I'm late). Very nice two songs on their Bandcamp from a band that I saw once in Indietracks with a different vocalist. I remember mentioning to them that I loved their songs and would love to keep in touch. Well, that didn't happen. In any case they seem to be doing pretty good, and look forward to their next release.
———————————————–
Holidaymaker: One who goes on vacation.
Back to explore the Woosh catalog. Why not? Especially with a favourite band of mine from that label that for some reason I hadn't covered before! Very strange as I love "Everyday" and "Cincinnati" a lot!
The story of the band seems to start with "Everyday", a classic jangly song that appeared on a shared flexi with The Nivens in 1988. This was the start of the Woosh label, catalog WOOSH 001. The foldout cover came in different colours, there were at least ones printed in blue and others in green. Mine is blue. This flexi came accompanying the first Woosh fanzine in which many bands were covered like Darling Buds, The Flatmates, Emily, Bachelor Pad, Sea Urchins and more. The Nivens contributed "Let Loose Of My Knee."
That same year their first 7″ was to be released, again on Woosh. Two songs, "Cincinnati" and "Seventh Valley Girl" on Woosh's 4th release (catalog WOOSH 004). Now, if you've never heard this or don't own it, I tell you to get on it. This is a great single. Classic sounding, the sort of indiepop that makes me happy. And it shouldn't be difficult to track this record down. Now, who is that girl from the cover sleeve? Most probably she is a famous actress, but I can't say who she is. Maybe someone can help with that?
Cincinnati is a city in the U.S. state of Ohio that serves as county seat of Hamilton County.Settled in 1788, the city is located on the north side of the confluence of the Licking with the Ohio River. With a population of 298,550, Cincinnati is the third-largest city in Ohio and the 65th-largest city in the United States. Its metropolitan statistical area is the 28th-largest in the United States and the largest centered in Ohio. The city is also part of the larger Cincinnati–Middletown–Wilmington combined statistical area, which had a population of 2,172,191 in the 2010 census.
What we do get to know from the back sleeve are the band members:
Adrian Smith – Vocals/Guitars
Neil Craig – Guitars
Mark Cunningham – Bass
Richard Guy – Drums
Songs credit both times appear as Smith/Craig. The record was produced by Angus McPake and engineered by Bobbie Heatlie. I also notice that the contact information for the band has an address from Edinburgh. Ok, so they were Scottish then?
Their last release is not that well known, it came out in 1989 on a different label: The Gay Cowboy Recording Organisation. I feel this was a self-release as Discogs doesn't list any other records on this label. The catalog number was "maker 001t". This  was the band's first 12″ as well and was titled "Skyrider". And yes, the A side is "Skyrider" and then on the B side we can find two songs, "Cross River State" and "Beginning at the End". The sound of the band has changed a bit, less poppy I'd say. Still I quite enjoy the record.
Then silence. No news from the band. I guess they split. What did the band members do after?
We do know that in 1988, when the band was still going, they contributed "7th Valley Girl" to the "Everlasting" compilation. But what about other songs? Did they record any other ones?
In 2014 they appear on the "Ten Little Records: The Woosh Collection" on Jigsaw Records with "Everyday", "Cincinnati" and "7th Valley Girl". But that was more of a Woosh thing, this compilation, I think, or was the band involved?
I check on Adrian Smith on Discogs. They list him as being part of a band called The Beatpack with releases in 2015 and 2016. Is this the same Adrian Smith? There is such a big gap, from 1989 to 2015. Could be, but seems strange that he was away from music that long!
I do see too that Mark Cunningham contributed bass on one song on an album by Jeff Green titled "Jessica" on 2008. The song name is "Willing the Clouds Away". No other credits for him on Discogs.
Neil Craig and Richard Guy only appear listed for The Holidaymakers. I keep digging. I find a post from 2009 about them on a blog titled Because Midway Still Aren't Coming Back and even though the post doesn't shed any new light, there's a comment by a Charles Hodgson that says:
I knew the Holidaymakers back in the day – they're from Edinburgh, heavily into Postcard records – really wanted to be in on the Jesse Garon / Shop Assistants 'scene' (or 'clique') but were just too genuinely young and fun-loving to be accepted. Some of those 'older' (early twenties!) bands were right unfriendly snobs as I recall from hanging out at the Onion Cellar etc in those days, 'cos they knew The Legend (and possibly Bobby Gillespie & Alan MacGee) you know! Anywhoos, they moved to London about 1988 or 1989 and were never heard off again. Where are you Adrian, Richard? Best bands of the whole era are Close Lobsters and McCarthy – everybody knows that, right?
Interesting. This confirms that they were from Edinburgh. But what happened to them in London? Why did they disappear!
I keep googling and trying to find any information about the band members. I have hit a wall. There's nothing at all. I am rather sad. I really like their songs. I wonder about if they left many unreleased recordings as I want to hear more from them. But maybe some of you, like Charles Hodgson in that comment, remember them. Did they play your town? What happened to them after going to London? Were they involved with other music? Would be nice to find out!
::::::::::::::::::::::::::::::::::::::::::::::::::::::::::::::::::::::::::::::::::::::::::::::