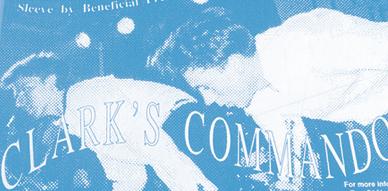 Halfway through March now. I'm going to be 33 in a few days. I find it funny that during March I see so many friends' birthdays on my Facebook. It must be that Pisces is the most "indiepop" zodiac sign in the horoscope. Or not?
Some Other Day releases arrived and started shipping. Some mailorders will have them pretty soon. I know Jigsaw already does as well as Blue Very Disques in Japan. I believe Rough Trade and Disk Union should have them as well. As I speak about Some Other Day I remember that I'm already working on the next release in the Cloudberry Cake Kitchen series: The Potting Sheds! I'm very excited about it and will tell you more about it in the coming weeks.
On the 7″ front it is just a matter of patience. The Pale Spectres 7″ has been in the pressing plant for a month already so I hope I will have some news on it soon. It is definitely the release that took the longest in the Cloudberry catalog but I'm sure the wait will be worth for all of you! As soon as this is released I'll be announcing the next 7″! Yes, Cloudberry is a bit slower compared to our early years but we still have a surprise or two.
On the indiepop news front, what is coming up? I've heard some rumours about a Popfest. I hope it happens. I hope I can attend. But for now I can't say more.
When it comes to news it seems Firestation Records doesn't disappoint. They'll be releasing a retrospective for the band Keen on both CD and LP format on April 7th. The compilation is titled "Waiting" and don't know the tracklist yet. I did interview Keen some time ago in the blog if you want to find out more about this awesome band.
Also Indiefjord, the cool festival in Norway that I've never been have booked two fantastic indiepop bands, Tinsel Heart and Pale Lights. To those two you have to add The Electric Pop Group and it looks like a nice time to be there. The festival is already selling early bird tickets on their website. The festival will be happening on the 15th and 16th of July in Bjørke, a little village by the Hjørundfjord, western Norway.
Oh! And I did see the Radio Dept. last Thursday at the Music Hall of Williamsburg. They were really great, fantastic. There was a bit of a shitty crowd in front of me sadly, people that were friends and were part of the opening band called Germans. They were obnoxious. A shame. That would be my only disappointment on the show, so I hope Radio Dept. didn't have anything to do in choosing their opening band. That aside, the evening was precious, the band played almost all their new album, which I'm really liking a lot, and a few classics. It was dreamy and dancey. Such a good time. I even got the setlist at the end of the gig, lucky me, and bought me a $25 dollar t-shirt (not cheap at all, but well… I liked the message on it).
And last but not least don't forget that we are currently having an offer on our website for 10 random 7″s for a very cheap price! This offer is only through March.
---
The Three Little Pigs is a fable/fairy tale featuring anthropomorphic pigs who build three houses of different materials. A big bad wolf blows down the first two pigs' houses, made of straw and sticks respectively, but is unable to destroy the third pig's house, made of bricks. Printed versions date back to the 1840s, but the story itself is thought to be much older. The phrases used in the story, and the various morals drawn from it, have become embedded in Western culture.
There are many 7″s I want. So many really. But there is one that I feel during the past few years that I want the most, I don't know why. That is the 7″ Three Little Piggies put out in 1989.
I have had no luck tracking it. I haven't been able to find it. For years I thought it didn't even exist. Of course then Discogs was born and I found a little more information about it. I only knew that the A side was titled "Clark's Commandos". I had seen on Myspace a video of the band performing it. I would learn then that there were two more songs on the B side, "Ain't He Happy" and "Uncle Chris".
The record was released by Mrs Slocombe Discs (catalog MSD2). This must have been a record label set up by the band. The first release in the catalog was the "Frivolous Frolics" 12″ also by Three Little Piggies (catalog SRT8KL 1409). It came out the year before, in 1988. The songs on it were, "Press Eject" and "What Happened to Eric" on the A side and "Borgia Gintz", "The Strangest of Men" and "Ain't He Happy" on the B side. Discogs mentions that the record was recorded live at Portsmouth Art College on the 17th of December 1987. I feel only the last song was recorded live. there must be a mistake, though don't take my word, I've never listened to any of the songs on this record.
Back to "Clarks Commandos", these were a popular type for shoes for children in the 1970s & 1980s by the brand Clarks. It seems you can still find some of them on eBay listings.
For this 7″, we could find some images of the back cover and learn that it was produced at Recluse Studios by Rob Aubrey. "Ain't He Happy", the third song on the record was produced at DAN by Chris Sutton. there is also a contact address in Fareham. Did they come from there?
Fareham is a market town at the north-west tip of Portsmouth Harbour, between the cities of Portsmouth and Southampton in the south east of Hampshire, England. It gives its name to the borough that comprises the town and its surrounding area. It was historically an important manufacturer of bricks (notably used to build the Royal Albert Hall, London) and a grower of strawberries. 
I went looking again for the Three Little Piggies "Clarks Commandos" video I saw once on Myspace. Sadly it seems it doesn't stream anymore. It is credited to a Vivian Gregson. I remember it being lots of fun.
I keep looking. I find a very old looking website for the Battle of the Bands 1989 in Portsmouth. Organiser Barry Hedges had released details of the 64 bands from almost 400 entries – that have been selected to compete for a share in the £18,000 worth of prizes during the next six months. One of those bands is Three Little Piggies. They seem to have won the Fifteenth Heat, the Semifinal, then another time on 16th October 1989, but not being able to win the whole competition, the winners were a band called Yellow Cab Company.
And I play "Clark's Commandos" once again, and I have so much fun with the trumpets and that contagious chorus. So catchy! I wish I wore Clarks Commandos when I was a kid haha! So good. A true indiepop classic in my book!
That was all the information I could find. I was once in Portsmouth, but never to Fareham. I hear there is a castle there. Maybe I could visit one day. But who knows anything else about the Three Little Piggies? Did they play in your town? Did they have more releases? Any compilation appearances? Do you happen to have a spare copy of their releases? Would love to listen to the songs on the 12″. Anyways, I would love to know more about them!
::::::::::::::::::::::::::::::::::::::::::::::::::::::::::::::::::::::::::::::::::::::::::::::