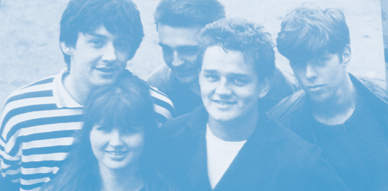 What to do when you have some extra time in your hands? Work on what I love the most, music. That, for me, means the label and the blog as I have no skills whatsoever in making music.
This week I received two albums so I could listen before they are released, those of A Certain Smile and The BV's. I've listened both a few times and I have enjoyed them. I must say I enjoyed The BV's a bit better as their sound is closer to my heart, that of C86 sounding bands. A Certain Smile has different influences, pretty ones still, mostly from the 90s I would say. Their album also seem to have a much more polished production, much more quality in that sense. At many points I thought it sounded like the Fireflies. That was sweet. The BV's are a bit rougher on the edges, there's a bit more grit in their production. Also in the album they include many of the songs I've been listening for many months now like "Always" or "Ray", modern indiepop hits in my book. In conclusion, even though it's been a while since I review albums, both The BV's "Speaking From a Distance" and the one that seems to be untitled of A Certain Smile are good albums. Now, people in A Certain Smile should be cautious supporting silly ideas that indiepop is misogynist, racist or full of  "faux tweeishness" on Facebook walls. That's just plain stupid and I won't support it. I can see the merits of the album, but I can't support wrong political views about indiepop. Be smart.
Yesterday I also saw that on a Facebook group people were listing indiepop labels. At first I didn't know that the intention was for bands to find a place where to send their demos. I thought it was just a way of refreshing the memory of which labels still support our beloved music. I say that because at some point I started seeing labels that have nothing to do with indiepop, or maybe they released one indiepop record in their 20 plus catalog. For me that doesn't count as an indiepop label. I wonder if it does for you? When I pointed this out, mentioning that a London label that calls themselves a DIY label is definitely not an indiepop one, I got the classic answer, the most boring answer. That one that goes like "so what is indiepop anyways?". It gets on my nerve. If my mum would ask me that I wouldn't mind, she honestly wouldn't have a clue. But someone involved in music definitely knows what indiepop is. But at the same time they know that  what fits in the borders of indiepop, in the margins, can be blurry, so they ask they ask this question to prove their point. Stating of course that indiepop can encompass a wide variety of music. Which of course it can. But not everything that one likes.
I can't see a garage band as indiepop for example. The sound doesn't fit. The politics are different and so on. But somehow labels that release garage bands are indiepop these days according to the view of many. How can that be?
I know a lot of people are getting bored by all these labeling of things. I understand. It gets in the way of music. You probably just want to listen to your favourite songs not caring what they are. I can respect that. But to create beautiful thing like Popfests for example, you do need this labeling. Without it, it wouldn't exist. And that's the thing about indiepop, its grassroots politics, the egalitarianism between fans, bands, fanzine writers, labels and so on, that could create a healthy scene (and then destroy it as well). Other genres don't often achieve this sense of community. I remember having a long conversation with a friend organizing a post-punk festival. He would be jealous of the way indiepop could work and organize itself. Whereas in post-punk there's careerism and competition, in indiepop there was a solidarity that would make easy to create important things, things that matter. That's why I hold this music dear.
I know the situation now is a bit different. There was an article in the Guardian saying that indiepop is dead now that Fortuna Pop is gone. I find that ridiculous. Indiepop has been dying for a long time (to resuscitate in a few years from now according to my friend Matthew) and the only thing it has to do with Fortuna Pop is that the London label many times supported many things that didn't help indiepop being alive. By supporting these things the lines got blurrier, no wonder mainstream music and DJs started appearing at indiepop festivals. As a friend said, what's the point of that if we could just go to a pub to listen to this music? Would the pub punters be happy if we played them indiepop? No. And by all means I'm not saying Fortuna Pop is bad, they released so many amazing records, supported bands, did it all in a professional level that few labels could. Bands shined with Fortuna Pop. They also organized festivals and so on that were true successes. I celebrate that. But now that they are gone doesn't mean the end of indiepop. There are still many bands and labels, struggling surely, that carry the flag until  perhaps there is a new coming of indiepop. Even if I'm not a fan of how they do their business, Elefant in Spain has been more consistent and have been around much longer, that you can't really forget their importance in indiepop. England is not the center of the universe.
Well, that's a bit of my ramble, I've been thinking about these things for days now. I find annoying the simplicity how many are dismissing indiepop as political. Calling it safe and conservative. It is hard to believe. People forget their McCarthys, their Wolfhounds, their Easter and the Totems, their Sarah manifestos, and more recently bands that carry their politics on their sleeve like The Felt Tips, Cats on Fire, Dorotea, Liechtenstein and so on.
———————————————————
Today a band I would really like to get in touch with. I think maybe they could be a good release as part of the Cloudberry Cake Kitchen series. What do you think? I'm talking of Baby Lemonade out of Scotland.
I'm pretty sure most of you know them from the third Sha La La flexi (catalog Ba Ba Ba Ba 003) released in 1987. On it they appeared alongside The Bachelor Pad (who I already interviewed in the blog) and contributed the classic song "Jiffy Neckwear Creation". This flexi came along the fanzines "Are You Scared to Get Happy? #4" and "Simply Thrilled #3". Baby Lemonade's song would be Single of the Week.
When I interviewed The Bachelor Pad many years ago they told me that their first gig, thanks to Jim Honey of Simply Thrilled was with Baby Lemonade and Jessie Garon and The Desperadoes. I wonder if that was also Baby Lemonade's first gig?
The band would then sign to Narodnik Records. This was a label based in Edinburgh that was set up by Eddie Connelly from Meat Whiplash and the fabulous The Motorcycle Boy. On Narodnik he would release just quality music, Jesse Garon & the Desperadoes, The Fizzbombs, Baby Lemonade and The Vultures (also interviewed in the blog!).
They would release just one single with Narodnik in 1987. The catalog was NRK 004. The songs on it are two classic indiepop songs, on the A side "A Secret Goldfish" and on the B side "Real World". Douglas Hart from the Jesus and Mary Chain would produce the record. The record was published by Cubic and engineered by Fergus.
An interesting bit is that the songs from the flexi and this 7″ would be re-released in 2003 by Egg Records as part of their Egg Restoration series. On a CD-R titled "45RPM" (catalog Eggrest 005) that for some reason I failed to get back in the day (I think this and The Hardy Boys one are the only Egg release I'm missing), the songs "Jiffy Neckwear Creation", "Secret Goldfish" and "The Real World" were included plus two demos, "Secret Goldfish (demo)" and "The Real World (demo)".
In 1988 the band was to release an album. Titled "One Thousand Secrets", the album is a sublime indiepop record. Truly beautiful. It was released on DDT Records (catalog DISPLP 22) from Edinburgh. Only 8 songs appear on this album, on the A side "World of Mine", "All Down To You", "Summerhouse", "Secret Goldfish" and on the B side "In My Head (At Night)", "116 Days Adrift", "Much Too Late", "Ultimate Lie".
Happily I do own this record. There is some information on the back sleeve. I find some credits there:
Joan – vocals, clarinet & cover design
Graham – bass & tambourine
Gary – guitars
Mark – guitars
Martin – drums, vocals
Tim Kane – all keyboards (also acoustic rhythm guitar on "Summerhouse")
Ron McKinnon – flute on "World of Mine"
Produced and engineered by Jamie Watson
Recorded at Chamber Studio, Edinburgh
There is also an inner sleeve with lyrics for the songs and another black & white photo of the band.
My next stop is Twee.net. There is small biography there that is pretty interesting, sadly it is not signed by anyone.
I was a former band member i played the drums on the first single releases . started out in 85 Based in Kirkintilloch, Cumbernauld + Glasgow where we were low key in my front room of my parents house or in the house of the lead guitarist bedroom. soon we approached the studios in Charing Cross Glasgow city centre. In 1986 we made some copies of our music sent some samples to radio stations and from there we were slowly getting recognised. Such as John Peel whom loved it. Jiffy NeckWear Creation Feb 1987 on a flexi disc. Secret Goldfish, Real world. were our second release June 1987 with a double A side Band broke away in the later in the summer 1987 then reformed a few months later but i had gone traveling so i was no longer a member, a few more months after a Lp was released in 1988 which i have never heard. 
I wonder who this is. I'm assuming Martin replaced him.
I had been in Glasgow a few times. But never heard of Kirkintilloch or Cumbernauld. What about these places?
Kirkintilloch is a town and former royal burgh in East Dunbartonshire, Scotland. It lies on the Forth and Clyde Canal, about 8 miles (13 km) northeast of central Glasgow. Historically part of Dunbartonshire, the town is the administrative centre of the East Dunbartonshire council area, and its population in 2009 was estimated at 19,700.
Cumbernauld is a town in North Lanarkshire, Scotland. It is the ninth most populous locality in Scotland, despite only being designated as the site for a New Town on 9 December 1955. The area allocated was 4,150 acres lying between and incorporating the existing villages of Condorrat and Cumbernauld. The first new housing became available in 1958. An additional 3,638 acres (1,472 ha) was added to the designated town area on 19 March 1973 to accommodate a revised target population of 70,000. As of the UK census in 2011, the population of Cumbernauld was approximately 52,000.
On the compilation front it doesn't seem they participated in any back in the day. Only in the past decades they would appear on "Souvenirs from Egg Records" (Egg Records 015) with the songs "Jiffy Neckwear Creation" and "Secret Goldfish" and on the C87 Boxset on Cherry Red with the song "Secret Goldfish".
On Discogs there is another Baby Lemonade release listed, but it is clear that it is not the same band. This other one hails from California. The released I mentioned are the only ones that the band released. Though maybe, they had made demo tapes and sold them at gigs and so on?
It is a shame that the back sleeve doesn't include the last names of the band members. It would be easier to track them. I can't really find anything else from this fantastic Scottish band. I wonder if anyone out there remembers them? whereabouts in the UK they played gigs? If they recorded more songs?
I would really like to get in touch! Love this band!
::::::::::::::::::::::::::::::::::::::::::::::::::::::::::::::::::::::::::::::::::::::::::::::