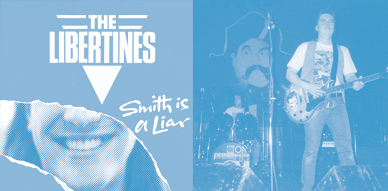 After a busy week on the blog, it is not that common these days for me to post 3 new entries in less than seven days, it is time to check some new music in the pop world. And maybe, who knows, I could blog again later this week.
Last week I became aware that one of my favourite contemporary bands will be releasing an album on the 24th. Yes, Desperate Journalist will release their album "Grow Up" on Fierce Panda that day. They are definitely becoming bigger and bigger and I hope they come to the US at some point. Long are the days when they were releasing CDRs and even had a side project Violet Hours that sounded magnificent and was announced to release some of their songs on a friend's label. Even I discussed at some point with them about the possibility of working on a release. Those days are gone. These days they are producing beautiful videos and great songs, and "Be Kind" is their latest. It will be included in this upcoming album.
Fallen Love Records from Oshawa, in Canada, have been championing indiepop in different ways. Now this bedroom based label will release a 22 song tape compilation titled "Secret Gardens". Yes, I'm no fan of tapes and probably (sadly) won't get around buying it. I don't like digital either. But for those who do, I suggest investing in this wonderful release. Why? Because the band selection is very good! At the moment you can only stream two of the songs on it, that of Twinkle Twinkles and Finnmark! But eventually you could listen songs by Red Go-Cart, Sleuth or Old Lacy Bed among others.
I think I've forgotten to mention San Francisco Popfest this year. Yes, it is happening on two dates, Friday June 2nd and Saturday June 3rd. So far we only know three bands that will be playing, The Primitives, Cruel Summer and The Oilies. All of them will be playing on Friday. The Primitives we all know and love, but what about these two other bands? I've never heard them, time to check them out:
Cruel Summers: They hail from San Francisco, and they are called their jangle darlings. The band is formed by Thea Chacamaty on vocals and guitar, Josh Yule on guitar, Chani Hawthorne on vocals and bass and Andy Pastalaniek on drums. On their bandcamp I found that they are selling a 7″ with the songs "Around You, Around Me" and a cover of Pylon's "Crazy". The songs were recorded on a Part Time Punks radio session in January 2015 at Bedrock for KXLU 88.9FM. This record was even mastered by Kramer. It sounds pretty good to me, though not too jangly I'd say, more like dreamy and fuzzy! This is their second release after a 100 limited pressing cassette released in 2013 that included 6 songs.
The Oilies: They come just from across the Golden Gate Bridge, they are from Oakland. On their Bandcamp I see a bunch of releases. Time to check out their last one dated from March 2016. It is called "Thin Black Lines". This is slow bedroom sounding, lo-fi pop. I'm not 100% convinced that I like it. I appreciate the intention though.
From the great Mexican label, Emma's House, there is a new pre-order on Bandcamp as well. The band San Charbel from Mexico are releasing their first ever release, a CD EP titled "Nubes". You can stream now the two first songs full of chiming guitars "Sin Miedo" and "Nacer Morir".
Another release I want to recommend is the 12″ LP by Últim Cavall on Discos de Kirlián. It sounds so great. Pop sung in Catalan, and it sounds very romantic! I understand just a bit out of it but the 8 songs included are a treat. The album is titled "Records de Kyoto" and I hope I can get a way to get a copy soon!
And last but not least one of my long long favourite Spanish band, Los Punsetes, have also announced a new album, their fifth. And it was just released on the 10th of March. To promote it they have unleashed a video for the song ¡Viva! and it is just what one can expect from them. Classic!
——————————————————–
I started a new mission yesterday. Have all my 12″s, LPs, EPs, and so on, inside their own plastic outer sleeves. I finished with the first batch, and I still have another bag of 50 to keep dressing nicely my records. For the next weekend definitely, some homework.
One of those records I gave a plastic sleeve was that of The Libertines. No, not those Libertines you are thinking about. But The Libertines that released this fab 12″ EP titled "Smith is a Liar".
The sleeve has a black and white photo of a smiling person surrounded by bright red, The Libertines logo and "Smith is a Liar" on a handwritten sort of typeface. The record was released by Loose Fish Records (catalog PIKE 001) in 1987.
There are 4 songs. "Smith is a Liar" is the sole one on the A side while the B side has "The Big 1-2", "Christina" and "Boring". The sound is classic guitar pop, C86ish. The only song that is rockier and not that much tom y taste is "The Big 1-2". The rest are gems. I really love "Christina" and the A side is a classic in my book.
The record was recorded at Workshop Studios, a studio that was located in Redditch, near Birmingham. It was distributed by Probe Plus and The Cartel. We also get to know the band members:
Paul Clifford – bass and vocals
Nick Raybould – drums
Mark Bellamy – guitar, vocals
Russ Williams – vocals
Dave Morris, Hairy Mary and The Libertines are credited as producers and Dave Morris as the recorder. There are also runouts printed on the vinyl, on the A side it says "The Triman Cometh", while on the B side it says "If You Can'd Do it Just Triman". What does Triman means?
I find a Soundcloud that I think belongs to Russ Williams. There is another The Libertines song that wasn't on the record, "Wolf!". There are other songs from bands I believe are also his like Telford Soul Club and Pop Da Freak.
Next stop is the Birmingham Music Archive. Okay, now we know where they were from. There is some info there thanks to Nick, the drummer, who sent this website some information.
Gigged all over Britain supporting The Wonder Stuff. Also some London shows with Jesus Jones etc. We got a fair bit of press and a few John Peel plays for our single.Some pictures of The Libertines are attached. Taken at Cambridge Corn Exchange when we opened for The Wonder Stuff, 20th March 1989. We never managed to get pictures of Paul Clifford the bass player for some reason.Paul went on the join the Wonder Stuff in 1990 and played on the "Never Loved Elvis" and "Construction For The Modern Idiot" albums. I became (and still am sometimes) one of The Wonder Stuff's backline crew.
Another thing I figure out now, Russ Williams is actually Russ Hunt. Russ Hunt is brother of Miles Hunt from The Wonder Stuff. So on the website Room 512, the Unofficial Wonder Stuff fansite, I start finding more information about The Libertines. The record is actually listed in Discography and has this small bio:
The Libertines – Smith is a Liar
All tracks feature Paul Clifford on bass and backing vocals.  The group also featured Russ Hunt on lead guitar and vocals.  Hairy Mary is credited as having assisted in the single's production – this was in fact Miles Hunt.
On this same website I find a bit of biography that talks about Russ, Paul and Miles:
Paul Clifford was studying Media Studies at Liverpool University, was already familiar wit the band's music and had only recently left the Midlands after the group he was previously in, The Libertines, had split up. The lead singer of The Libertines (not to be confused with the later group fronted by drug-addled Pete Doherty) was Miles' brother Russ (credited on recordings as Russ Williams to avoid the media connecting him with Miles). The Libertines had previously their one (and only) 12″ EP, 'Smith Is A Liar', in 1989.
I keep digging, I'm sure I will find more information. And yes, I find a blog called "It's All Just Morris Dancing" and the one behind it is Russ Hunt. It hasn't been updated since 2014. I do find a blog post where he talks a bit about The Libertines:
Pop Da Freak would have folded in late 1986 and by 1987 I'd formed yet another new band, The Libertines (got there waaaay before ya Doherty). What we were doing back then would have been described as sounding very C86, what came to pick up the all encompassing description "Indie", whatever the hell that is. We had a fine old time. We picked up supports with some well known bands, played some big shows and I finally got to do something I'd dreamed about doing since back when my first single was either "Skweeze Me Pleeze Me", "The Wanderer" or "Solid Gold Easy Action" (don't know what I'm babbling on about ? Have a look here) I GOT TO MAKE A SINGLE OF MY OWN !!!
It was recorded at The Workshop studio in Redditch near Birmingham, with co-production duties handled by my brother, who had ditched the drums in favour of the guitar and was by then making records of his own on a major label and heading for "pop star" status. "Smith Is A Liar" didn't sell many copies (I still have boxes of them around the house if anybody still wants to buy one) and I never got to hear it on the radio but I had finally made a record of my very own.
Despite it's abject failure we did some gigs to try and promote it and even made plans to release a second single, which would have been "Wolf!"
But by now I needed a little more security in my life. I was about to become a Dad and I needed a job. I'd done a few gigs pretending to be a roadie for my brothers band and they were about to embark on their first major support tour of the UK. They asked me to go with them as the roadie and offered me what was then a handsome sum to do it. So I told my fellow Libertines that was it and, 25 days after the birth of my son, embarked on my first tour as a roadie, something that would occupy me for the next 8 years. But that story is for another time… 
The last thing I could find online about them was that in 2000, Miles Hunt, Russ' brother, released "5 songs", a CD EP that included the song "Line 'Em Up". This song had lyrics borrowed from a previously recorded Libertines track. Not sure which one!
What happened to that second single, "Wolf!"? Why was it shelved? Were there other songs recorded for the B sides? And why are they this obscure? According to Russ the single didn't sell well at all. Did the dopey Libertines from later knew about them? Do any of you remember them?
::::::::::::::::::::::::::::::::::::::::::::::::::::::::::::::::::::::::::::::::::::::::::::::