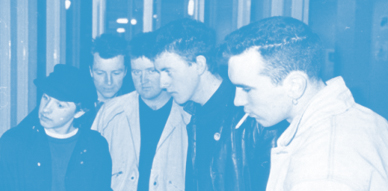 Already April here. Today I woke up and was surprised to see me tagged on Facebook by Richard from The Suncharms. What was it? A beautiful video of McCarthy, my favourite band ever ever, playing live in concert on French TV on their first date of their European Tour dating March 19th 1988 in Lille. What would I give to see them one day, to have been there then. Wow. Really.
April 27 has been announced as the single date for Lima Popfest. There are many details on their Facebook event page that I'd like to share as well as to review some of the new crop of Latin American pop bands that will be participating.
The 6th edition of Lima Popfest will be hosted at the FUGA venue and it starts quite late, at 10:30pm. 6 bands have been announced but seems there will be a 7th band from Chile to be announced shortly.
The bands playing are:
Carmen Sandiego (Uruguay): I've never really explored their music, but I do know that they are the most well known indie band from their country. So many times I've seen their name on websites as well as fans requesting them to play in different countries. On their Bandcamp I notice that they have many, many releases, the oldest dating from 2006. Their last one though is the one I'm listening now, titled "Mapas Anatómicos". There are 10 songs on this album which seems to be available only digitally, I don't see any information about any physical format for it. The band is formed by Matías Lens, Flavio Lira, Lucía Riera, Ezequiel Rivero and Leticia Skrycky. The album is not strictly jangle pop, there are many more influences than classic indiepop. Some songs are genuinely great like "Fines de Semana" and others are quite boring like "El Skater", but in general I'd say it is a good record. Would be nice to catch them someday, check their live set.
Los Waldners (Costa Rica): my favourite pop band from Central America, jangly as fuck. Sadly I'm still waiting to get their first album which I thought was a masterpiece. I hope one day I'll be able to have it. That one, "Eclipse Total del Corazón", was released in 2014. But their latest is a 6 song release on Bandcamp titled "Malas Decisiones" dating from 2016. And sounds great, so great. Upbeat, jangly, definitely the band one has to check out at Lima Popfest. The band is formed by Andrea, Luis, Tavo and Daniel. Hope this 6 song mini-lp (or EP?) gets released physically and once and for all there's a way for me to get their records. It is always so hard to get records from Latin American bands, sadly it seems they only cater the local market.
Niños Envueltos (Argentina): never heard about this band before. So I'm discovering them as I write this post. First shock, Tonga's vocals. First impression, what is with his voice? Then it grew up on me. I actually like it. I'm just listening their one and only release, "El Último Casette del Parque" which I'm not sure if it has been released physically. It includes 7 songs and all of them are streamable on Bandcamp. The band is formed by Tonga, Franchi, Alito, Fede, Nico and Gus. They seem to include many instruments other than the classic ones like clavinets, violas and violins and that I enjoy this time around. The band seems influenced by Belle & Sebastian and other folky influenced pop bands. A nice new discovery indeed.
Nicolás Mateo (Argentina): "Palanca Sin Cambio" is the name of the latest release by this one-man band. It seems he has been around since at least 2008 when he released "Todo es Espejo". It seems their releases are only available digitally also. I'm listening to their last release, discovering it for the first time, and I have to say I'm not liking it that much. It is not terrible or anything, but it is not the kind of music I'm into. Whereas Niños Envueltos was folky but influenced by pop music, Nicolás seems to be influenced by folky rock music. Not my thing.
Mundaka (Peru): I think in the past I've complained about this band, they shared a split EP with Almirante Ackbar where the songs by the latter where truly fantastic but I didn't like one bit Mundaka's. That was many years ago. Today I'm listening to their latest effort, a 12 song album titled "Sonata Tropical del Ártico" which is actually available as CD digipak. The first song I listen is the one titled "Morrissey", who can blame me? I notice some nice guitar work on it. Quite a surprise. Is the band getting it right now? Well, it sounds great, but there are no vocals! I will need to check another song, and well, they are not as good, they are a bit boring for me, too psychedelic maybe? I don't know what it is, but the great tempo, rhythm and guitar work on "Morrissey" is nowhere else to be found But be sure to check, even though it is quite different in style, "Insomnio" which is for me  the only other standout track on this effort.
Fiebre Aviar (Peru): The only band I've seen before once upon a time in Lima supporting Eva & John. A very underrated band, with the right influences creating simple pop with fun, quirky and smart lyrics. On Bandcamp they have two newish songs recorded in September 2016, "(Creo que) mis besos te volvieron leca" and "Carnaval del 98". They sound fun to me. Though I hope to see one day a recording of their hit "Castolo", a tribute to my favourite videogame, Pro Evolution Soccer (Winning Eleven).
——————————————————-
As I have shared with you the past weeks, I have been going through my 12″ records. Some of them quite obscure that deserve to be showcased in the blog. One picked up my interest this weekend, a compilation titled "First Things First". I remember buying it in Toronto when I visited a secret record store with my friend Jessel. I'm sure he must have recommended me buying it as I didn't (and don't) know any of the bands that appear on it. He must have been familiar with it. I can't even find it listed on Discogs.
I wonder why he recommended this to me. I think there are only a few good songs in it. It must have been because of them, I'm sure. Possibly because of The Donnelly Bros song, "The Breadwinner". Yeah, that must have been it. But who were they? Why have I never seen their name before?
This compilation was released in 1987 by One by One Records (catalog FIRST 1). It seems the compilation actually has a longer title, "First Things First … It's a Strange Kettle of Fish Vol. 1". Other bands on the comp are One Deaf Ear, Uncertain Trumpet, Western Justice, Big Electric Pic, Cut the Bag, The Rhythm Method, Sontiche, Violet Sky, Meanwhile in Czechoslovakia, Red Circus and The Keep. I believe all songs are by Irish bands. The only place I found information on this record was on the great website Irish Rock. Thanks to them too, I could find more information about The Donnelly Bros.
The Donnelly Brothers were an indie band from West Belfast. They were formed in
1985 by Martin Burns (vocals), Bap McGreevy (lead guitar), Stephen 'Punker' McGreevy (bass), Paddy O'Neill (guitar) and Barney Carson (drums). They played a few gigs around Belfast and made a few demos, including "Clawing at the Sky" (1986). This lineup had a post-punk sound, with effect heavy guitars, darker and heavier than the later recordings by the second lineup.
Barney and Paddy left after a year to form their own band. A 14-year-old drummer
named Ali Donnelly joined along with rhythm guitarist Nick Sadlier, ex of Belfast punk band Rebel. This second line-up was an indie guitar band with a slight country twang, echoes of rockabilly/psychobilly influences, and a light and nimble beat.
The band recorded a flexi in 1986 which was sold in the shops and given away free with Helden fanzine. In 1987 the track "Breadwinner" appeared on the First Things First sampler LP on Keith McCormack's One By One label. In June 1987 they recorded a popular session for the Dave Fanning Show on RTE, including a new version of "Breadwinner". This session was broadcast twice and led to a 2FM tour. One track "Mystery Machine" became especially well known as it was dancey, had a great riff and was all about Scooby Doo…
The Donnelly Bros supported The Wedding Present on their Irish tour in 1988, playing Galway, Cork (Sir Henry's), Dublin (McGonagles), Derry and Belfast (Art College). They also played with The Jazz Butcher, The Prisoners and The Charlatans.
Hot Press described their sound at the juncture as 'manic trash country'.
They split in 1989. The Fanning session plus a couple of older demo tracks ("Boy In A Biscuit Tin", the aforementioned "Clawing at the Sky") are now available on the band's myspace page.
Stephen McGreevy (bass) and Barney Carson (drums) went on to form indie rock trio Non-Stop Yellow in 1991 with Paul Turner (guitar/vocals) who released two singles (on Screw Records and Beat Crazy Records) in the early 90s, swapped Barney Carson for Gary Thompson (ex Burnin' Kisses), recorded demos for Polydor Records but split in early 1994 before work on an album was completed. Nick Sadlier formed long running Irish reggae act Bréag who are still active twenty years after their inception
circa 1994.
There is also some extra information about their discography. It seems that in 1986 they released a flexi with the song "Liberty and Honesty" and another song (which seems Irish Rock doesn't know the name, so I don't either) that was given away for free with the Helden fanzine.
The other item in their discography, even though it is not a proper release, is their appearance in the Dave Fanning Show for a Session in June 1987. The tracks they recorded for it were: "The Breadwinner", "Mr. Debussy", "The Tomorrow People" and "Mystery Machine". Alright, we do know our friends from the blog The Fanning Session Archive. Time to look there.
We notice first that the band had set up a Myspace page. Those of course are useless now sadly. But they had posted a bio there.
The Donnelly Brothers were an indie band from West Belfast who existed between 1985 and 1989. The first line-up was Martin Burns (vocals), Bap McGreevy (lead guitar), Stephen 'Punker' McGreevy (bass), Paddy O'Neill (guitar) and Barney Carson (drums). The band played a few gigs around Belfast and made a few demos. Barney and Paddy left after a year to form their own band. A 14-year-old drummer named Ali Donnelly joined along with rhythm guitarist Nick Sadlier. The line-up of Burns, Bap, Punker, Nick and Ali played a few gigs, did a few demos, supported The Wedding Present on tour, played with The Jazz Butcher, The Prisoners and The Charlatans. The band recorded a session for the Dave Fanning Show on RTE in June 1987. It was broadcast twice on the radio station and led to a 2FM tour. The recordings on this page are from that Fanning session. Track three, Clawing at the Sky, is from the first demo in 1986.
We also see someone that had commented in that entry saying that the band had also played in The Republic of Ireland a handful of times, playing a Trinity Ball, at McGonagle's in Dublin, Sir Henry's in Cork, in Galway, Belfast and Derry with The Wedding Present. Also in Dundalk, Limerick and at The Underground in Dame Street.
There are two more posts about them on the Fanning Sessions blog. The first is a post with the demo of "The Handicap Bus". Not much info there but some interesting comments, like that one that says that Ali, the drummer, used to dye his eyebrows like Keith Moon.
The second post is much more interesting. Dating from 2013 it mentions the release of a compilation album, including all their songs. How should I feel? Awful. I missed it. It seems it was released as a CD by Flaming June Records and it sold just for 6 pounds. It included 14 tracks!
Don't despair. I keep digging and find the release available digitally on Bandcamp. All 14 songs. I suppose coming from the Fanning Sessions, the flexi and the "First Things First" compilation plus more recordings. The songs on it are:
"The Handicap Bus", "Liberty and Honesty", "Mystery Machine", "Big Screen Star", "Whiplash Curve", "Mr Debussy", "The Breadwinner", "These Are the Days","The Tomorrow People", "Sackville Street", "Clawing at the Sky", Smoke Filled Bars", "Texan Town" and "Elysian Days". Through them you can enjoy their country influenced indiepop.
But how can I get the CD? Is it totally sold out? That becomes the important question at this point. I look for the label. I find a Soundcloud for Flaming June Records. It says the label only existed between 2010 and 2014. Now it is kaput. I'll send them a message. Probably is my best chance? Or should I try tracking the band members? What would be easier? I send messages to both, Soundcloud and Bandcamp. Crossing fingers I hear from them.
The last thing I could find by digging the web was a mention of Stephen "Punker" McGreevy and Martin Burns being part of a short-lived combo named Liar that was around in 1984 thanks to the Spit Records website. Seems they didn't leave any recordings.
Anyone out there remembers them?
::::::::::::::::::::::::::::::::::::::::::::::::::::::::::::::::::::::::::::::::::::::::::::::