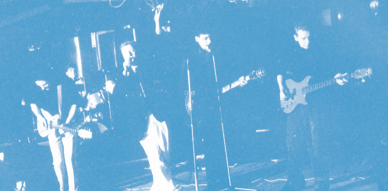 Second post this week, full of new discoveries mainly thanks to Bruce from the superb blog "Everything, Alright!" who he just updated for the first time in 2017!
In his last Soundcloud sort of compilation/podcast (Bruce, you should talk in between bands, give us some of your insights!) he recommends 25 new (or newish) songs. Some of them I've recommended on the blog already, but there are many that I had never heard before. So join me in discovering them.
Radio Orwell: a band that has a proper website is not that common these days. It is a little extra to have it, definitely, even though in their case there is not much information on it. We get their schedule of gigs (mostly around their hometown of Ipswich in the UK) and their two releases embedded from Bandcamp.  The song I discovered through the blog was "Speak About It" that is included in their 2nd EP titled just "#2". No wonder their first EP was titled "#1". Lots of originality there. Both EPs have 4 songs and they are just straight guitar pop that sounds very nice to me. As you know, every time I find a UK band that is quite good it pisses me off that Indietracks is such a blind and deaf festival not booking them.
Small Imperfections: Magnus Karlsson, once member of the legendary Happydeadmen (and The Charade to boot), has a new project based in Stockholm. Alongside Daniel, Stefan, Christian and Tove, they have a 4 song EP available for streaming on their Soundcloud including four songs, "If You Are My Tammy I Can Be Your George", "Ashes", "Better Hold On" and "Race With the Devil". This is classic indiepop, and it sounds pretty pretty, especially the first song on it, my favourite. Hopefully this will be released physically at some point.
These Unfortunates: Seems this London four-piece have been around since at least 2013. I only hear from them now thanks to this new digital single that includes "A Question for Mr Richardson" and "A Repertory Man". I especially enjoy the opening track, sounds like English indiepop circa early 2000s. Love it. It's been a while since I heard something like this. Maybe since the ultra underrated Tales of Jenny? Again how the hell are they not playing Indietracks? I do see they are playing the Betsy Trotwood on May 19th. Hopefully some of my London friends can check them out.
Closure: even though Brucey recommends the song "Would She Love Me", I first stumble upon their Soundcloud and find another song titled "Slow Drive" as well as a live performance at MFM Radio 101.3. I believe the band comes from Malang in Indonesia and have a CDR (thank god! someone is releasing a sensible format and not tapes) on the label Let's Kiss a Secret. You can stream the classy sounding 4 songs from the label Bandcamp. It makes me terribly happy that the Indonesian scene, on that I supported many times through the Sound of Young Java CDRs, is still very healthy.
Luby Sparks: another gem on the Sailyard label, a sister label of Fastcut Records that I believe is run by Atsushi of Miles Apart Records and Masami from the band Wallflower. Seems Sailyard is pointing to releasing the new talent of Japan, as all of their releases (which I've recommended in the blog before) so far are just too good. Luby Sparks debut release was a 7″ that include two songs, "Hateful Summer" and a cover of Camera Obscura's "Lunar Sea". Top stuff!
Ourselves the Elves: this Manila band will be the last band I'll review today. "Wounds" is streaming on their Bandcamp and it is such a beautiful, fragile song. Lovely. The band is formed by Aly Cabral, Aki Medina, Paula Castillo and Ponch Salvador. They have some other releases also available on Bandcamp the oldest dating from 2013. Hopefully this song, "Wounds", which is so sweet gets to be released in one way or another!
————————————————————-
Now a little pause on me going through my 12″ records. I'll go back to that next week, probably on Monday. Today I want to discover, get to know more about Black & White Lovers, whose one and only release, a 7″, released in 1986, is one that I would love to have, to own one day.
With luck, I think I'll be able to get a copy sometime. In the meantime I wonder who they were. They seem quite mysterious, don't they? That strange black and white cover art work. What is it? I find that the always recommended blog From a Northern Place had posted the sleeves back in 2015. It seems the cover art is actually a portrait of Charles Aznavour done by a Steven Brady.
Charles Aznavour, born Shahnour Vaghinag Aznavourian, is a French, later naturalised Armenian, singer, songwriter, actor, public activist and diplomat. Aznavour is known for his unique tenor voice: clear and ringing in its upper reaches, with gravelly and profound low notes. He has written over 1300 songs and recorded over 1,400, sung in eight languages and sold more than 180 million records.
On that back cover  I can also see a photo of the band, playing live perhaps, or rehearsing, taken by Norman Collins. The tracks are listed, not as A or B, but 1 and 2. The first song being "Best Years of Our Lives" and the second "Boulevard of Broken Dreams". Both songs are credited to M. Tivnan. Both songs were recorded in May 1986 at Suite 16. The record was produced by the band.
The only other fact we gather from the record is that it was released by Guillotine Records, from Stockport (catalog GR 001). On Discogs other bands seem to be listed on this label, but I think it is a totally different Guillotine Records as the releases date from the 90s. Was the band from Stockport as well? Maybe it was a self-release?
Stockport is a large town in Greater Manchester, England, 7 miles (11 km) south-east of Manchester city centre, where the River Goyt and Tame merge to create the River Mersey. The town is the largest settlement in the metropolitan borough of the same name.Historically, most of the town was in Cheshire, but the area to the north of the Mersey was in Lancashire. Stockport in the 16th century was a small town entirely on the south bank of the Mersey, and known for the cultivation of hemp and manufacture of rope. In the 18th century the town had one of the first mechanised silk factories in the British Isles. However, Stockport's predominant industries of the 19th century were the cotton and allied industries. Stockport was also at the centre of the country's hatting industry, which by 1884 was exporting more than six million hats a year; the last hat works in Stockport closed in 1997.   
Where next? To my surprise there are many videos on Youtube by Black and White Lovers. Yes, this time no ampersand, but an "and" between Black and White. First video I find is one video that even has Gary Lineker scoring some goals. On the little description it says that this version of "Best Years of Our Lives" was recorded at Spirit Studios in 1985. This said video was a rough edit and was never finished it seems.
This same song was to be re-recorded for the single. And I could find a live video of the band performing it at the International in Manchester on August 1986. How cool is that?
The Youtube account owner is a Martin Briars it seems. Was he part of the band? Could be. I'll drop him a message through Youtube. Will there be any luck? I doubt it, seems his last upload was 6 years ago.
There are more videos. I see the vocalist with some maracas playing live the song "Remember". It sounds jangly and fantastic! On the little info it says the band formed in 1984 and disbanded in early 1987. They also had positive reviews on the NME and City Life magazines.
From that same gig, at Berlin in Manchester on the year 1985 there is also the song "Carpmael". On the info it tells a bit about the story of this particular song: Despite the vagaries of the PA, which seems reasonable, you might be able to hear one or two of the words to this one – not because the words are particularly good…. the tune's crap…..it's a story. The story is of a man gifted with the ability to see into the future, and becomes rich and successful . He dreams he is paralysed in a hospital.
The band would play the same venue in December 1985. From that time we find a video of them performing the song "Nightingales" at the soundcheck.
Next up is a video of the song "Same People" that was recorded at Spirit in 1985.
Then there are a lot of videos from the same gig as the first video I shared, from the International in Manchester 1986:
– Stolen Kiss (with an intro from Jimmy Saville)
– Nightingales (after Maurice Chevalier's "if a nightingale could sing like yououuoou…..", or rather the Marx Brothers take on him in "Monkey Business", because of the supposedly "French" feel to it… !!)
– Until You Come Along
– Remember (walked straight into a dream, an 18-carat dream, remember, i remember, we were happy then……. things were different then!!!!)
I then decided to look for M. Tivnan. Who was he? I find a Myspace for an Anthony Tivnan from Stockport. That is a clue indeed. But he is no M. Tivnan, but an A. Tivnan. Probably the brother? But what about this interview to Steve Murphy from the band Gods Gift on the New Hormones blog? I see a mention of a Martin Tivnan!
….But at that time we were perhaps mid-20s and these kids were 15, 16 – we used to share gigs with this band called The Enigma – they were fantastic. I'm astonished that nothing ever became of them. The lad that played the guitar, sang, did all the songs, he was only 15 and he was brilliant. Martin Tivnan he was called. They were a good band.
What's even better is the comments section! I think Martin Tivnan actually comments and says:
I was the drummer in The Enigma, I remember sharing a few gigs with you back then, also doing the recordings for the album in Stockport. Also sharing your bands drum kit also Mike Joyce's from The Hoax. I've still got the "Unzipping the Abstract Album", reckon your track and ours were the best! I bought your single as well. Great to see this interview and cheers for giving us a mention, I didn't save anything from that era which is a pity. I do remember that you were quality on the guitar though.
On the said record, Unzipping the Abstract, The Enigma contributes the punky song "Play With Fire".
And lastly, someone called Brendan Chesterton makes the connection I was hoping for:
After Jeff died I joined up with Martin Tivnan and the Enigma guys to form Black and White Lovers. You are spot on about Martin's talents, he was Noel Gallager's equal or better 15 years before.
So there we go. We got two names now from Black & White Lovers, Martin Tivnan and Brendan Chesterton! And maybe a third with Martin Briars. Quite some detective work.
Who else remembers them? Did they leave any more unreleased songs? Whatever happened to them after Black & White Lovers? Would be great to find out more about them!
::::::::::::::::::::::::::::::::::::::::::::::::::::::::::::::::::::::::::::::::::::::::::::::