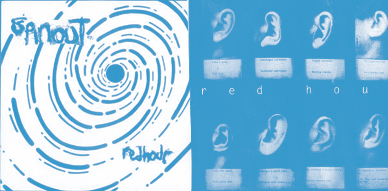 Tomorrow is 4th of July and I plan having a good lazy day because this is my last week at my present workplace. I will start a new job starting Monday and I feel a mix of excitement and anxiousness. That's normal, isn't it? I've been at my current job for 5 and a half years now. A change was needed. What I'm not sure though is how it will affect the blog. I wonder if I'll have the spare time to write a post once a week. I hope so. If not, I will need to try to find some time, even if it is during the weekends. I feel it is still important to write and document the music we all love.
Speaking of music we all love, and if you haven't paid attention to the Cloudberry Facebook page, then you must know that we announced our next 7″, our 42nd! This time is a 4 song EP by Santiago, Chile, band My Light Shines For You. At this particular moment you can listen to one of the songs, the opening one, "Detective", on our Soundcloud. You can also pre-order the record which will be released late September/early October this year. We will have an exact date as soon as the pressing plant starts pressing the 7" vinyl. The record also includes three other songs, "Letterzone", "That Kind of Boy" and "Crystallized". This is their second release ever after their 2015 "Días de Lluvia" EP. The artwork for the record was created by Valencia, Spain, illustrator Hector Trunnec. So yeah, keep an eye on this exciting release that recalls classic upbeat bands like The Haywains, Tullycraft, Strawberry Story and more.
And of course here I continue looking for exciting bands for our next 7″s (I can say there's a new Swedish band working on one) and also bands deserving retrospective albums (also in the talks with a couple of bands). So things are still going forward at Cloudberry, and it is all thanks to your support.
Speaking of our retrospectives, it has come to our attention some rare live footage from our friends The Suncharms who graced one of our Cake Kitchen releases. On their Youtube channel you can find videos of them playing at The Palais in Sheffield on the 18th of July of 1991. You can check "Sparkle", "Verge of Tears", "She Feels", "Sort it Out", "Tranquil Day", "Reflections", "Spaceship" and "Wash Away". They all sound great, and you can feel a special energy in the crowd. How much I would have loved to be there!
Now onto some indiepop news around the world, yes?
The Death of Pop just announced a new CD album release on Barcelona's Discos de Kirlian label. You can actually stream the 11 songs from the album titled "Fed Up" on the label's Bandcamp. This record includes all previously released digital singles this year. There are only 150 copies of the record, so it is very possible I won't get a copy myself which is a shame. I'm not entirely familiar with this London band, but I can see they have a few shows coming up within the UK. It makes me long that country, but then, there's no place where I could check out all the up and coming indiepop bands at the same time as I used to when Indietracks reigned supreme.
The Sweetest Touch is a recommendation from a dear reader and supporter of the label. The band hails from Depok in Indonesia and have 3 songs streaming on the Bandcamp of the great Dismantled Records from Jakarta. These songs will be released soon as a CDR but as I write these lines you can stream "Runaway",  "Too Many Dust, Too Many Haze" and "Last Wishes". The band is a duo formed by Razif Haragi and Muhammad Zul Atsari. The sound is beautiful, very much influenced by Sarah Records.
Other news I've been meaning to mention, even though now it feels a bit late, is that the fantastic Annika label from Barcelona, Spain, is back. To those who have no clue, well Annika released a bunch of fab records the past decade including releases of The Pines, Milkyway, Pipas, Mirafiori and Serpentina. Now that the label is back they are doing deluxe re-releases of two of their most beloved bands, Mirafiori and Serpentina. Now both of the bands get the vinyl treatment and it makes sense. Mirafiori's "La Casa del Coleccionista" includes the songs from the original CD EP released in 2002 by Annika and also songs from demos recorded in 2000 and a couple of compilation tracks. All in all there are 10 songs, and because this is a special occasion the label and Cloudberry friend Toni Poni has put together a beautiful video for the song "Cinco Minutos". And what about Serpentina? Yes there's a new video as well, this time for the song "Llámame". I really like this video by the way, so classy. The thing about the re-release of Serpentina's classic album "Blancamañana" is that this time it is not just one CD, it is a double LP! This means that there are actually 18 new songs here and plus the 14 from the original release, there are a whopping 32 songs! I have ordered both of this records and I can't wait for them to arrive. The two original releases have been favourite of mine for a long time, so I can't wait to hear all those unreleased songs that I hope have the same quality as the rest! You can order these records and more from Annika's website.
I've mentioned before "England is Mine", the Morrissey biopic. There was not much to see, but it was an interesting thing that it was being filmed. Now finally a trailer has appeared. You can actually watch it now on Youtube. The film was directed by Mark Gill and stars Jack Lowden as Morrissey and has Jessica Brown Findlay as Linder Sterling from Ludus.
This post already got long! And I still have a bunch of news and music for you to hear. But let's wrap it here. But let's do a deal, I promise another blog this week!
————————————————————–
Barrow-in-Furness is a town and borough in Cumbria, North West England. Historically part of Lancashire, it was incorporated as a municipal borough in 1867 and merged with adjacent districts in 1974 to form the Borough of Barrow-in-Furness. At the tip of the Furness peninsula, close to the Lake District, it is bordered by Morecambe Bay, the Duddon Estuary and the Irish Sea. In 2011, Barrow's population was 57,000, the second largest urban area in Cumbria after Carlisle. Natives of Barrow, as well as the local dialect, are known as Barrovian.
My introduction to Barrow-in-Furness band Red Hour came through the superb Wilde Club Records compilation "I Might Walk Home Alone" (catalog WILDE 10). Some of you might remember I bought this compilation because I was curious about the band Storm House that also appeared on the compilation. On top of that 2 bands related to Cloudberry, Shine! and The Suncharms also appear on it. Yes, I'm telling you that if you see it, grab this 1992 CD compilation. It is worth getting. On it, Red Hour appears with the song "Treat" and as I didn't know much about them I decided that it was time to investigate.
It seems true that indiepop bands in the early nineties are definitely more obscure than the 80s one. You'd think it should be the other way around, as the 80s are older and all, but no, it must be that the heyday, the year 0, was 1986 for many. Red Hour came around in the early 90s and perhaps that's why I had never heard about them before, why my friends don't mention them, or I don't see much on the web about them. They put out two records according to Discogs, but I would love to know if they made more recordings or if they were involved in other bands. Time to dig the world wide web.
Their first release was a 7″ on Cogent Records (catalog RHCOG5). This label had mostly released records by The Tier Garden and also a 7″ by Perfect Circle but for sure it is not a label one associates to indiepop or that many are nostalgic about. In any case, the two songs they included in the 7″ were recorded and mixed at Out of the Blue Studios in Manchester on the 2nd and 13th of August 1990. That same year the 7″ was released and the song titles were "Five Questions" on the A side and "Films About Me" on the B side.
We find some credits here and we find that the band was formed by:
Dave Canavan on vocals
Roger Lindsay on guitars
Chris Hughes on bass
Geoff Cooke on drums
Roger Bibby on guitars and keyboards
The engineer for this record was Adam Lesser.
I like to imagine that this release caught the attention of Barry Newman from the superb Wilde Club Records. A year before the compilation I mentioned earlier was released, in 1991, Red Hour put out a brilliant 12″. It had four songs, "Spin Out" and "Five Questions" on the A side and "Open Eyes" and "Treat" on the B side. I wonder if "Five Questions" is a re-recording of their previous single or it is the same version. I only own this 12″, the 7″ is still on my wantlist.
This record was also recorded at Out of The Blue Studios, this time on the 19th and the 20th of April 1991. It does say that "Five Questions" was recorded and mixed on 4th and 13th of August 1990. It must be the same version then, right?
My next stop in this search for any information on Red Hour takes me to a blog titled The Smell of the Greasepaint and the Sound of the Peel. It is a blog seems to cover a lot of music John Peel played between the years 1991 and 2004. Here I learn that Red Hour had actually recorded a Peel Session on the 8th of March of 1992. The songs they recorded for the session were "All I Need", "William Jailor", "Free Fall" and "Almost There".
Other than that not much information on the blog, though it is a lovely read about what the author remembers about these songs and what he thinks of them. I like these sort of personal music blogs. I haven't written a piece like that for ages. Seems I've been keeping this format of an obscure band investigation and some indiepop news or criticism combo for years now. I once reviewed some albums and reviewed gigs. And I wonder how will the blog evolve in the coming months and weeks as I will be starting a new job and I'm not 100% sure how I will organize my time.
The good thing is that thanks to that blog post, as two Youtube songs were embedded, I could find Richard Attwood's Youtube. Not sure who he is (I'm guessing he was behind Cogent Records as he has songs by Tier Garden, Red Hour and Perfect Circle on his channel) but he has a trove of Red Hour recordings here!
The first song I find is titled "Isolated" and it predates both of their physical releases. This song was taken from a tape recorded on the 21st of October of 1989 at Out of the Blue. From that same session there's another song, "Moving Away" that I'm also loving.
The next two songs available,"Days By the Docks (live)" and "Jesus is the Answer (live)", are live recordings from a gig at The Hospital Club in Barrow on the 13th of May of 1989.
Then another obscure track, "Long Days", taken from a 5 track demo recorded February 11th of 1989. I wonder what other songs were in this demo.
Then I check out the songs from the Wilde Club Records who Richard has also uploaded. I wonder if he was the one behind Cogent Records why didn't he upload "Films About Me". I would like to listen to that song. In any case I go through the comments looking for any other tidbits about the band.
Sadly what I found is not good news. Someone commented that Dave Canavan died 5 years ago.
And that is when I feel I hit a wall. Not much more about Red Hour. Luckily I did a quick search on my blog and found a mention to Red Hour. On an interview with The Peach Thieves when I ask them about the town they were based and if there were any good bands that they got on well they said:
We were and I still am based in Cumbria – a beautiful part of the UK – we're just outside the Lake District so lots of mountains and lakes but Barrow where we played most is a tough working class town – the bands we got on with were Red Hour and Masai Buckeroo the only other 'indie' bands around Red Hour were kind of like the Wedding Present/Television and Masai Buckeroo wanted to be Butthole Surfers – we played our very first gig on the same night in 86 in fact – Best venue by far was The Labour Club – sadly not there anymore but a great left wing bar with an upstairs concert hall – spent many happy hours in there.
Do you remember them? Have you heard any of their other demo recordings? Or live recordings? Were the band members involved in other bands? Maybe some of you saw them playing? Well, if you remember anything about them I would love to know.
::::::::::::::::::::::::::::::::::::::::::::::::::::::::::::::::::::::::::::::::::::::::::::::
Listen
Red Hour – Five Questions