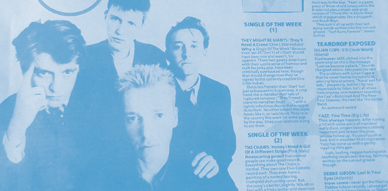 Today is my last day at work. On Monday I start a new job at 30 Rock, Rockefeller Center. I'm a bit anxious, but I think the change will do me good. I wonder if it will affect in any way the label. I suppose not. The blog? Maybe. But I hope not. Let's see how it works out. That's why I prepared 3 blog posts for this week as I don't know when will I have the time to research and write about bands. So you have a lot to read now. And definitely if it is not during the week, I'll make my best to publish on the weekend.
Now onto more indiepop news that you can't miss!
"Home Electronics" is the name of the singles compilation by the fantastic, legendary, They Go Boom!! As I see this release I can't help myself thinking why I didn't think of putting this myself! I would have loved that. What matters in the end is that this is finally released. And that's something to celebrate! The album pulls together all five They Go Boom!! singles & EPs onto a CD. The liner notes have been written by Stephen Davies. Right now you can pre-order the album and wait until August 11th when it will be officially released. This one is NOT to be missed. Brilliant news!
The BMX Bandits keep promoting their new album "BMX Bandits Forever". Because of that they have now released a new promo video for the song "It's In Her Eyes (With Dr Cosmo's Tape Lab)". I still have to get the album, I'm a bit behind with a bunch of new releases, it seems this summer is very productive for many labels. Listening to this song, classic classic BMX Bandits sound, I feel I shouldn't wait much longer in ordering that CD digipak from Elefant.
Another Elefant band that I'm a big fan is La Bien Querida. But this time around I'm having a similar feeling I got with the latest Club 8 song. I'm listening (and watching) the video for "7 Días Juntos", the chosen single to promote her new album "Dinamita" out on June 27th and I'm a bit cold. I understand bands want to experiment and evolve and all that (though in this case it seems like a shot for mainstream acceptance to be honest), but, come on, try not to lose your indiepop sensibilities. I need to listen to the rest of the album to give a better opinion, but I'm not 100% sold with this song.
One of the best news in the last couple of weeks was the announcement that Cloudberry favourites Los Lagos de Hinault are releasing a new album. "Escenas de Caza" has already been released by the Fikasound label and what a treat it is. The 3rd album by the Madrid band has 12 songs. The clever lyrics of Carlos Ynduráin are present again, the boy-girl vocals too. The melodies combine perfectly for a singing along all the way through. You can actually stream the whole album on the band's Bandcamp and I've been doing so for the last couple of weeks. I will probably make a better review of this piece of art after I get a physical copy on my hands. You can buy the album from the Fikasound Bandcamp. On top of it all, it was released on both CD and vinyl format and has a beautiful art. What else can you ask for?
My friend Vernon from Singapore recommended me a Russian band the other day. These are his own words: "I know almost nothing about Verbludes, an indiepop band from Russia. There is hardly any online info about them in English although they have just set up a Facebook page. I like what I have heard so far – shades of Heavenly, Loveninjas and Throw That Beat In The Garbage Can." The song he recommended had a video. It is titled "Depts" and I'm loving it! Who the hell are these Verbludes? I don't understand a thing, but the music is thrilling, exciting. Upbeat, with boy/girl vocals. I wonder if there are physical releases? I need to find a way to get their music. It is quite a discovery!! No one is making this sort of music anywhere else at the moment, a big suprise to see this sort of sounds coming from Russia! Oh! I did find a Bandcamp too.
The new darlings in Australia seem to be School Damage. They have just released a self-titled LP with Chapter Music and it is packed with 13 shambling songs. The band was originally a bedroom project for Carolyn Hawkins and Jake Robertson until they were joined by Jeff Raty and Dani Damage in Geelong/Melbourne. The label compares the band to The Vaselines and the Young Marble Giants and I can see that. This is a very exciting debut indeed, if you like your lo-fi pop shambolic, with a great dose of amateurism, you'll love School Damage.
And that's a wrap. More indiepop next week. Keep your eyes peeled.
—————————————–
My introduction to The Chairs was through the compilation The Sound of Leamington Spa Vol. 3 released by Firestation Records in 2003. They had contributed the song "Brave Little Soldier" and I was curious about them. Years later I managed to get one of their 7″s, "Honey I Need a Girl of a Different Stripe", probably through eBay. Now I wonder why I didn't track their other 3 7″s. It is hard with so many fantastic bands out there, but I should try to now. To make it up, it is time to find out whatever happened to The Chairs. I start then with the record that introduced them to me, the Leamington Spa 3rd volume. There, on the booklet, The Chairs got 2 pages! Usually every band got 1 page. The Chairs got 2. And so there was a lot of information about them:
The Chairs began for me after The Gene Tryp fizzled out in 1986. The Gene Tryp, meant to be the missing link between the JAMC and The Byrds, was a feedback drenched fuzztone psych-pop racket, which grew out of an Essex Mod band called The Accidents. The Accidents were formed in 1978, and released an independent single in 79, Blood Spattered With Guitars on their own label, Hookline and Sinker. I think John Peel played it on his Radio One show. An album, recorded the following summer, Kiss Me On the Apocalypse, remained unreleased until 1995, at which time test pressings were changing hands for £100. The single is a Modpop classic, and is available on several Mod compilations as well as being added to the album CD. After several attempts to get signed, and touring with The Icicle Works and Husker Du among others, Paul Sullivan, Trevor Richardson and Kevin Lagan became tired of winklepickers and feedback, and decided to break away from the group. Manager Jim Wallace stayed with the trio and they became The Chairs, adding organist Dave Read, and releasing four self-financed singles and touring their assess off all over the UK, until The Stone Roses released Fool's Gold, and student discos were never the same again. The Chairs were intended as a reaction to the sort of rockist posturing that had become the norm by the mid-eighties. As a writer, I was particularly taken by Elvis Costello's no frills Blood and Chocolate album, and began to write songs for The Chairs in that vein. From now on there would be no solos, no rock star attitude, an no nonsense. The band had a manifesto; the name came from Lennon Remembers, Jann Wenners warts-and-all interview with John Lennon, where he rubbished the rockstar myth, and sang the praises of early rock 'n' roll purity. The quote was something about how rock 'n' roll should be like a chair, a functional thing, unadorned, simple, practical and honest. Say what you mean and put a backbeat to it. (Well thats how I thought it was, until I remembered seeing an advert in a magazine for a product called The Domesday Chair, a revolting piece of furniture marketed as a souvenir of the Norman Conquest. THe band was actually called The Domesday Chairs for a day or two, before I came to my senses and shortened it.) The template was definitely Costello's Attractions, with a soupcon of Revolver period Beatles and a large helping of The Smiths, although our individual tastes were, to say the least, varied. There is a tape in existence of our first ever gig, on a foggy night in Southend, at a place called the Blue Boar. Don't look for it, it might still be there. The band was being handled by Jim Wallace, a man known for his fondness for the banjo and his legendary hollow laugh. Like most managers, Jim took a lot of stick from his 'boys', but I personally came to rely on him enormously; without his encouragement and dogged pursuit of the prize there would be nothing to write about here. Not enough can be said about his right hand man David Hubbard, known to the band as Cakey. He drove us the length and breadth of the country, carried our gear, tuned our guitars, for no money and no discernible kudos. A prince among men.
We released four singles, financed by the band, all on our own Pink Halo label:
Likes of You / Something's Happening
Size 10 Girlfriend / Cut-N-Dried
Honey I Need a Girl of a Different Stripe / Can't Say I'm Sorry / Cut-N-Dried (12″ only)
Crestfallen / Sometimes It Takes a Hammer
We planned a 12″ of Crestfallen as well, which would have included a song called Days (not the Ray Davies tune) but ran out of money. (Days turned out to be the opening song on The Liberty Takers album The Heyday of Tony Stone, although you only get eight bars of it. That really is another story.) We struggled on into 1990, but once Dave Hubbard had left, like the ravens leaving the Tower of London, the heart went out of it, we had to get jobs, and all indie singles started to sound like someone rattling a collection box. We supported The Charlatans the first time they came to London, and a yawning gap appeared between us and the audience we were trying to attract. No amount of wahwah pedaling and funky drumming could tempt us onto the bandwagon, and we slipped away silently into the night. The following weeks NME featured The Charlatan's singer Tim Burgess wearing Dave Reads suede jacket, stolen from right under our noses that night.
There was never, ever, a dance element to our music.
Paul Sullivan, West Sussex, March 2002
I read this years ago. What a good refresher. I think the next step then is to explore their discography. So time to check Discogs. The first 7″ was indeed "The Likes Of You", with "Something's Happening" on the B side. This was the first release by Pink Halo (catalog PHO1) and it came out in 1988. The producer was G. Chambers who has a long resumé, even working with the likes of Robbie Williams. The artwork for the picture sleeve is uncredited. It is a black and white illustration, a drawing, of some guy's eyes and nose. Pink Halo Records was based in Offord Road in London, very close to the Highbury & Islington tube station. From this day you could already see the design of the labels that would become very characteristic of the next Pink Halo/The Chairs releases.
Their second release was the song I'm sharing with you today, "Size 10 Girlfriend". The B side was "Cut-N-Dried". This one sadly didn't come with a picture sleeve. I wonder why. Maybe no money? It could be, as you see in a single year they were to release 3 records on their own. The record came out again on Pink Halo (catalog PHO2) and both songs are credited to Sullivan. The producer this time around was Howard Turner. Turner has more of an indie cred, he worked with 14 Iced Bears and The Nivens for example.
Their next release was the one I own. Released in 1988 by Pink Halo (catalog PHO3), this one too came on a picture sleeve. Now a striped shirt photo was the artwork. It made sense, the A side was "Honey I Need a Girl of a Different Stripe". The B side was "I Can't Say I'm Sorry". Both songs credited to Paul Sullivan. The producer was once again Howard Turner. The songs were recorded at Resort Studios in Norwich. There was also a 12″ version of this record that included a third song "Cut and Dried (Short Back-N-Sides Mix)".
Lastly, in 1990, Pink Halo was to release "Crestfallen" with "Sometimes It Take a Hammer" on the B side. The catalog this time was PHO4. Sadly this record didn't come with a picture sleeve. So not much information to find out about it. The only thing we know is that both songs are again credited to Sullivan and the producer was Lance Phillips.
Happily I don't seem to be the only one that had the idea to write about The Chairs. Leigh Haggerty of the blog "Leigh's Mad World of Guitars" and also guitarist for bands like Ruts D.C., T.V. Smith, The Price, The Upper Cut and Big Al Reed, wrote a piece about them in 2010. There are a bunch of cool details that are worth sharing:
– The band played at least once at the Fulham Greyhound in 1988
– They were trying hard to get a record contract
– Paul Sullivan was also involved in the band The Crowd Scene
– There are many unreleased songs like "Boys From Slumberland" and "All I Need to Know", this last one inspired by Albert Goodman's book "The Lives of Young Lennon"
There are also links to an old Myspace of The Liberty Takers, Paul Sullivan's band after The Chairs. Surprisingly I could stream the songs "English Skin", "High Dive" and "My Waterloo". I found out in Youtube that The Liberty Takers played in April a 20 year reunion gig at The Alley Cat Club in Denmark Street. There are a bunch of recordings at Graham Mansfield Youtube account.
I also learned that Sullivan was also in a band called The New Amusements. I found an interview with him on the blog Crayola Lectern dating from 2005. He actually talks about The Chairs on it:
You started as a drummer in The Accidents; how long did that last and what made you decide on the guitar and forming/fronting The Chairs?
I was writing songs from the word go, and I only took up the drums so I could get into the band. It was 1977 and it seemed unthinkable to be a 'punk' and not be in a band. The guitar and singing thing was going on at the same time, but it took me a few years to pluck up the courage to stand up there and face the music.
Drums are great though, don't get me wrong. The Chairs were an interesting development in that we had a very definite ethos which informed everything we did, from haircuts to chord changes. We were political in that we disapproved of a great number of things for example guitar solos, dry ice, breast beating, men wearing make up etc.
Is it true that you played gigs with Hüsker Dü and The Charlatans? Good memories?
Hüsker Dü were really nice to us. I was in a band called Gene Tryp at the time and it was their first UK gig, at the old Marquee in Wardour Street. Greg Norton was particularly supportive and we got invited to a couple of their other shows. And Christ were they LOUD. The Charlatans gig happened in 1989, again their debut gig in London at the Powerhaus where they bussed in thirty or forty fans from Northwich. They were on different medication to us, and communication was stilted. However, the whole show was joyful and exciting. Their late organist, Rob, was a nice guy. Tim Burgess was off his nut and stole our keyboard player's suede coat and had the cheek to wear it on the cover of the NME the following week.
The folklore surrounding The Chairs throws up a number of unlikely stories: did you race Stiff Little Fingers up the M1 once?
We overtook Jake Burns and SLF on the M6 while we were en route to Manchester and they were going to Liverpool. Jake Burns had been working as a producer for Radio One and we had been trying to get our latest single played to no avail. We wound down the window (at 80mph) and passed Jake a polite note that said "Why haven't you played our single you Irish cunt?" He replied with a note that read "Because I don't work for the BBC any more you English wankers". Still to prove there were no hard feelings, he gave us a bottle of beer (still doing 80) which he had thoughtfully shaken vigorously before handing it over.
So when did you go the USA? What happened?
I went to Boston in 1990 for a holiday after The Chairs split, and met a huge number of lovely people, most of whom were in bands like Big Dipper, Gigolo Aunts, Christmas and The Lemonheads. The whole experience was invigorating for me, and I got to do a live show at The Middle East and a radio interview at WMBR. Everyone was so nice I went back the next year and the year after that.

What was it like playing in London in the eighties? Was there a scene as such which you fitted into or did you avoid all that?
Indie has now become a recognised musical genre, like nu metal and trip hop, but the eighties was a tricky time for bands that didn't have a box to put their music into. We were an independent band in that we produced and financed our music outside of the music business, and it was an uphill struggle. We didn't feel part of a scene so much as outsiders. We rarely made friends with other bands. It was too competitive, too many bands competing for too few gigs. We would have liked nothing better than to have been signed by a major label, but the truth was they just didn't want us. We kind of peaked around the time of the Madchester thing, and we were determined not to jump on the bandwagon like The Soup Dragons for example. So it was a moral victory if not a financial one.

How come The Chairs split?
Too many arses not enough stuffing.
My next stop is a blog post on the Terence Ruffle blog, dating from 2009. My intention here is getting a bit of background of The Gene Tryp, the band Sullivan had been involved prior to The Chairs. There are also recordings by this punk band on Youtube. The account "little wing" has recordings of the songs "Set My Ship on Fire", "ETA", "I Still Feel Fine" and more. He even has recordings by the band Sullivan was involved even before The Gene Tryp, The Accidents. You can check for example "Looking Forward to The Accidents" or "Peking".
I continue my investigation. Seems there's a lot of stuff related to The Chairs. It is not common for me to find all these details. I now even find a press review by Sarah Champion and Steve Lamacq. On it we see that Elvis Costello praised the band describing them as "real rather than fake excitement".
My last stop is a Facebook page set up by The Chairs. It seems it was set up for a reunion gig that never happened. There are some details there worth mentioning:
– The band's last gig was in 1989.
– They did a Radio One session for Simon Mayo (anyone has these recordings????)
That's more or less what I could gather about The Chairs. Much more than what I usually find about other bands but still many questions seem unanswered. Starting by the Simon Mayo session, their hopes of signing with a label, why they didn't release an album, if they left any unreleased recordings, and so on. Maybe some of you Londoners remember them? Now I need to catch up and get the singles I'm missing.
::::::::::::::::::::::::::::::::::::::::::::::::::::::::::::::::::::::::::::::::::::::::::::::