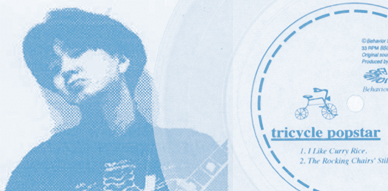 Where to start this post? Well by what's most important, the new Firestation releases. At last you are able to hear some of the songs that will be released August 18th on the Berlin-based label. On Souncloud you can now find The Siddeleys' "Every Day of Every Week" and "Things Will Be Different", Elephant Noise's "This Song is Our Friend" and "Remember the Big Time", and The English McCoy's "I Connected" and "Give Me Something To Believe In". Keep in mind that these releases are available as both vinyl and CD but Elephant Noise which will only be available on CD. You can order directly from the label.
My favourite band from Estonia, Pia Fraus, is back with a new album titled "Field Ceremony". Some of the songs are available now to stream on the label Seksound's Bandcamp. You can check out 3 songs out of 10, them being "Autumn Winds", "Mountain Trip Guide" and "That's Not All." The album is being released on both vinyl and CD formats by Seksound, limited to 222 copies each format. One important thing to mention is that if you are in North America Shelflife Records will be handling your order.
Speaking of Shelflife, because I've noticed I need a bunch of their new releases, there was an album silently released on July 21st. She Sir, the dreamy band from Austin who I knew through Happy Prince Records, have released their sophomore album titled "Rival Island" on Ed's label. On Soundcloud you can actually stream the whole thing but only through Shelflife's site, and it is really pretty! I need to catch up!! I also need the Star Tropics album which came not so long ago. Remember I was complaining there was no place to listen to the new songs by the Chicago band? Well there are plenty on Soundcloud now.
This week I saw some friends recommending the Glasgow band Marble Gods. Me, as a curious person, went to their Bandcamp and checked them out. And I really really liked them. Even though to me their sound sounds more like American indiepop of the 90s than Glaswegian indiepop, this is thoroughly enjoyable! There are four new songs on this digital EP titled "Songs". I wouldn't be surprised if a label picks them up and offers a proper release for them. The songs are "Different State", "Going Nowhere and Thrilled to Death About It", "Washing Machine" and "Actors". "Washing Machine" even has a promo video.
Something that caught my attention, was a photo posted on Fire Records instagram. It was a photo of a new LP by the Television Personalities, a 1990 unreleased album titled "Beautiful Despair". There is no other information anywhere else. I read on JC Brouchard facebook page that there is a song on the album about Felt. But aside from that…. nothing. In any case this is good news, right?
Now I want to recommend the new podcast by Bruce from Australia. Yes, he has been doing podcasts for a while now, but this time he actually talks on it. He recommends bands, he gives a bit of a background of the songs he will play, and that makes this a much better experience. I had a very good time listening to it and I also discovered a bunch of new bands, some of which I'll start recommending on the blog in this and next posts.
So just one band this week from the podcast, Toy Tambourine. Bruce recommends the song "Another Rainy Day" from the Sommertraum EP that was released last year by Shiny Happy Records. I don't know much about the band, though I did recommend them last year on my Sunshower post. Then it only had two songs online. It seems to be a one-man band based in Jatinangor in Indonesia. There are 6 songs on this jangly and upbeat cassette EP, "I'm a Sucker for a Hello", "Sommertraum", "Movie Shop", "Blueboy" and "Another Rainy Day" conform this cassette. This is very very good, and very hard to pick a favourite song out of the 6, maybe "Sommertraum"?
————————————–
Last time I decided that it was time to feature a Swedish band, it had been a while since I looked in depth the story of a guitar pop band from that country. Most of the times I end up featuring British bands on the blog. And that is no surprise, it is a fact that most indiepop bands hailed from there, but I'm also very aware that indiepop is international, that there have been fantastic bands from all over the world but Africa and the Middle East. Even Central America that used to not have any, these days have a healthy scene in Costa Rica. Who knows, maybe in the years to come we'll hear some great South African or Lebanese indiepop. You never know.
This time I want to explore a band from another country with a long tradition in indiepop, Japan. I've featured a few Japanese bands on the blog, not too many like Pastelshot, Sunshower, Pitwork, The Groovy Metal Babies, Hartfield, Livingstone Daisy, Civic, B-Flower, The Time Capsules, Thee Windless Gates, The Philips, Sloppy Joe and a few more. But it has been many months since my last post, so I started thinking which Japanese band has always been elusive to me. My answer was Tricycle Popstar. Why? Because I still don't have any of their releases and I've only really heard 4 songs total by them. Those are enough reasons, at least for me, to want to know more about them.
As it is becoming a routine by now when I write these sort of posts, the first place I look for information is Discogs. It is really interesting how in the last 5 years Discogs has become much more important for us record collectors than eBay. I don't think I miss much bidding on eBay and losing at the final second. I haven't bid on there for a very long time. Maybe there are good records there now at good prices. Maybe I should check out. Maybe less people look for rare records there and I could have a better chance at winning. Maybe. On Discogs I don't have to try my luck, if I feel the price is right I just get the record then. There was something similar too, Musicstack, but then it didn't have the possibility to see a band's all discography in one place and even read a little bio about bands sometimes. I think Discogs did it well. It could be better of course. But for now I think it is the place where all of us are shopping.
What do I find on Discogs about Tricycle Popstar. First a name, Masahiro Kodama. Was it a one-man band? I'll try to find out. I see at least 5 singles or EPs and one mini album. I'll try to start chronologically, though there may be some gaps. The best place to get it in order is a Japanese Geocities page (Geocities still exists there it seems) with the catalog of the label Behavior Saviour who released a bunch of Tricycle Popstar releases.
The first ever Behavior Saviour release (catalog BS001) came out in 1993 and was a 2 song cassette by Tricycle Popstar. One song on each side, on the A side there was "Take Off Your Afro (Probably Happy)" and on the B side "Look For Something Better". These songs I haven't heard sadly.
Their second release was also a tape, it was also the second release on the label (catalog BS002) and had a title: "Japanese Boys Singing… Hmm Ha Ha". It was also released in 1993 and had the same format, one song on each side. On the A side was "Frank Rain" and on the B side "Crystal Rain". Again no luck finding these songs.
Third release was again a tape. No surprise tapes are back in vogue these days. I was never a fan of tapes even though the first ever music artifact I bought was a tape. This was also the third release on Behavior Saviour (catalog BS003) and I start to think that maybe the band was running this label? Could that be the case? This release was shared with another band though, The Love Mushrooms has the whole A side for them while Tricycle Popstar the B side. Some other time I will write about The Love Mushrooms because they are excellent, I promise. But today I'll focus on Tricycle Popstar, and so they had 9 songs on the "The Best Of" tape: "Meet Again", "Take Off Your Afro", "Mr Manderine Man", "Look for Something Better", "Music, Food & You", "The One I Don't Like", "Your Perogative", "Passion & Kind" and "I'll Sail This Ship Alone".
This wasn't going to be their last work alongside The Love Mushrooms. On that same 1993 that seems to have been very productive for the band they released another split tape titled "Dynamic Pops for the 90's Vol.1". It seems this tape didn't have a label. Was it a self-release? Tricycle Popstar contributed the songs "Meet Again", "Slump", "Passion & Kind", "You make Me Feel (Early Version)". What is interesting is that The Love Mushrooms seem to have recorded "You Make Me Feel (In My Room)" which might be just a different version.
And if that was the first volume, that same year both bands decided that it was time to release the second. "Dynamic Pops for the 90's Vol.2" was again released by no label, on an edition of just 50 copies. Tricycle Popstar was to include the songs "Yaggy Blues", "The One I Don't Like", "Your Perogative", "Music, Food & You", "(Still Thinking) The One I Don't Like", "Music, Food & You (early version)", "Mr. Mandarin Man", "Death of a Frank Man" and "Your Progative (new version)".
I wonder about these two last tapes, where were they sold? Why so little copies? Was it just for friends? And how come the band was this prolific? Because there's yet another release by Tricycle Popstar in 1993, a two song flexi! This is actually the first Tricycle Popstar record I was hunting down. That's because I'm no fan of tapes, this was their first "proper" in my book. The single sided flexi "I Like Curry Rice" came out on Behavior Saviour in 93, catalog BS 005, and had on the B side the beautiful "The Rocking Chair's Still Rocking". From what I 've seen the flexi even came with a lyric sheet in both English and Japanese. From it we also learn that the label was based in Tokyo. Possibly then the band was based there too. On the back cover there are credits, all instruments were played by Masahiro Kodama. The lyrics were written by Masahiro and a Mark Davis. The art was also credited to Mark Davis.
The 6th Behaviour Savior release was the Tricycle Popstar mini album. It was titled "Saviour Once More" and had the catalog number BS006. There were just 7 songs in it, "Saviour Once More", "Take Off Your Afro", "Moaner is My Cat", "Misfortune", "Tricycle No. 9 (live)", "No Skin Off My Ass" and "Fairy Tales". I couldn't find which year this was released. Again the lyrics and design are credited to the same people as in the flexi. There are two guests though on this record, Wendy Brown and Roberto Massaglia on the song "Moaner is My Cat". This mini album came out in a slim jewel case and as a 3″ CD.
Now the band was to work with other labels, but I wanted to say that Behavior Saviour had been already been mentioned on the blog. This is what I wrote about it when I posted about the Australian band Dreaming Genies who released on the label:
"Going back to the "Joan" CD. It was released in Japan by a label called Behavior Saviour, and it was catalog BS009. This label seems to have been closely linked with a band called Tricycle Popstar, which I barely know and I guess could be reviewed on the blog sometime soon. "
I actually was in touch with the band and they sent me some Dreaming Genies CDs, sadly they never sent me the answers to the questions I wrote for their interview. I wonder how they ended up in the Japanese label. And yeah, since then I was already thinking about covering Tricycle Popstar.
The last release of the band on Behavior Saviour seems to date of 1995. The CD "Apostasy" (BS 012) was released that year but I haven't found much information about it on the web. Just a SoundCloud page by the user Hacchuum which might or might not be our Masahiro. There are songs which I assume were on the album as they have the artwork for it, "Are You Alright? (Drumless version)", "The Rocking Chair is Still Rocking", "Are You Alright?", "Why Do Rock Stars Break their Guitars", "Fancy", "Last Time I Say Good Bye" and "Boyfriend".This user seems to be based in Australia.
In 1996 a split 7″, shared with Orange Cake Mix, was released by the Blackbean and Placenta Tape Club (catalog BBPTC 25). On this hand-glued sleeve record, the band contributed two songs, "Peach Boys Bed Sounds" and "Clover". I believe this was the last release by the band.
The band appeared on a bunch of compilations as well. In 1993, which was for sure THEIR year, they contributed "Take Off Your Afro" and "You Make Me Feel" to the French tape compilation "Gloomy Biscuit I". This tape came along the fanzine Gloomy Biscuit who in this number covered Anorak Records, Reading, Tricycle Popstar, The Sedgwicks, Bulldozer Crash, Budgie Jacket and more.  Another tape compilation on which they appeared that year was the Japanese tape compilation "Let's Muc Out On Sound" released by Loose Sound (LSCT 001). The band contributed "No Skin Off My Ass".
Beheavior Saviour was to release in 1993 the compilation "Behave Yourself!" where Tricycle Popstar had two songs: ""Last Time I Say Good-bye" and "Freak Rain".
In 1994 something curious appears. The compilation "Come All Ye Faithful", the compilation CD released by Behavior Saviour (catalog 011) is listed as an Australian compilation. Did they move there? That could explain the Dreaming Genies question and the Soundcloud one as well. Anyways, Tricycle Popstar appears here with "Should I Become Brain-Dead" and "Are You Alright". All the other bands on the compilation are unknown to me but the most-amazing They Go Boom!!
"Going Against Maz's Advice" was a compilation released by the US label Four Letter Words (FLW 014) in 1994. I don't think the title is about the Maz we all know from NYC Popfest, so I wonder who this Maz was? I thought our Maz was the first Maz in indiepop! On this compilation CD plagued by classic bands from The Cat's Miaow to Boyracer, Tricycle Popstar contributes "No Skin Off My Ass" and "Take Off Your Afro".
Their song "Pom Pom G.I.R.L." was going to appear on a compilation 1996, Blackbean and Placenta Tape Club's "Lily's S'ghetti Factory" (BBPTC 018).
Aside from the band's discography there is very little on the web. Possibly there might be more written in Japanese. But as I don't know absolutely nothing when it comes to Japanese it ends up being hard. I could manage with German, Swedish, Portuguese, Italian, Spanish and English when i have to find information, but with Japanese well it is almost impossible! So maybe some of you could help me find more information about Masahiro and Tricycle Popstar? About Behavior Saviour? Was he involved in The Love Mushrooms too for example? Was he running the label? Everything indicates that he was. Would love to know what he is up these days.
::::::::::::::::::::::::::::::::::::::::::::::::::::::::::::::::::::::::::::::::::::::::::::::