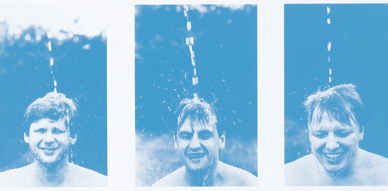 Thanks so much to Mark Radcliffe for answering a bunch of my questions and telling the story of The County Fathers! Just a week or so ago I wrote a post on my blog about the band looking for more information and Mark was kind enough to get in touch. The County Fathers were based in Manchester and released just one record, a 3 song 12″ with "Lightheaded" as the opening track on the Ugly Man label. It is a fantastic record but for some reason it didn't make the splash it deserved. Today Mark continues at BBC 6music and making music.
++ Hi Mark! Thanks so much for being up for this interview! There's little written on the internet about the County Fathers so this is a great chance for me, and many, to learn a bit more about it. But let's start with the present, what are you up to these days? Still involved with the BBC, right? But are you still making music? Perhaps writing a new book?
I currently co-present the afternoon show (1-4pm) on BBC 6music with Stuart Maconie and also the Radio 2 Folk Show on Wednesday evenings at 7. I play drums and sing for a seven piece folk-rock band called Galleon Blast (pirate themed!) and I also do a one man show of songs and stories where I play guitar.
I've always loved playing guitar and drums equally.
++ You were born in Bolton, right? So how did you end up in Manchester? And what sort of music did you listen while growing up?
I grew up in Bolton playing drums in local rock covers bands and listening to a lot of glam rock like Bowie, Roxy Music and T.Rex. I also loved Floyd and Genesis.
In 1976 I went to Manchester University just as punk rock exploded and so my life and my listening totally changed. I started writing songs of my own around this time and met my lifelong friend Phil Walsmley (guitarist) in my first week at uni.
++ How was Manchester then? From what I see from a distance is that there was such a fantastic scene, with so many great bands and venues. Now even there's a new box set celebrating the 80s in Manchester. Who did you feel were like-minded bands? And what about your usual hangouts or favourite venues?
Manchester was a really exciting place for gigs at that time and we went to lots of punk and new wave shows at places like Rafters, The Squat, The Factory and The Electric Circus.
Phil and I were in a new wave art rock band called She Cracked who are included on the latest Manchester box set.
Really Joy Division set the standard we all tried, and failed, to live up to. Their records still sound like important historical documents to me.
++ Before The County Fathers you were involved in Skewdriver. How was that experience?
As regards Skrewdriver – this is quite a difficult subject which I have written about before. Before any racist and white supremacist nonsense started Skrewdriver were Phil's band from his schooldays in Poulton-le-Fylde.
They were just a guitar punk band and later on their singer Ian Donaldson kept the name and recruited a whole new line-up for his racist rantings.
I just helped them out before any of the unpleasantness surfaced as they needed a drummer for a couple of tours.
++ How did The County Fathers start as a band? How did you three know each other? And are you still in touch?
The County Fathers started really as a vehicle for the songs I was writing. John Clayton was a producer at Piccadilly Radio and a good guitarist and I wanted the song 'Lightheaded' to have two dueeling lead guitarists and so I pitched Phil and John against each other. It worked really well and Phil would usually chip in with some nifty bass too. We're still in touch. John works for the BBC and Phil and I had a later band called The Big Figures a few years ago.
++ What's the story behind the band's name?
The name the County Fathers – I had been reading about some American elders setting the rules for their locality and they were referred to as county fathers. I liked the name and also we had all three of us just become fathers so it seemed to fit. Many times it was mis-printed as The Country Fathers. I don't remember us rehearsing much really. It was always intended initially as a recording project rather than a live band although we did later play live a couple of times with Richard Jones and Craig Wolf of The Desert Wolves, who I'd produced for Guy Lovelady/Uglyman – which was how that association came about.
++ Something that I was curious about were the photos on the sleeve. It is like you did the ice bucket challenge before anyone else. What's going on on those photos? And who is the baby on the front sleeve photo?
About the photos on the sleeve – I found the front cover of the baby on a postcard in a shop and loved it. Again, it seemed to fit with the fathers theme.
then I asked the famous rock photographer Kevin Cummins, who was a friend, to shoot the three of us on waste ground outside his studio near the train station. It was very cold that day!
++ There were three songs on the record, "Lightheaded", "You Think It's So Funny" and "Deep South (long version". If you can, in a couple of sentences, tell me what inspired these songs?
Of those initial songs 'You Think It's So Funny' was the poppiest and was inspired by The Smiths a bit I think. It was about my ex-wife in a very oblique way.
'Lightheaded' was really just an exercise is seeing how many guitars we could get on one track. There are dozens on there. A wall of sound. Love it. The words are just nonsense really.
'Deep South' was inspired by a film about the KKK. There were a couple of other songs we worked on – the only one I can find is 'Plain Sailing' which is about being lost at sea.
++ On this record you worked with Nick Garside. In which studio were the songs recorded? And how was the experience of working with Nick?
So when we got to the studio I would lay down most of the basic tracks on my own with Nick Garside engineering and then we would build up Phil and John's parts on my basic track.
Nick had a little, dark, quite scruffy studio called Out of the Blue in the backstreets of downtown Manchester, quite a dodgy area, but he was an absolutely brilliant engineer and producer.
Lots of bands used him because he did an amazing job on minimal budgets. He was a real enabler for a lot of musicians in those days.
++ Guy Lovelady mentions in his blog that you were afterwards in a pop band called St Cloud. Was this a similar sounding band? Who were in the band?
So John, Phil and I sort of drifted apart but I stayed in touch with Richard the bass player and we spent a lot of time backing the Manchester pop comedian Frank Sidebottom.
in that band was a really lovely guy called Michael Taylor who is not only a wonderfully atmospheric guitarist but also a great artist and designer.
The three of us then started to write more songs which I considered to be the next stage of The County Fathers although we were thinking of the names St.Cloud and Deep Blue Day too.
I think the only gigs we did might have been under the name St.Cloud but with my voice and words to the fore it was very much County Fathers part two for me.
++ There were many songs recorded by the band that didn't get to be released as Guy mentions on his blog. He says there is a CD with a bunch of recordings. How many unreleased songs are there?

We recorded at the famous Strawberry Studios in Stockport where 10cc did all their stuff and also where Joy Division did 'Unknown Pleasures'.
The engineer was another brilliant guy called Steve Robertshaw who I knew from the BBC. Sadly he died in a glider accident a few years later. A tragedy.
We also recorded at a studio in central Manchester called Startrack with another gifted, if bonkers, engineer called Royston Hollyer.
I always had the sound in my head but needed great technicians to help me to get there – however it all got a lot easy with Mike on guitar as he just created this shimmering cloud of noise.
I still totally love his sound and it began to shape everything we did. Initially I played the drums but when we moved towards gigging we recruited a really good drummer called David Dunne.
So, of the thirteen songs you can hear on the cd four will be County Fathers Mk1 (me, Phil, John) eight are Mk.2 (me, Mike, Richard, David) and one song called 'New Secrets Sealed' was written by me and Mike but recorded by me on my own.
++ Looking back in time, what would you say was the biggest highlight for The County Fathers?
I look back on it all with pride and sadness really. I thought we did some wonderful stuff which I still think sounds great and so that's what matters I suppose. But of course I feel sad that no-one ever really got to hear it. I still hope that could change. Maybe you will make all the difference by getting it out there.
++ Thanks again Mark! Anything else you'd like to add?
A couple of years ago I recorded again with Mike Taylor and the old magic was still there but again, nothing came of it.
If there was interest and demand I know that Mike and I would come back together and start writing again.
I think the two of us compliment each other perfectly and so there's lots we could do – especially with another collaborator called Gareth Blazey who helped us out with programming, sampling and all things technical.
There are lots of possibilities there so who knows.
::::::::::::::::::::::::::::::::::::::::::::::::::::::::::::::::::::::::::::::::::::::::::::::