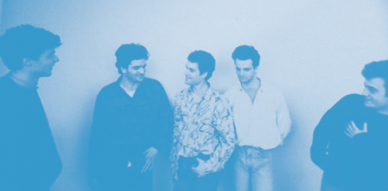 Now it is for sure. Cloudberry HQ is moving. We will still be in Astoria, far away from the hipsters, but a few subway stops closer to the city. Because of that, and seeing that we many boxes of Cloudberry stock, and we want to make it an easy move, we decided it was a good idea for our fans to help us and help them back too. We don't want to carry so many boxes, I think that's what everyone thinks when they have to move, so we have decided to bring back the popular 10 random 7″ offer deal we had back in March when we were celebrating our 10th anniversary. Also we have put together a new deal, this time for CDs, where you can get 5 random ones also for a fair price. These two offers will be available until September 14th when we will be getting a moving truck and taking all of our stuff to the new place. You can check both packs at our website, www.cloudberryrecords.com, and we already thank you in advance!
Also if we move less stuff that means that we'll have more space for new releases. So that's always a good thing, right?
Since the last update on the blog on Monday there have been a few indiepop news worth checking out. If I'm missing something, better let me know in the comments section.
It seems Shelflife is on fire. What else can I say? Every week there's some new video or new song that I want to have in my record collection. Just a couple of days ago the label and the band Airiel unveiled a new video for the brilliant "This is Permanent". This song will be included in the upcoming double LP album "Molten Young Lovers" that will be released this October. Will there be a CD release for it? I hope. I'm happy though that Shelflife doesn't release tapes. I also hope the Chicago band comes to play to NYC. I only saw once, 5 years ago at Cake Shop, and it was great!
The Granite Shore will be releasing a new album also in October. It is titled "Suspended Second" and will be out on the always trustworthy Occultation Recordings. It has 9 songs and for those of you who are not familiar with this band I must say that Phil June Brides plays acoustic guitar in it. That matters, right? The band also has Arash Torabi on bass, Ian Henderson on drums, Steve Perrin on electric guitar, John Howard on piano and Nick Halliwell from The Distractions on vocals. If you want to check out some of the music, why not start with the song "Where Does the Sadness Come From?" that has a video made by Mr Phil Wilson.
I've also been sharing the past few weeks the singles Stars in Coma has been publishing on Soundcloud and Youtube. Singles that are promoting his new album "Escapist Partisans" that will be released in August 25th. Now it the time for the 3rd and final single "Subtraction Exercises". André says that this one is the jangliest and the most guitar-driven track of the album. He might be right, as once again it is a winner.
I got a message last week by the Japanese band Shinowa. I had never heard them, and had no clue who they were. Kaori, the lead vocalist, told me that they had released a 7″ last June. The A side had the song "Snow, Moon, Flowers" and the B side was "Almost Certain". For the first one there is a very cool video that you can check on Youtube.  The band is formed by Kaori Yamauchi on vocals, guitar and keyboards, Hajime Hirata on guitar and programming, Yoshino Uchi on bass and Gen-Yu Nou on drums. The band define themselves as 60s psychedelic meets 80s and 90s indiepop. They really have very nice guitars I must say, and their songs do sound modern and classic at the same time. I enjoy the atmospheres I could hear throughout their new album that will be released by LEIM Records sometime soon I hope! A very cool discovery indeed.
"Ideal ist Nichts" is the song the German band Zimt is using now to promote their new album "Glückstiraden" that is coming out on the 2th of August on Tapete Records. Of course for me it is kind of sad when a band changes labels, they were in the very lovable Kleine Untergrund Schallplatten of my friend Ronny, but with a bigger label like Tapete maybe they get more attention? Who knows. The good thing is that they have been able to record a a video for "Ideal Ist Nichts" and I'm loving the song even though I understand so very little but melodies can speak to me too. It is a very interesting video, the band having fun in what seems to be a farm, with pigs and all! Can't wait for the album!
And I'll wrap it there. More news, next week!
————————————————
I had various options for Greek bands to be honest. It was hard to pick one for the blog. In the end I decided to try to find out more information about The Jaywalkers, perhaps the band many of us indiepop lovers seek their record the most. We know it is almost impossible to ever own it. We know. We accept that situation. And for me it has been like that since the first time I heard their classic "(You Can't Be) Happy All the Time". I've played that song so many times, I've DJed it too, and I've danced to it when other people have played it. It is an indiepop classic anyway you see it. But at the same time I noticed I know nothing about them.
For me it was always a surprise when I discovered there was an indiepop scene in Greece. How come I thought. I met Greek friends that were very much into indiepop. Christos and Marianthi even showed me Greek fanzines from back in the day when I visited their home. I was thrilled and curious. Who were these people making these sounds there? How were they connected to the bigger indiepop scene in the 80s? As years passed by I noticed that Greek stores used to carry indiepop records, they sold Sarah and Creation and more. eBay sellers from Greece would sell obscure records. There was definitely people very much into it. So it couldn't be just a random thing that there was Greek indiepop.
The thing about The Jaywalkers is that their mini LP wasn't released on an indiepop label, not even an indie label. It was released by Virgin Hellas in Greece (VG 2085 Z). It was 1987 and the 12″ had four songs, on the A side the legendary "(You Can't Be) Happy all the Time" and "Good Day Sunshine". The B side had "I Had a Dream" and a Beatles cover of "Tomorrow Never Knows". The songs were recorded at In Recording Studios and the engineer was Manolis Vlachos.
Discogs won't be easy for me. The credits are of course written in Greek. Sometimes though when you rollover over the name you get the name in latin alphabet. I noticed then that the vocals and guitars, as well as the first two songs on the record, are credited to Giorgos Mouchtaridis. That's my first hint. Also who is the boy on the front cover? On Last.fm it says that it is the song of a well-known Greek singer, not a pop singer. Who then?
On Discogs too there is a small bio by the band. I use Google translate to find out what it says. It says that the band was founded by Mouchtaridis and Paschalis Plissis who were before in the punk band "Migraine" (Ημικρανία, in Greek I think). Also it is mentioned to my surprise that the record was a commercial failure when it come out. What happened there? The label didn't support the band? I don't understand!
There is other member credited on that first page of Discogs, Vassilis Divolis. I could see that Vassilis had been involved in other bands like Supermarket or with Kristi Stassinopoulou. Paschalis in the other hand had played with Panayotis Kalantzopoulos, and other solo artists. While Giorgos is mostly credited for working in production. But Last.fm has a bio where I get to know what each one played:
Paschalis Plissis-guitar, voice, piano, backing vocals)
Giorgos Mouchtarides-(guitar, voice, backing vocals)
Giannis Divolis-violin, harmonium, greek laouto, vocals
Vassilis Divolis-kettle drums, percussion, goblet drum
Giorgos Manos-bass, piano, Chinese violin
There are a few compilation appearances by the band. The one I'm mostly interested in is the 1989 tape "Straight to Hellas". I noticed that the label that put it out back in the day, Lazy Dog (Lazy 05), has now it available for download on a blogspot page. I don't support full album downloads you know, but this is the label uploading it, so it is different. The Jaywalkers appear with the last track, "Pale Blue Eyes". It is quite different to the sound of their classic song, but it is enjoyable in its "lo-finess". I don't know any of the other bands, but I'll have a listen. Maybe there I'll discover some cool jangly sounds? But no, no jangle in here.
Their later appearances on compilations are much newer. I think it was thanks to their appearance on the influential and important CD compilation "Try a Little Sunshine", which was a taster and introduction for many of us to the Greek scene, they started getting the recognition they deserved. This compilation came out in 1999 and was released by Pop Art Records (Pop-99). So many good bands in it like The Crooner, Impossible Tymes or Next Time Passions. I actually think I have two copies of it. On the notes of the CD it says that the song from The Jaywalkers come from their deleted mini LP. Was it really deleted?
In 2010 they were to appear with the song "Good Day Sunshine" on the tape compilation "Velvet D.I.Y. – A Velvet Compilation" released by the Velvet magazine (Velvet 02). I notice that this tape came with a 120 page pocket size booklet inside a printed bag. Wow! Maybe there was more information about The Jaywalkers written there? Maybe our Greek friends can help me. The version of "Good Day Sunshine" on this tape is actually an earlier, alternate and unreleased version of the song that was on the miniLP. How did it sound?!
Their last appearance dates of this year, 2017. This time it is an LP compilation titled "A Sparkle from the Past" released by the label Make Me Happy (MMH 001) that has a bunch of Greek indiepop bands like Kissamatic Lovebubbles, One Night Suzan and Pillow, as well as the classics Next Time Passions. The artwork for it is very Sarah-esque. Looks great. But where do I get this record? I can't find any information.
I keep digging. I find that Giorgos Mouchtaridis is the founder of Radio Pepper 96.6. I also think that at some point he was the director of Kosmos FM of the Hellenic National Radio. About Paschalis Plissis I found some artwork credited to him on the Useum site. Sadly I couldn't find if they made any more indiepop songs after The Jaywalkers or actually some more information of the band, like why did they split? And what they did after?
I end up on Youtube. First I find videos from 2010, when they opened The Triffids show 'A Secret In The Shape Of A Song / The Triffids and Friends play the songs of David McComb' in Athens at the Gagarin 205 venue on April 23rd. Also they played a gig on September 24 of 2010 at the venue BIOS. Then I find that the band played again in 2013. Not sure how many gigs they played, but there are videos of this time again at Gagarin 205, dating from June 1st of that year. And if that's not enough, there are two videos for the band rehearsing. There's "Get Out of My Life" and "Good Day Sunshine" at a rehearsal room.
Also I was to find the Next Time Passions covering The Jaywalkers at the Tiki Bar in 2009! That was cool!
Also another question that remains central to my query is about their recordings, if they only had these 5 songs I've mentioned. Or if there were more? How come from being in a punk band they evolved into the sound one hears in their mini LP? There are many questions that I would love to ask them, I hope I can interview them sometime soon!
::::::::::::::::::::::::::::::::::::::::::::::::::::::::::::::::::::::::::::::::::::::::::::::