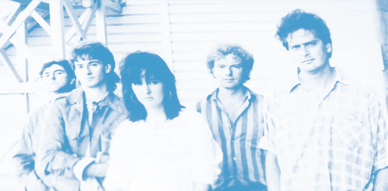 This week I saw many friends posting about a new compilation titled "Neon Maniacs" that is going to be released on Cassette Store Day (whatever that is, are there cassette stores in the world?) by Girlsville Records from Chicago and Nerve Centre from Falmouth. There were two bands on it that I was interested for sure, The Darling Bands and The BV's. And it was no surprise that the songs they contributed to it were among my favourites. The Darling Buds cover The Go-Go's "Our Lips are Sealed" and it is pretty good! And then The BV's have an oringalsong, "The Sheep Look Up", and it is a dreamy nice lo-fi one. Other songs I enjoyed (you can only listen to the whole thing on this website – it seems it is becoming more and more common this 'premiere', 'exclusive' thing on the web were you can only listen the whole thing on particular sites and not anymore on Bandcamp where you can actually only listen to 2 songs, and I'm not liking it very much, what's there to gain doing this, someone illustrate me?). Anyhow other songs to check out are The Primitives' "Really Stupid" cover by Atomic Suplex Ft Hillary Burton and  The Prissteens "You're Gonna Lose". The rest is a mish-mash of punk, garage, and shouty stuff that I'm personally not into.
Our friend Sebastian Voss who used to be in the Grindcore Poppies, who I interviewed on the blog, has a new album with his project The Fisherman and His Soul. "A Certain Kind of Hug" is available to stream on Bandcamp for free. There are in total 8 songs and they are a mix of styes, from synthpop to lo-fi and more. I particularly love the song "Bravado!" which is straight-up indiepop and could have been part of the handful of songs the Grindcore Poppies left behind, and I'm sure you'll like it too.
Speaking of friends, and friends who post music links on Facebook, I noticed on one of those posts a band from Ystrad Mynach, Wales, named The Autumn Set. I thought that it is a very indiepop sounding name, I should listen to them. And even though I feel their influences are closer to folk music, to Nick Drake as they say, I listened happily to the 4 songs they have on Bandcamp, "The Girl From Crescent Gardens", "Where The Land Meets the Sky", "Listen to Al" and "All By Yourself (You Will Be Fine)",  and I thought, this is really good. It is poppy and catchy! The band is formed by Sheena, Mike, Charlie, Lou and Jake, and I wonder why Indietracks, who seem to love their folky bands, can't book a band of this quality and not some silly folk nonsense!
The Clientele will be releasing a new album, "Music for the Age of Miracles", on September 22 on Merge for North America and Tapete for the rest of the world. Because of that the band is already promoting it with a new video for the song "Everyone You Meet" which was just released this week. It sounds really pretty, time to pre-order the album? Hopefully they come back to the US as well.
John Girgus from Aberdeen has a new CD available and it is meant to be a companion to the previously released "What Do I Wish For Now: Singles 1994-2012" and "It Was The Rain: Lost Recordings 1993-1995". This new CD is a compilation of rarities, compilation tracks, tributes and tracks only available digitally. It is titled "Grey Skies Don't Last: Extras 1992-2012" and has 13 songs. It also has a very good price, just $7.99. You can stream all songs from Bandcamp and hopefully I can order it in the next few few days.
My last discovery comes from Montreal in Canada. The band has the simple name Corridor and have a few releases under their belt. Their last album is titled "Supermercado" and even though it is not strictly indiepop I found a handful of worthy jangle pop songs on it. So I'll tell you which songs to listen to satisfy your chiming guitar needs. I think my favourite is "Le grand écart", and then you can follow listening to "Coup d'épée", "L'espoir sans fin" and "Demain déjà". The album is available on vinyl LP, CD and cassette.
—————————————————
As I was saying on my previous post, as I'm doing this sort of carousel of countries, trying to vary the origin of the obscure bands I've been featuring here, trying to avoid England monopolizing the blog, it is time for an Australian band.
I first came face to face with The Honeys thanks to Peter Hahndorf from Twee.net. On the blog I've mentioned many times two CDRs he gave me that he titled "The Sound of Glen Waverley", at the time he was planning to do something similar to The Sound of Leamington Spa series but with Australian bands. This project never came to life but to me those CDRs were an introduction to a bunch of 80s and early 90s bands that were truly great. It is no surprise then that on the blog I've featured The Sometimes, The Mandelbrot Set, Chrysalids or The MacGuffins, all bands that were on that double CDR.
When it comes to The Honeys, I kind of prepared the way for this post in the early days of the blog. I wrote about Catherine Wheel, the band that formed The Honeys band members after they split. You can check my Catherine Wheel investigation dating from January 2009 here.
In Rateyourmusic I found the whole lineup for the two periods the band was around:
Andrea Croft (vocals), Bruce Begley (guitar), Grant Shanahan (bass), Michael "Blue" Dalton (slide guitar, harmonica, 1987-89), Matt Galvin (guitar, 2007-present), Lloyd Ghi (drums, 2007-present), Brett Thomson (drums, 1987-89), Phil Rawlinson (drums, 1987)
That's important to mention. The band was around the late 80s and in 2007 or so they reformed to play shows and release an album. Speaking of albums, their debut wasn't a single or an EP, it was an album. And that is quite strange, isn't it? So I decided to go straight to Discogs and explore their discography.
The band hailed from Perth though if I want to be more exact, they would hail from Fremantle.
Fremantle is a major Australian port city in Western Australia, located at the mouth of the Swan River. Fremantle Harbour serves as the port of Perth, the state capital. Fremantle was the first area settled by the Swan River colonists in 1829.b It was declared a city in 1929, and has a population of approximately 27,000. The city is named after Captain Charles Fremantle, the English naval officer who established a camp at the site on 2 May 1829. The city contains well-preserved 19th century buildings and other heritage features. The Western Australian vernacular diminutive for Fremantle is Freo. The Nyungar name for the area is Walyallup.
Their releases were to be released on the classic Australian label Waterfront, an eclectic label that released some very fine indiepop like Club Hoy or The Widdershins. Because of that the Perth band was to move to Sydney where the label was based. That first album was titled "Goddess" and came out in July 1988. The catalog number was DAMP 75. The album had 10 songs, on the A side there was "Against the Elements", "Wood for the Trees", "Goddess", "Fire and Brimstone" and "Bells of Spring". On the B side, "Tears of Fallen", "Thoughts", "Damaris' Lament", "Insecurity Express" and "Texans". The album was recorded at Poons Head Studios in Perth. The producer was John Bassett with the assistance of Rob Grant. Michael 'Blue' Dalton added slide guitar and harmonica in the record whereas Marie Carruthers took care of the photography of the jacket. A promo video was made for "Against the Elements".
I sadly don't own that album (as of yet), but I do own the 7" they released the same year. The A side is probably my favourite song by The Honeys and its name is "The Man Who Was Through With the World". And yes, there was a promo video for that song as well. The B side was "Sick". I also really like the cover art of this record which is credited to Jenny Grigg. The A side was recorded at Rich Studios in September 1988 and the producer was Colin Bloxsom while the B side was recorded at Sound Barrier Studios that same month and produced by The Hound (an early Game of Thrones reference?? definitely not). The engineer for these songs was John Hresc. The photo on the back cover was taken by Tony Mott and James Cruickshank, from The Widdershins, contributed piano and organ.
The band was to release a second 7″, this time with no artwork but in the classic Waterfront Records standard sleeve. It was a double A single, where the A side was "Gone Away" and the AA was "Monster". On Youtube I found an upload by Grant Shanahan, the bassist, where he mashes up the song "Monster" with Ben Lee's "Catch My Disease" from 2005. Bruce Begley had told Grant that the songs shared a lot of similarities. Grant says that they have the same chord progression, but that even though the songs are complementary, that melody and phrasing are similar, they aren't exactly the same.
Their second album came in 2007. I found an interview dating of 2008 where Bruce Begley talks with the author of the blog WebCuts Music about the band's reunion and the new album "Star Baby". It does give some background of what was going at the time. For example it was interesting that after Catherine Wheel split Andrea Croft returned to Perth. That was to make difficult for any reunion until of course the internet and some convincing made the three core members, Grant, Bruce and Andrea, get together again. Then I find an article on the Sydney Morning Herald dating from 2008. Here Croft tells how she was convinced by Bruce and Grant to record again. This time they released the CD album on the label Origin (OR 004). I suppose the connection with the label was through Grant whose band Eva Trout had released some records with them. The album had 12 songs, "Kiss Me Kate", "Hollywood", "Dead Man", "In the Sun", "Veronica Says", "I Couldn't Win", "Always Worked the Railways", "Living Dead", "Lightning", "Forever Mine", "Run Run" and "Star Baby". The songs were recorded at Air Raid Studios and Leisure Suit Studios. Louise Cook did the art for the record with photography by Bek-Jean Stewart and Kathy Moore. The record got contributions from John Gauci on organ, piano and guitar, Paul Dunn on drums and Matthew Galvin on acoustic and electric guitar. There are videos for "Kiss Me Kate" and "In the Sun".
At least two gigs happened in 2007 in Western Australia. The band played Creatures Loft and Balmoral Hotel.
There was a compilation double CD released by Phantom (PHCD48_1) released in 1995. On this CD was included practically everything that was recorded by the band. The first CD included "Gone Away", "Monster", "Rain", "The Man Who Was Through With the World", "Sick" "Second Home Coming", "I Dreamed Last Night", "Run Run", "Drowning Heart", "Fading Fascination", "Blood of Cain", "Coco Pops", "Picture" and "Pray for Rain". The second CD is the "Goddess" album plus two extra tracks "Wood For the Trees (Live at the Wireless)" and "Bells of Spring (Live at the Wireless)". I think this is the release I need to track down! Where to find it? On Discogs it has never been sold! Ever!
They were to appear on compilations too. In 1989 they contributed the song "Gone Away" to the Rude Records / Waterfront Records (RUDE 004/DAMP 121) compilation "I Could'a Been a Contender". It was released on CD and LP. Then in 1991 they were to appear on an English compilation, on the venerable Rutland Records. On the "Shiver Me Timbers" tape they were to contribute the same song, "Gone Away".
The band was also featured on the classic Australian compilation "Like Flies in the Face Of" where they appear with the song "Monster" along so many classic bands like Even As We Speak, The Hummingbirds or The Summer Suns.
I continue digging and I found some very sad news. Last December 2016 Bruce Begley passed away. A remembering event happened earlier this year, on February 12, when The Honeys , Flicker, The Snow Leopards and friends played Bruce's songs.
After the split of The Honeys in the 80s band members went to form Eva Trout, Snow Leopards, Pollyanna among other bands.
There is a blog named "History of Aussie Music" that has a 2013 entry about The Honeys. There are some interesting fact here. For example it mentions that the band was resident artist at pubs like Surry Hill's Evening Star or Glebe's Harold Park Hotel. That the band toured in an old Holden HG.
My last stop before closing this "investigation" ends up being Youtube once again. I found Grant Shanahan account where he uploaded videos of the time when they were recording their second album. I found audio and footage for "Hollywood" as well  as a video of them at Leisure Suit Studios.
I only own the one 7″. I think now I should focus in finding the "Ultimo" double-CD and then their second album. I hope I do. But I wonder if there were any other unreleased songs that weren't included in any of those two releases. I couldn't find much more information, but I believe they were very well regarded by Australian indie types in the late 80s and 90s. Their songs were really good which means I need to check out other projects they were involved with. But what about you? Do you remember them?
::::::::::::::::::::::::::::::::::::::::::::::::::::::::::::::::::::::::::::::::::::::::::::::