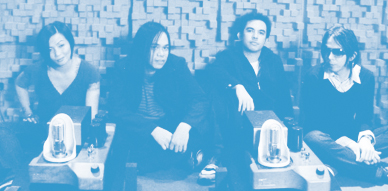 Finally Chickfactor announced the dates for the New York shows of their 25th Anniversary. Some days ago they announced the Portland dates (Dec. 9 and 10th) but I didn't cover them because to be honest I wasn't that keen on the lineup. Sure, I like Rocketship and Rose Melberg a lot, but I've seen them before so not that special for me, and anyhow I wasn't going to fly to Portland. And when it comes to New York I must say I am not that impressed by the lineup again. I think the previous Chickfactor events set the bar way too high and so this is not criticism, topping that was going to be impossible! The good thing though is that the show on November 2nd at Union Pool will have the fantastic 90s band Honeybunch!! The rest of the lineup makes me a bit lazy to go, I don't think I'll make it to the 2nd night, but I'll definitely make an effort to check Honeybunch. See you there?
For me the most exciting thing I saw this week was The Hummingbirds special on Rage on the ABC TV channel of Australia. The Hummingbirds wrote a little about this special on their Facebook and I think it is the best way to introduce you to the video that is now on Youtube. I really would love to interview The Hummingbirds at some point…
Before JJ going national and before the internet there was (and still is) Rage on the ABC. Rage had nationwide exposure and Rage would play, amongst the international hits, small indie bands from anywhere… if their music was half decent. Seeing bands at the local pub and then again on Rage when you got home was kinda cool. Our indie/phantom singles were self funded and our friends helped us shoot and edit the videos – for nothing more than the cost of the film (if that?). Big thanks to Susie Dene, Paul Clarke and 'crew' for making those happen. Whilst at rooArt we had a chequered history of making some good and some tragic videos. We can only laugh (sometimes with resignation) at some of the choices we made or were cajoled into accepting by those who simply did not get it. Anyways it looks like a bunch of these will again be on Rage. Once more unto the breach my friends…
Check the special HERE.
It is no secret that I love any project Patrik Lindgren has been involved with. I'm a big fan. And I miss him making music. Kalligrammofon Recordings is a label from Malmö and they've just put out a new Ring Snuten EP on Bandcamp. I don't think this is available in any other format (shame!) but at least you can stream four songs for free, "Ett Vykort Från 2004", "Dumsnäll Säl", "Planlös bilfärd på Öland" and "Ta Det Lugnt".  . They were performed by Patrik, Douglas Holmquist, Petter Samuelsson, Mathias Engwall and Rickard Haberling and were recorded at Sonores Studios. I hope more Ring Snuten songs become available in one way or another.
If you like The Darling Buds or The Primitives, then you will definitely love Seafang's new single "Solid Gold" The band from St. Petersburg in Florida have just unveiled the promo video for this song and it is a classic slice of indiepop! This song and its B side "Stardust" have been released as a 7″ by the label Emotional Response.
A very sweet discovery has been Party Jacket from Winthrop Harbor in Illinois, the solo project of Joshua Grimes. There's only one song on their Bandcamp, "Company", but it is terribly good that you cannot ignore it. On the small blurb it mentions that this song will be the first single from the forthcoming album "Weekend Exotic" that is set for release sometime this summer.
If  on my last post I was featuring an old Norwegian band now I stumbled upon a contemporary band named The Age of Colored Lizards. I'm curious about them being European using the American way to spell colored. But that is not that important I guess. The band hails from Oslo and I see they've been putting out their brand of shoegaze/dreampop since 2016. Their latest song is titled "Nothing to Say" and it is a pretty pretty pop song. It doesn't seem like the trio has released any proper physical records though, all of them are available to stream on Bandcamp.
Peruvian band Verano del 83 have already been recommended on the blog. This time around though they have bigger news, an 8-song EP is to be released on Mexican label Emma's House Records. The EP has the title of their most known song, "Llévame a Casa", and it will be released physically sometime soon on CD in a limited run of 25 copies. At the moment all songs are available to stream on the band's Bandcamp and they are a very nice surprise.
——————————————-
So it seems a lot of people are enjoying this little adventure/project of going through bands from the most prominent countries in the world of indiepop. In the last few weeks, and not counting the interviews, I've featured music from forgotten bands from England, Scotland, Wales, Spain, Sweden, Australia, Germany, Japan, Greece and Norway. Now it is time to head back to Asia, time to feature the first Filipino band on the blog. It was about time too.
My knowledge of Pinoy pop revolves mainly around the bands the brothers Ryan and Dale Marquez have been involved with. Of course they are not all, there are plenty of great bands that hail from that south-east Asian country, think of Fantasy Lights (who had a 3″CD on Cloudberry) or Balloon Farm. Or what about the most brilliant Moscow Olympics? Yeah, there are a bunch of good ones. There's plenty to write about. But I decided to investigate a band I'm not familiar with at. Before this post, I must admit, my only knowledge of Daydream Cycle was through the song "Lousy Judge of Character" that appeared in a Shelflife Records compilation back in 2oo3. And that was a cover version.
The compilation "You're Still Young at Heart" (LIFE 050) is definitely a classic indiepop compilation, one which the bands appearing paid tribute to the Shelflife bands by performing and interpreting songs from its back catalogue. Well regarded and all. You could find in it bands like Free Loan Investments, Brideshead or California Snow Story. Important bands in my book. But it seems Ed Shelflife wanted to show how indiepop was a worldwide scene, and he included a bunch of Filipino bands in it. There was Carnival Park and Soft Pillow Kisses. And then of course was Daydream Cycle covering The Shermans.
From the small bio on Discogs I find out that the band formed in the year 2000 in Parañaque City and Las Piñas City.
Parañaque, officially the City of Parañaque, is one of the cities and municipalities that make up Metro Manila in the Philippines. It is bordered to the north by Pasay, to the northeast by Taguig, to the southeast by Muntinlupa, to the southwest by Las Piñas, and to the west by Manila Bay. There are several accounts as to how Parañaque got its name. One such story stated that long ago, at the mouth of what is now known as the Parañaque River, there stood a balete tree that, when viewed from afar, looked like a majestic ship. This earned it the name Palanyag, taken from the term "palayag", which means "point of navigation".
Las Piñas, is a city in the National Capital Region of the Philippines. According to the 2015 census, it has a population of 588,894. Las Pinas was established as a small fishing port and became a major sea salt-producing municipality, through the use of salt evaporation ponds, dating back to the Spanish Era, the city has grown into an important residential, commercial and industrial suburb of Metro Manila. The story about the true origin of the city's name, "Las Piñas", varies. One version mentioned, that traders from the province of Cavite and Batangas shipped their first piñas (Spanish for pineapples) for sale to this town, before they were distributed to nearby markets.
Two towns next to each other then. It all sounds exotic to me at this point. But I will definitely visit the Philippines in my lifetime. I have to.
The band released two albums, Daydream Cycle in 2001 and Underwater Kite in 2005. The band was formed by Kathy Meneses on vocals, Andrew "Dok" Sergio on bass guitar, Jerome Velasco on guitar, Japs Sergio on guitar and Boga "Bogs" Jugo on beats. Were Andrew and Japs brothers or family?
On Discogs they only have their first album listed and it has the same name as the band, "DaydreamCycle". Notice though that at this point it seems the band's name had no space between the words Daydream and Cycle.
Daydreaming is a short-term detachment from one's immediate surroundings, during which a person's contact with reality is blurred and partially substituted by a visionary fantasy, especially one of happy, pleasant thoughts, hopes or ambitions, imagined as coming to pass, and experienced while awake. There are many types of daydreams, and there is no consistent definition amongst psychologists, however the characteristic that is common to all forms of daydreaming meets the criteria for mild dissociation.
Cycle, a series of events that are regularly repeated in the same order.
The album was recorded by Japs, Bogs and Kathy at their home, B.F. Homes, in Paranque in Metro Manila during the months of May 2000 and May 2001. A whole year. The album came out on the label Metronome Recordings which I assume was their own. The art direction for the album is credited to Andrew Sergio.
The CD has 12 songs, in this order, "My Luscious Star", "Fabuloso", "Slow Return", High Five", "More Than Okay", "Dreamland", "Indica", "Basic", "Sunday Surreal", "Sundowner", "In the Flow" and "Light it Up".
I read on a blog that this CD is quite rare. That the band doesn't even had copies of it. There seems there was some issue with the master copy of it. I wonder what happened. This blog mentions a rare reunion gig by the band in 2013, when they played at the launch of the vinyl record of Ang Nawawala OST at Heima Three Brixton, I believe a popular venue in Manila.
It has been hard to find information of their 2nd album, "Underwater Kite" on their own Metronome Recordings label. I found a blog where it has the tracklist though, hopefully it is correct: "Roses and Cadillacs", "Over the Windshield", "Midnight Eyes", "Avenue", "Sky Interchange", "Daisy Tongues", "Winters Gone", "In the Corners of Mine", "When the World Stops", "Girl I Know", "Our Mind Wanders", "Nightowls", "Otla Xas", "Nothing With You", "A Beautiful Morning", "Luna", "Lousy Judge of Character (Dcc version)", "Daisy Tongues (SQUID9 remix)", "Roses and Cadillacs (SQUID9 remix)", "Lousy Judge of Character".
On Youtube I was going to find promo videos for two of the songs on this album, "Roses and Cadillacs" and "Avenue". There are also live recordings from venues like The Fort, Saguijo, Heima Brixton, Route 196. So we know the band was pretty active in the Filipino scene at the time. Then there's a video for the song "Christmas is Here". I wonder when or how was this one released? It feels more like a one-off.
My next stop is the blog Under Blue Skies from our friend Jun Eric. There is a post about Daydream Cycle there. There is some interesting information on this 2005 post, for example that the band played regularly at Buzznite, a monthly gig organized by Allan Montero of Soft Pillow Kisses. He even says that Shelflife had signed the band at this point. Is this true? Even Laura Watling from The Autocollants had praise for them.
I continue the search, and stumble upon the website Bakitwhy. There's an interview with the band at the time of the reunion gig of 2013.
Time to look for the members. To my surprise I find a whole Wikipedia page for John Paul "Japs" Ricafranca Sergio. He had been involved with other bands like Rivermaya and Peso Movement. His brother, Dok Sergio doesn't have a whole page but he has a little section on the band Pupil's page. In it he is mentioned to have played for Purple Playground, God's Era, Prominence of Cathedrals, The Teeth, Imago, and Pupil. Jerome Velasco on the other hand had been also on Pupil and The Teeth as well as The Mongols, Aspirin, The Slave Drum and Candyaudioline. Bogs Jugo, whose real name is Ricardo Nicholas Bañaga Jugo, also played in Pupil, The Mongols, Us-2 Evil-0 and She Hates Ballet.
My last stop is their Facebook page which hasn't been updated since March of this year. It says that they actually recorded a 3rd album in 2008 but it seems it was never released. What happened to it? One of the songs on that album was titled "Pieces of You". I wonder if they will finish it and release it some day. Would be great to hear it.
I couldn't find much more information about Daydream Cycle. There were a few blogs in tagalog which I can't understand. But it didn't seem they had many interesting details. I could understand their classy dreampop though. I wonder what they are up to now, if they continue making pop music or not. I would definitely like to track those two CDs and have them in my collection. I don't think I own that many Filipino releases and that is a shame, there has been great pop coming from there for decades now and they continue to do so thanks to bands like Outerhope or The Camerawalls. I definitely have to make a note to myself to pay more attention to what's cooking there, and I'm not talking about adobo!
::::::::::::::::::::::::::::::::::::::::::::::::::::::::::::::::::::::::::::::::::::::::::::::