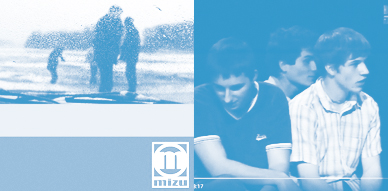 Well, I was expecting to be the happiest today, but well, I'm only moderately happy. On Tuesday my home country, Peru, played Colombia in what is the South American qualifiers to the Russia 2018 World Cup. A win was to qualify us directly but that didn't happen. What happened was that we tied and so we are not eliminated but neither qualified. We have to play two more games, an international play off against New Zealand next month. In theory Peru is a better team. But this is football, and you have to play the games first. Anything can happen. So yes, happy to the extent that we are still alive after 18 games in the most difficult qualifiers in the world and that we are two games away of me seeing Peru for the first time in a World Cup (last time was 1982). I have to wait another month to know if I will buy plane tickets to Russia, I'm very positive that that will be the case (sorry my kiwi friends!).
As it is becoming usual on the blog, Thursdays are also new post days. Not much to tell about Cloudberry right now, but let's see what new sounds or interesting news we can find in the indiepopworld.
Ultra happy that finally we can hear the 6 songs from the Verandan EP. Weeks and weeks of anticipation since the first time we heard the first song of Ville Hopponen's new project. We recommended this band time and time again. We wondered where those songs that were popping up on SoundCloud were going to end up. Finally it seems it is a digital EP that is right now available on all digital platforms. Me, I'm streaming it from Bandcamp. And what can I tell you, it is everything that I expected. It is beautiful. My only concern, request, complain, is that I want this in some physical format. Will it be released on vinyl? on CD? I need this on my collection. It can't just be a digital release!!
All these exclusive premieres on blogs or magazines I have no clue they exist is becoming a new norm for some indiepop releases. This time I had to head to a webzine called God is in the TV to be able to stream the new Pia Fraus' album "Field Ceremony". You can do that now too if you like. Or you can wait a couple more days, until October 16, for the release date. Maybe the second option is better, we support the band, the label, and we don't give clicks to random pages?? Or am I wrong?
Another Chinese band I discovered lately was Self Party. But I wasn't sure if I should or not recommend them. You see less than half of their songs are good, the others are not my style. But when they are good, like on "Jaguar-Jaguar" or "Regina Sue" it is quite refreshing, especially the first one which is my favourite. The band hails from Hangzhou and have a digital album titled "Pop Songs" on Bandcamp.
Then thanks to the Latin American Twee page I end up on the Bandcamp of a new Peruvian band named Los Niños Vudú. The band has made available their first release, a digital EP titled "Pueblo Libre". It has 5 songs, "Multicolor", "Para Siempre", "Girasoles", "Por las Azoteas" and "Niños de Pueblo Libre", and they are quite good! I'm guessing this is a very young band and that maybe they hail from the Lima district Pueblo Libre that gives the EP its name. I haven't seen them playing events with any of the Peruvian bands I follow on Facebook, but hopefully they start making a fuss, this is a very promising debut and I hope it gets released in some way. The band is formed by Inti Arteaga on vocals and guitars, Andoni Granda on guitars, César Horruitiner on drums, Adrián Muñoz on bass and Rodrigo Urbiola on keyboards.
Lastly some fantastic news from The Honeydrips! The Stockholm band is back with a new album titled "Give Each Other Some Solace" and it will be available in 12″ vinyl LP and cassette. The album is expected to come out on October 27 and right now the band is previewing two of the songs (out of 8) on their Bandcamp: "Through the Darkness" and "DCI Gates". I am very happy to see Mikael returning in top form with The Honeydrips! Both songs are brilliant! The copies for this record will be very limited it seems so don't miss it! Also keep an eye on this page, as very soon, I hope, there will be news about a new project Mikael is involved with!!!
———————————————————–
I wanted to visit Asia again in this indiepop world tour but not sure what is missing? Hong Kong perhaps? I can't think of any older obscure bands. I know before The Pancakes there were some bands that had Dejay in them like Tricycle Riders, The Postcard or Ginger Biscuits, but never heard any of their songs so I can't tell if they were good or not. So Asia seems to be covered now with features on bands from Japan, Singapore, Philippines, Indonesia and Taiwan. Maybe there's something to dig in Malaysia or Thailand? Maybe someone could recommend something.
Our story today is about the little known Serbian indiepop fans and the band Mizu.
My first contact with them was going through be during the golden years of indiepop in the early and mid 2000s. That is when I was always discovering music through Soulseek and being part of the Twee Folks room in that P2P music sharing program. There I was to meet Nikola who would introduce me to another Nikola, one that had released an indiepop compilation in Serbia called "A View of Our Dreams". His label was called On a Balcony, a play on words on the Balkans, and it came out in 2002. It included many superb bands, La Casa Azul, One Night Suzan, Aquadays, The Crooner and more. But to my surprise there were no Serbian bands. Why?
I guess with that question I got introduced to Serbian guitar pop. The first band I was to be aware was Eva Braun which actually had one record where they sing in English under the name Viva Braun, "The Nowhere Land", that was released in the US by Zip Records. I own this one. But the Serbian band I played the most during those years was Mizu.
Nikola introduced them to me. He sent me one song, "Dobar Dan", which I thought was brilliant. Almost immediately he sent me their one and only album. And I really enjoyed. There was not much more to know about them then, nor did I went into indiepop archaeology at that time. Now many years later I decide to rediscover this song, this band, learn their story.
First thing, "Dobar Dan", means "good day". Mizu seems to mean table? What is good is that the band actually has a small bio on Discogs, there it says that the band hailed from Bečej and were formed by the end of 1997. The name was the idea of the band's first bass player Saša Ajdanov.
Bečej is a town and municipality located in the South Bačka District of the autonomous province of Vojvodina, Serbia. The town has a population of 23,895, while the municipality has 37,351 inhabitants. It is a multiethnic town, predominantly inhabited by Serbs and Hungarians.
It also says that some of their more memorable concerts were the ones they played as warm up band for Veliki Prezir at Rex and then in Barutana with Eva Braun. They also appeared on a "Live Session" on NS Plus. Their album on CD was supposed to be released in 2000 by Automatik records but that never happened, only some promo copies were available. That would explain why on Discogs their album is listed as an MP3 album that dates from 2008 on Label Star.
I was listening to this album quite a lot back in 2003, 2004. Maybe later too. At some point my MP3 hard drive died and lost it. Now that I think of it, this might have been the pivotal point for me to dislike MP3 releases. They are ephemeral. Physical records are always the way to go.
The album had 13 songs: "Dvadeset I Dva", "U Velikom Stilu", "Sve", "Pogledaj", "Konan", "Kompromis", "Dobar Dan", "Vožnja, "Ispod Noći", "Kraj", "Jedna Reč", "En" and "Korpa Korpa Cveća". The credits for the record are as follows, Boris Smoje on vocals and guitar, Marko Vujkov on bass, Igor Batinić on guitar, piano and backing vocals and Dragan Bašić on drums and percussion. They got help by Vanjus (Ivan Milinkov) on synthetizer, Seva (Dušan Ševarlić from Eva Braun)  and Kole (Vladimir Kolarić, leader of Veliki Prezir) on backing vocals. The record was mixed by Jan Šaš and it was recorded by Dušan Ševarlić as well. So there was some sort of scene between these guitar pop bands in Serbia? Mizu, and the legendary Eva Braun?
I then check the band members, what other projects are listed under their names on Discogs? Boris seems to have been involved in the band Superstudio and also on Rebel Star. On the other hand Marko was involved in the pop punk band Super S Karamelom.
That Live Session on NS Plus that I mentioned earlier is actually available on Youtube! It dates from April 1998 and on it there is an interview to the band (wish I understood a word) and 4 songs, "En", "Sve", "Kraj" and "Dvadeset i Dva".
Happily this is not the only thing I was to find on Youtube. There is the promo video for the song "Dvadeset i Dva" and watching it for the first time now make me terribly giddy. The 90s so well reflected here.
Then I find the setlists for Indie-Go!, the Belgrade Indie Night, that my friend Nikola used to host. Such good setlists, they must have been long nights, everyone dancing. I see that he even played some Cloudberries, like Horowitz' "Tracyanne", but also I see that Mizu's "Dobar Dan" was a staple in the club.
On Discogs the band is listed to have a compilation appearance, but definitely that is not them. I wonder though if they actually appeared on any compilation?
I couldn't find much more information. What other gigs did they play? Did they record any more songs? Are there any unreleased tracks? What happened with that label Automatik? Why wasn't their album released during their time and only many years after and only on MP3?Any other Serbian bands you'd recommend? Maybe some other bands from the Balkans? Many questions that hopefully get answered! Now discover this upbeat and jangly pop song called "Dobar Dan", a classic to my ears!
::::::::::::::::::::::::::::::::::::::::::::::::::::::::::::::::::::::::::::::::::::::::::::::
Listen
Mizu – Dobar Dan