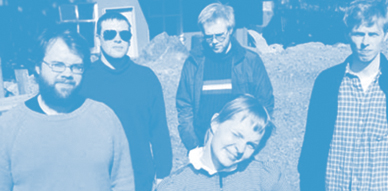 Tomorrow is our official release date for My Light Shines for You's "Detective EP" 7″! Very very excited! All pre-orders have been posted by now, and I hope to get getting orders as the record is GREAT! It is classic indiepop in the vein of The Haywains or Strawberry Story if you have never heard them before. So check them out on our website or SoundCloud!
Also please remember that next week I'm heading to Mexico, let me know if anyone there wants me to bring you any records so you can save on shipping!! AND mark your calendars, I'm going to Madrid Popfest next year! First time since 2013.  So same thing, if you need me to bring any records to Madrid (or Spain) let me know and I'll happily do so!
Now, I what new music have I found?
El Último Vecino: it seems it has already been 3 weeks since they unveiled their latest promo video for the song "Donde Estás Ahora", but only now I found out about it! The Barcelona band is one of the best bands around if I may say so and I still haven't been lucky enough to see them live. I doubt that my week in Spain will coincide with a gig of theirs in the area I'll be staying (Madrid), so I can only cross my fingers. Anyhow, the new song sounds great but not sure how or when it will be properly released!
Remington Super 60: the Norwegian band seems to still be going. I remember them from the days Alexander from Radio Khartoum used to promote them on the indiepop-list in the early 2000s. I got a nice email the other day from the Frederisktad band telling me they have a new song out, a Christmas song. Titled "Another Christmas Song" it is available as a digital single on their own Cafe Superstar Recordings label.
Stutter Steps: an indiepop band from The Andy Warhol Museum's Ben Harrison. That's how the Pittsburgh, Pennsylvania, promotes themselves. They have a new EP titled "Floored" available on both 12″ vinyl and CD, and I must say that it sounds really great!! There are six songs in total, "Floored", "Dim", "Submarine", "Identical Eyes", "Weak Restraint" and "Encino". The sound is poppy, with chiming guitars, it is classic indiepop sounding! The band is formed by the aforementioned Ben Harrison on guitars, vocals and drums, Cindy Yogmas on keyboards and vocals, David Horn on bass and keyboards, Phil Jacoby on guitar and Sean Fin on drums.
Palehound: just heard their song "Sea of Bloodl" on their BandcCamp and it sounds great! The band from Yonkers, New York are releasing a 7″ on January 26 with this song as a B side and with the yet un-streamable song "YMCA Pool" on the A side. There's not much more on Bandcamp but I found out on the band's website that they have released two albums and an EP already.
UK Cinema: lastly this Hamilton, Canada, band that has this gorgeous track titled "English Girls" on Bandcamp. There is not much more other than this song so that's quite sad, but at least some band details are available. They are a five piece formed by Josh Kemp on vocals, RJ Kemp on guitar and vocals, Wes Lintott on guitar and vocals, Matt Lintott on drums and Chris McLaughlin on bass. Check them out, this one song is a winner.
———————————————
Last post of this exhaustive world tour were I've featured bands from countries all around the world! This will be the 45th and last post, hoping I didn't miss any country that has produced indiepop in the past (I'm not counting contemporary bands, for example the case of Costa Rica) as this is an "archaeological" exercise. If I missed anything please let me know.
Today it is the time for Iceland and the band Rúnk which I discovered a few days back trying to find any information about any guitar pop done in that country other than the well known Dyrdin. It took me a while as it wasn't an easy task. I found a mention about a "C86" band called Mússólíní, but couldn't find any tracks by them (any help would be appreciated). In the end somehow I stumbled upon Rúnk on Youtube, I played their quirky "Atlavik 84", and I thought, I need to know more about them. I found yet another song there, "Klapparstígur", which was catchier, kind of sort of sounding like the lo-fi indiepop of the late 90s or early 2000s in the US. So the search started. At the same time I ordered their CD for less than 10 dollars on Discogs.
It was easy to find the lineup of the band, though not 100% sure what each of them played. The band consisted of Benedikt Hermann Hermansson (who had been in the band Mósaik and Benni Hemm Hemm), the cellist Hildur Guðnadóttir (formerly of múm and Stórsveit Nix Noltes), Björn Kristjánsson aka Borko (Skakkamanage), Svavar Pétur Eysteinsson (Skakkamanage & Prinspóló), Óli Björn Ólafsson (of the band Yukatan, Unun, múm, Kanada, Slowblow & Stórsveit Nix Noltes)
Rúnk only released one album, "Ghengi Dals" in 2002. It was released by the label Flotur Kúltúr & Gott Music (FK & GM 002). According to Discogs this was the only release by this label. I don't think the name of the record is Icelandic. True it kind of sounds like Ghengis Khan but, that's not it either. What does it mean?
The album had 10 songs, "Atlavik '84", "Rúnk", "Yamaha Algleymi", "Wall Street", "Andhóli", "Þörungaspitt", "Klapparstígur", "Men and Motors", "Friends Forever" and a 10th untitled bonus track.
The band also has listed one compilation appearance. The song "Innipúkinn" was included in the double CD comp "Alltaf Sama Svínið" released in 2002 by the label Smekkleysa (SM 100).
I find an article on RokMusik from two years ago by Win Van Hooste where he recommends some obscure Icelandic bands from the 80s and 90s and Rúnk is among them. Here he mentions that the band's name could be translated as The Jerk-offs or something like that. That the album went largely unnoticed, but those who noticed started a cult following. Another interesting fact is that Óli Björn Ólafsson performed with Emiliana Torrini and at age 14, in 1993, he wont the annual music competition known as Músíktilraunir with his band Yukatan.
The band used to have a Myspace, but as you can expect, you can't stream the songs there.
Then there is a trove of press clippings on the very fine blog Icelandic Music Museum. The problem is that I don't understand Icelandic and to copy/paste images to Google Translate, well, that doesn't work. So can't really tell what it says, if there are any important details in there. I see they appeared on many papers like DV in July 2001, Fréttabladid on August 2001, Morgunbladid on August 2001, DV on October and December 2001, Morgunbladid again on June and July 2002 and more.
On the CD foldout sheet that comes in a pocket inside the digipak I could understand a few more details, everything is written in Icelandic mind you. I understand that the recordings were done at Studio Polyrunk Vesturporti while the extra bonus track was recorded at La Mariagne. I see some credits here too, like Bobby played guitar, bass and drums, Jimmy the organ, synths, drums, bass, and vocals, Orlando the drums, organ and guitar, Pamela sang, clarinet, glockenspiel, harmonica and more while Suawey played guitar and bass. Clearly these aren't their real names. What's going on? Some other credits I see are for trumpets (Erikur Orri Olafsson), chorus (Karlakorinn Grettir), photography (Borkur Sigdorsson)and design (Honnunardelid Runksins). THen you see all the lyrics of the songs on this foldout, most of them in Icelandic of course with some exceptions in English.
The post ends up being quite short. The truth is that I can't seem to find any other information about them. Sure, you can probably find many more details about the bands that they were involved in afterwards. But I'm curious about Rúnk. If they record any more songs? If they appeared in any other compilations? Did they play many gigs? Did they ever play outside Iceland? What inspired them to create this music? Was there any other like-minded bands? Aside from the big names of Icelandic music, I feel, the smaller bands, live in obscurity, really not fair.
::::::::::::::::::::::::::::::::::::::::::::::::::::::::::::::::::::::::::::::::::::::::::::::
Listen
Rúnk – Wall Street