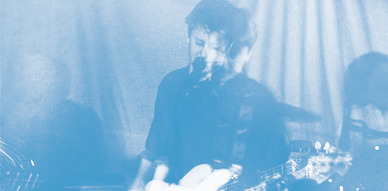 So you know the good news! We are releasing "Lightheaded", a retrospective compilation by the Manchester band The County Fathers!! Very excited about it of course! It is part of our Cloudberry Cake Kitchen and will be our 10th release in this series. We are very thrilled about it, and I hope you too. There are 13 songs in total and we hope for it to be out by March 15th! You can check out the opening track "Lightheaded" now in our SoundCloud. Preorder button coming soon!
The Sherbet Fountains: I've been enjoying a lot the track that Laz from Bubblegum Lemonade made available on Youtube by his 80s band The Sherbet Fountains. I was always curious about these songs, since I heard Bubblegum Lemonade  for the first time on Myspace and found out about his previous projects like The Search Engines (top stuff!). Anyways, check out the Sherbet Fountains song "Unpredictable". Doesn't it leave you wanting for more? For those curious there is a small bio: The Sherbet Fountains were, from left to right, Maggie (violin / drums), Gordon (drums), Ally T (vocals), Laz (guitar), David (bass / keyboards). They played gigs in and around Kilmarnock, Scotland during 1987 and 1988. Would be very cool to do an interview don't you think?!
Luby Sparks: I missed out their "Thursday" video, now it is the first time I see it and well, the song is brilliant as all everything I've heard. The video though, is not very exciting I must say. There's a hand on a cake and some words appear, on the screen. I don't understand it much. Anyways, thought sharing it! This debut CD, "Thursday" was a limited release by WDR/LR2 and included 4 songs "Thursday", "Pop", "1979 (Demo)" and "Water (Demo)". I should try to find it!
For Tracy Hyde: I believe For Tracy Hyde released their second album. I need to track it down, I think it is called "He(R)" and has 10 songs. One of them is "Underwater Girl" for which the band made a video to promote the new record! This is one of my favourite contemporary Japanese indiepop bands since I discovered them last year. Great melodies and bright chiming guitars, what else can one ask for?
Death Valley Rally: I wasn't aware of this Norfolk, Virginia, band until looking for new sounds on Bandcamp I stumbled upon their Part Time Punks Live Session. The band have releases that date back to 2013, so they are not new. But well, I've only "met" them. This live session has 5 songs, "Cutting the Distance", "Northern Lights", "Her Sparkle Dims", "Until it Melts Away" and "Tick Tick Boom!". A bit shoegaze, but with a nice feel for melodies.
Kokkamango: lastly I found this kind of novelty, a Malaysian tweepop band formed by Vesta on vocals, KOKKA (laptop and synth) and Chris (guitar). They have a 3 song EP available on Bandcamp titled "星期天适合。。。" They say they are heavily influenced by Spanish and Swedish indiepop. The bad news though is that these songs date from 2014. Are they still going??! It seems so! According to their Facebook which they have been updating during all 2017.
————————————————————
Seems like the bands to be featured this year are quite varied. So far. It hasn't been on purpose though, I post about bands I feel curious at the moment without any particular agenda. Of course, I must like their music. That's the only rule I follow.
Most of the times I write about bands I don't own their records. Why? Because I have probably heard one or two songs by the band thanks to the internet and I'm curious about listening to the rest. Also because I feel I don't know them. It is different. If I own a record I feel that I kind of know the band, even if there is little information on the sleeve. If I don't own the record the band becomes much more of a mystery. That is the case with the Australian band The Silent Reach who as far as I know only released one 12″ back back in the day. It was a self-release so it doesn't seem it is an easy record to find.
What do I know about that 12″. To be honest, very little. Mostly what's on Discogs. That it was self-released with a catalog number SR12001 in 1989 and included three songs. On the A side there was the brilliant "Melancholy Love Song" and "Moving" and on the B side the song "Teddy Bears". That's it. Not much more. Of course I could tell you that on the cover there's this photograph of some leafless trees. But can't say much about the back cover as I've never seen it.
There are also no compilation appearances listed.
As you can expect there is not much on the web about them. No reviews. No blog entries in general. I do find a small review by a Japanese fan on Mixi.jp. This person compares the sound of the band to that of The Razorcuts or The Servants as well as Brighter. He mentions it has a beautiful sound.
But I am going to hit the jackpot soon. I keep googling and googling until I find two important pages. One, a Facebook page. Two, a SoundCloud page.
There is not much information on these websites but there is important one. For example now I know the band started in 1986 in Melbourne. Of course, the land of so many fantastic pop bands. It also makes me think and wonder when where there be a proper compilation of the jangle pop, the indiepop, of that time period of Australian indiepop. I still hope one day that project Pete Hahndorf for Twee.net had, to release "The Sound of Glen Waverley" compilations, becomes a reality. I would have done it years ago if only Egg Records didn't tell me they were going to do it. But as you see, it was never done. And now I'm kind of working on other projects and don't plan getting involved in compilations. Maybe in a few years if no one has done it yet.
Anyways… we also get to know the band lineup though we don't know exactly which instruments each of them played. We see that the band members were Andrew Lawrence, Scott MacKenzie, Greg McPherson, Stephen Zafir, Martin Homberger and Mathew Homberger. It says that there were a couple of changes and in the end they were just a 4 piece. Who were in that final lineup? Doesn't say.
The SoundCloud page offers the opportunity to listen to the 3 songs on the record. But that's not all. There are 11 more songs available to stream!! That is fantastic! And they are ordered chronologically.
I am not sure how they are grouped. Maybe by demos? Or recording session? The thing is that there is under the title "S" the songs "Introduction", "I've Been Dying", "Flash", "Settling Things" and "Still. Under the name "Narcissus" there is "Three", "Train" and "She Fall". And lastly under the umbrella of "Again" there are 3 more songs, "Crystalline", "Fall" and "Endeavour".
My next instinct it is to find more information about the band members. I couldn't find anything else by the Homberger brothers (they were brothers, right?) but my next search, Stephen Zafir, does give me one result. I see that him and also Scott McKenzie were involved in a band called Verdaine since 2006. It does seem that they haven't updated the site since 2013 though, so not sure if they are still going on.
As you can imagine, that's all I was going to find about them. No gigs mentioned. No other releases mentioned. Or compilation appearances. If they were involved with any other bands before or after. Their memory just in obscurity. Why? Maybe some of you remember them? Would be interesting to know what happened with them? What are they up to now? How come they self-released that great record of theirs? Any clues to any of these questions?!
::::::::::::::::::::::::::::::::::::::::::::::::::::::::::::::::::::::::::::::::::::::::::::::