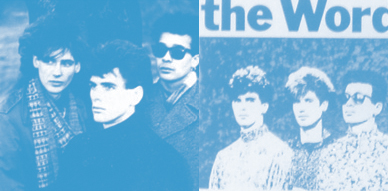 I'm definitely jealous of all of those who will be able to attend the July 26th gig at The Lexington in London of four Sarah Records bands, Even as We Speak, Action Painting, Boyracer and Secret Shine. I have only seen two of them, Even as We Speak (which I saw once at NYC Popfest) and Secret Shine (who I have seen many times, first time in Berlin many many years ago). I could say I've heard Andy Hitchcock playing some Action Painting songs at Indietracks, but that is not the same of course. So yes, a chance to see the four bands is quite an opportunity! Lucky those of you who will. Also because of the dates it is very clear that some of these bands will play Indietracks. It seems pretty obvious that Even as We Speak and Boyracer would. So that would be a good thing for Indietracks, adding some indiepop credibility after all these years of booking the same old and whatever bands.
On other news…
The Spook School: our Edinburgh friends who are promoting their up and coming new album "Could it Be Different" have just unveiled a new video for the song "Body". As you know the album is coming out on January 26th on Alcopop! in the UK and Slumberland in the US. This is the 2nd song that have been released to promote this new album after "Less Than Perfect".
The Guests: I just heard their song "Climb that Ladder" that was shared by a few of my Indonesian friends on Facebook. I have never heard before this Philadelphia band before. It seems this classy song will be included in their forthcoming album "Popular Music" that will be released on February 9th. The band is formed by Christian Vogan on vocals, Alkiviades Meimaris (what a cool name!) on guitars, Florence Lin on synthetizers, Hart Seely on bass and Kyle Seely on drums. I checked them out on Bandcamp where they have more songs but none as good as their latest one. A mix of guitar pop and post punk that does sound fresh, and which they call communist propaganda in pop music form.
Beko Disques: the French label is no more. The label announced last Thursday that the label was done, fini. From 2009 to 2018 the label put out many releases and many were brilliant indiepop ones, like Moscow Olympics, The Royal Landscaping Society, Love Dance or Lost Tapes and more. We don't know exactly why, but well, we wish the best to Boris Beko! That being said the Bandcamp will be available for a few more months where they will continue selling their records. But no new releases will happen after La Houle's "Première vague" which is out today.
The Jangleberries: just discovered this Adelaide, Australia, band that is actually an offshoot of the Roadside Poppies! Wow, I know the Roadside Poppies, Matloob's band which I was quite a fan back in the day. So how come I never heard the Jangleberries before? Don't know! The band was formed in 2014 and their latest effort was "Boyhood Heroes" which is available on Bandcamp. This is a 12 song album of sweet jangle pop!
The Present Age: lastly a dreamy band from a place I've never heard before, Oshkosh in Wisconsin. The Present Age seem to be just a duo formed by Isaac and Logan Lamers and their latest release dates from June 29, 2017: a 7 song EP titled "Apology". it is an interesting mix of post punk, dreampop, The Smiths, The Radio Dept. and so on. Sadly it doesn't seem any of their releases, present or past, are available in any physical format, just digitally.  This is very good, I have now on repeat "The Loveliest Dream I've Ever Had".
————————————————————
Well I do think that today's band will have a little bit information than the previous one. The funny thing is that I noticed that I uploaded to Youtube their song "Schoolboy Saint" back in 2010 and wrote on the description that I should write about them on the blog soon. Well, it wasn't soon. It had to wait about what? 8 years? Don't know how that happened, but anyways, it is better late than never they say.
I can't recall how I discovered this band. I have this feeling that I might have seen their "Schoolboy Saint" 7″ on eBay being tagged with c86 by some seller. It might have been that, but I'm not sure. I do know that I bought the record blindly, without knowing what to expect or how they sounded. But I was very happy that I did so because when I finally played it, I was totally bowled over by it! Really, it is a great song! Worthy of appearing on The Leamington Spa series!
Of course the photo of the band on the back of the sleeve didn't look much indiepop. Maybe they were into other music? I didn't know anything about them at that time and I must have googled around and found they had a 12″ prior to the 7″. I don't think Discogs was widely available then and I believe I couldn't find a copy of it on eBay. And then years passed and kind of forgot about looking for more details about The Word. Yes, that is the prophetic name of this band. But now, I think, my chances are a bit better, and I hope to figure out at least part of the story of this band. So join me in this little pop archaeology project!
As I said I only own their last 7″ according to Discogs. To my surprise there is not just one other release, but two. There is an earlier 7″, dating from 1983 that is filed as a new wave, electronic pop, record. The single has two songs, on the A side there is "Colour It!" and on the B side we find "Her/Recurring". It was released by Menace Music (WORD 001) which seems to have been the band's own label. A few credits appear on Dicogs. We see that the engineer was Bill Clarke (who worked with Marc Almond and Dave Ball from Soft Cell), and the producers were Nyk Goss and Paul Singh. The songs were recorded at Box Studios on August 1983. The A side is actually available to listen on Youtube and it is a nice melancholic song, which definitely is not strictly indiepop but it is a fine pop song.
Their 12″, which two songs are also available to listen on Youtube, is much poppier! And much more enjoyable for us popkids of the world. I do see on Discogs that there were two editions for this record. One on their own Menace Music (WORD 002) and one on Abstract Sounds (ABS 031). Is it safe to say that the Menace Music one came out first and then Abstract Sounds liking it a lot offered to re-release it? Is that how the story went? Or not? In any case both versions came out in 1984 and included four songs, on the A side "Wide Awake", "Shining Things", while on the B side "Immaculate" and "Different". Not sure if they had different art for the jacket but the one on Abstract is the one that has a photo of the band on the cover. Anyways, as I write these lines I've ordered a copy of this record. It is not pricey and I think you all could get a fine copy for a fair price.
Lastly, in 1985, the band released the fantastic 7″ "Schoolboy Saint". It came out on Abstract Dance (AD 7) which was a British dance/disco label, a sister label to Abstract Sounds. How come they ended up on the dance sister label of Abstract! Maybe they consider it too "dancey" after this label had released The Three Johns or U.K. Subs? I'm joking. It doesn't make much sense, but that's how it went.
"Schoolboy Saint" was on the A side, and on the B side they had the song "World to The Girls". The producer for this record was Tim Parry for the A side and the band for the B side. Tim Parry had been in bands like Modern Jazz or Blue Zoo, who had a UK hit single in 1982. Here finally we find out some names. Well, last names. The songs are credited to be written by Bahr/Cotten/MacDonald/Singh. That gives me some hints to continue the investigation. The back sleeve has the lyrics for the main track and also some extra credits. We know that on "Schoolboy Saint" strings were played by Carolyn Harley, that the engineers were Tony Bonner, Mike Banks and tommy Skrytch, and that the song was recorded at Flexible Response in Bradford and the famous Alaska Studios in London. "World to the Girls" in the other hand was engineered by Tony Bonner and recorded at Lion Studios in Leeds.
There is also a PO Box address for the band. And guess where they were from? Bradford.
Now thanks to Rateyourmusic I can put the first names to the last names: Jock Cotton, Jonathan MacDonald Binns and Paul Bahr. Those three were The Word. The three of them that appear on the photographs. And with this information I can check out if they appeared on compilations.
In 1984 the band appears with the song "Boys Choir" on the "Enemies of the State" LP comp released by 1 in 12 Records (1 in 12 003). According to the sleeve of this record, all bands that appear on it, had played in the 1in12 Club during 1983 and 1984. Where was this club? In Bradford too. The 1 in 12 Club refers to both a members' club and the building in which it is based, in Bradford, West Yorkshire, England. Owned and run by its membership as a collective based upon anarchist principles, its activities include social and political campaigning, most visibly as a centre for the city's May Day activities; the use of the building as a social centre; and the promotion of the performing arts – by hosting punk rock bands, and through its own drama collective.
Their three other compilation appearances were contributing the same song, "Different". First in 1985 on the compilation "Never Mind The Jacksons… Here's The Pollocks" released by Abstract Sounds (12 ABS 030) were they appear next to Hagar the Womb or The Gymslips. Second, on "Six Disques Bleu", another Abstract Records compilation that happened to be a 6 LP box set, in a limited edition, released in 1987. There are all sorts of bands on this one, from The Mekons to The Sisters of Mercy. And last, on the 1988 compilation "British Airways" that was a double LP and CD compilation released by JCI & Associated Labels in the US. Here they appear with another interesting mix of bands, from Nikki Sudden to 1000 Mexicans.
I keep my research and found that the three band members, before being part of The Word had been involved in a band called Radio 5.  There were at least 3 7″s released by this band and 3 demo tapes. And it is thanks to this finding that we know that Jonathan MacDonald Binns played drums, Paul Bahr the bass and Jock Cotton the guitar and vocals. Did they play the same instruments in The Word?
Another band I noticed Cotton and MacDonald were involved was in Poppy Factory who were signed to Chrysalis around 1991 and released three singles (plus a 12″ promo). It is said that an album was planned but never happened.
The last mention I found about the word comes from a website by Guy Manning who has released many records in the past. Here he mentions that at the time he was in a band called Let's Eat in Leeds he entered into a "Battle of the Bands" at the Halifax Town Hall were we strutted our stuff to an awed five people, two hacks, one cat and a potential 'John Peel' (the man never turned up… if he had, he wouldn't have been playing the Fall for the last twenty years… Yes, folks, there were bigger noises in the World). Anyhow, we lost… or should I say came second to a very talented bunch of lads… THE WORD (Featuring Jon Binns on drums!!!. I continue reading his extensive biography page and notice that Jonathan MacDonald Binns is mentioned again  but now many years later, in 2001. Here he says Jonathan MacDonald Binns joined up on Drums & Percussion. Jon was with Chrysalis band POPPY FACTORY (and with THE WORD…see earlier) before retiring for a while…but we persuaded him to come back into the fray!
That's all. We know then that Cotton and MacDonald were involved with music after The Word. What about Pahr? Nothing to be found. They were in a few bands, Radio 5 and also Poppy Factory. Actually I enjoy Poppy Factory! It is more of Madchester style I suppose, kind of reminds me of the Paris Angels. Check them out. Maybe this is why Abstract had released The Word under their dance label? Because they saw it in the future? Who knows. It wouldn't be a bad idea to post about them sometime too. But what happened to The Word? What inspired them to write "Schoolboy Saint"? What are they up to now? Would be great to know their story!
::::::::::::::::::::::::::::::::::::::::::::::::::::::::::::::::::::::::::::::::::::::::::::::
Listen
The Word – Schoolboy Saint