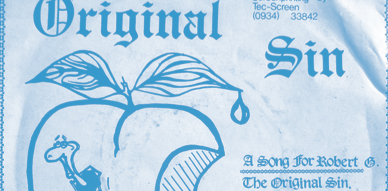 This has been a very prolific start of the year for the blog. At some point I'll have to slow down! But right now it makes sense to continue re-discovering indiepop bands from the past! As you know I'm heading next week to Madrid for Popfest and I won't be posting anything for 9 days. That means two things, if this pace is way too fast for you to keep up with the blog, you can catch up with my posts during that week, and secondly if you are in Spain do write me if you want any records from the label. I can bring the records you want and you'll be saving shipping costs.
No Middle Name: I've recommended this band before because I think they are pretty great. It is time for me to repeat this. That is because they have two new songs on their Bandcamp on what looks like a digital single for the songs "Sax for Melody" and "Love in Stereo Roses". The band from Saint Leonards in the UK has done it again!
Avind: it has been a while since I found a Norwegian band. Well here is Avind and the song "Dumrian" that was released last December on her Bandcamp. Avind is the name Tonje Tarfjord uses to make her music. If you want to hear more there are a few more releases on Bandcamp and an album is slated to be released on May 2018.
The Blog that Celebrates Itself: the popular blog from Brazil run by Renato Malizia has put together on a Bandcamp a compilation of bands covering Sarah Records releases. It is quite an interesting comp, with different results. Some fantastic renditions, some not as good, but in general it is a great effort! You will find some very fine bands like The Blue Dress, Astragal, A Certain Smile or Battery Point covering Heavenly, Secret Shine, Another Sunny Day, The Field Mice and more!
Home Media: discovered this Newry, UK, band some weeks ago. They have a few tracks on their Bandcamp and they are great, worth recommending of course. The band is formed by Ryan Loughlin, Lee Murnin, Eoin Lyness and Niall Devlin and their latest song was "Tidal Track" that was released last July. Would love to see them booked at Indietracks.
Les Bombe Pops: some interesting guitar pop by this Vancouver band that almost has the name of a classic indiepop band (The Bomb Pops). The band is formed by Emma, Catherine, Hannah, James and Marshall and their latest release seems to be available only digitally on their Bandcamp and it is titled "So Long Ago". This is a 5 song EP and was released not too long ago, last December.
————————————————–
Original sin, also called ancestral sin, is the Christian doctrine of humanity's state of sin resulting from the fall of man, stemming from Adam and Eve's rebellion in Eden, namely the sin of disobedience in consuming from the tree of knowledge of good and evil. This condition has been characterized in many ways, ranging from something as insignificant as a slight deficiency, or a tendency toward sin yet without collective guilt, referred to as a "sin nature", to something as drastic as total depravity or automatic guilt of all humans through collective guilt.
That is definitely an interesting and a bit of an odd choice of a name for a guitar pop band. I could see a folk band with that name, or a metal band. Don't you think?
I heard of Original Sin some years ago (I think through the From a Northern Place blog) and only today I'm listening them again. Well, "listening" might be an exaggeration. I have only heard one song by them, "A Song For Robert G" which is ace. The chiming guitars and the bouncy melodies bring a smile to me. As far as I know there is only another song released by the band and has the same name, "The Original Sin". But I haven't heard that one.
These two songs were part of their one and only 7″ that was released in August 1987 on Stable Records (ST 001). On the A side there was "A Song for Robert G" and on the B side "The Original Sin". It seems it was a self-release as there are no other releases listed on this label on Discogs. The obvious question for me is who is or was Robert G? Maybe Bobby Gillespie? It would be interesting to find out!
There are no other releases listed for the band either, nor compilation appearances. To my surprise the band members are listed:
Tim Jeans – bass
B. Whitley – drums
John Kings – guitar
Charlie Leese – vocals
I don't own this record yet but someone has uploaded the back cover to Discogs. I like when that happens, I can find out some extra details about these obscure bands.  The back cover is quite strange I must say. It includes a bunch of ads. Yes, really, as if it was a magazine or something. I have never seen anything like it on an indiepop record. The back is divided in four squares. On the top part there's an ad for the Exmouth Indoor Market. Next to it there's Samantha's Exmouth, a discotheque. On the bottom we see an ad for CBI Refrigeration and next to it for Devon County Cars Mazda. Actually there is also a very tiny ad at the very bottom for Dare Farm Products. Strange right? Maybe these companies funded the recordings for the band? There is also credits for the art, for the front Catherine Seat and the back for Sean Kressinger.
There is not much more information about the band on the web, nor about the band members. They must have hailed from Exmouth, that seems quite obvious. But there is no other details to be found on the web. I wonder if anyone remembers them? If they had more recorded songs? Or maybe other releases we don't know about? If the members were involved in any other bands? Or if anyone has a spare of their 7″? I'm curious about this band, I wonder whatever happened to them.
::::::::::::::::::::::::::::::::::::::::::::::::::::::::::::::::::::::::::::::::::::::::::::::