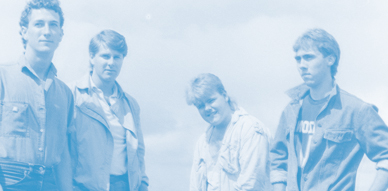 Wednesday, and we will have three posts this week, so one more on Friday. By Friday I hope to be announcing our next 7″ release! So don't miss out on that! Next week I will probably have three posts and then I'll be leaving on Friday to Madrid! Exciting! That week then, obviously there won't be any posts. But do remind me if I need to bring any records for you to Spain!
Klass II: the latest release from the always worthy Luxury Records from Sweden is the eponymous LP by Klass II. This very limited album (100 copies) will be available on March 9th and you can already pre-order it on the label's Bandcamp. So far only one song is streamable, so can't say that I like all the 9 songs. I can say though that I do like the one song that I can listen. Titled "Ifred" it is a warm fuzzy pop song with female vocals. A bit like The Primitives singing in Swedish. Or the Fizzbombs or The Charlottes.
La Casa de Emma: loving this über twee band from Chile that is named after the Field Mice's song "Emma's House". If you like The Fat Tulips or Talulah Gosh, this is for you. They even call their first song "Niño Talulah" (Talulah Boy). Yes! This DIY first tape demo has four songs, "Niño Talulah", "Rayito de Sol", "Cajita Musical" and "Los Calcetines de Erik" and is available to order from the Junko Records Bandcamp page. There is not much information here about the band, aside the lineup, Javi, Tinka, Jaime and Erik. The label seems to be based in the unlikely Temuco, a smaller town in Chile.
Blackthony Startano: a weird, very weird name, for this Peruvian band that I was introduced to by Joel from Latin American Twee. I don't even know if the band intended to make popsongs as the title of their EP on Bandcamp is "Darkwave Internacional". I suppose he wanted to make some darkwave? The thing is that the songs are jangly and has pop melodies. Strange. Or maybe it is an inside joke? There are five songs total: "Sadboy & Darkogirl", "La Religión del Halcón", "Club Social de los Fantasmas", "Reina del Subsuelo" and "Mecanismos de Defensa En las Ligas Mayores". Who are they? There is absolutely no information about the band on their page.
Family Video: I decided to check again the superb Seattle tape label Lost Sound Tapes to discover Family Video. "Long Time Listener, First Time Caller" is an 11 song album that will be released on March 16th as a limited tape (100 copies). This is the fifth album by the band from St John's, Newfoundland, in Canada. But to be honest it is the first time I ever hear their songs. The band is formed by J.King, who it is said is the creative force behind the band, Noah Bender, Jake Nicoll and Geordie Dynes. There are also links to several Youtube videos on the Bandcamp. Good stuff!
A Rainy Night In: more twee for all the tweekids. This time from Tampa, Florida. A Rainy Night In released their first EP, digitally that is, on Bandcamp on May 2017. I have only found about it today. There are 5 songs in total, "Lucidity Hop", "Candytuft", "Joyrice", "Whatever the Weather" and "Brains". One of them, "Joyride", is a cover of legendary Japanese band Flipper's Guitar. What else do we know about this DIY bedroom band? That it is a duo formed by Madison Breeze on vocals and kazoo and Nathan Heck on guitars, vocals, piano, drums, and everything else.
————————————–
Dreaming of an Australian indiepop compilation. When will it happen? I have been making imaginary lists and I have already 5 CDs worth of of bands/songs. It could happen one day. I hope it happens in the near future. I would love to do it if no one does it before.
I just added a new band to my own list of bands that should be part of these compilations: Merry Go Rhythms. I know absolutely nothing about them, but I really like this one song I have heard by them titled "Face The War". So I need to fix this situation, I need to know more about them, find any details, anything really. Hopefully, eventually, get in touch.
Merry Go Rhythms released just one single back in 1987 on their own label MGR Records (MGR 8701). This 7″ single included two songs, "Perpetual Motion" on the A side and "Face the War" on the B side. Both songs were recorded at Reel-Time-Studios in Sydney. Was the band based in Sydney as well?
I don't own this 7″ yet. I would love to get a copy.  Luckily on Discogs there are some credits listed for this record.
Andy Harris on drums
Alan Harpley on guitars and vocals
Paul Hayes on lead guitars
Gary McLaren on vocals and bass
We also know that Gary wrote all the lyrics. That Mark Tinson was the producer and engineer and the artwork was created by Fiona Webber. No compilation appearances are listed.
I check out the band members on Discogs, I can't see anything really listed aside from Merry Go Rhythms but for Gary McLaren. He was also involved with the band Silent Types who released two singles on Reaction Records between 1984 and 1985.
Then it is time to check for the band members on the web. Here there's more success. Alan Harpley has a website. I check his bio and I notice he doesn't call the band Merry Go Rhythms but MGR instead. He mentions that the single "Perpetual Motion" received radio airplay on commercial radio. He also mentions that they made more recordings, that there was a song called "Rain" that didn't get released. Other bands he had been involved were Con-Fusion, The Acoostix, Australian Played, Crawl File, Homegrown, Nitesounds, Revamp, Punked Out, GTS Duo/Pub Band and The Christina Parie Band. But here is the thing, Alan has uploaded a bunch of Merry Go Rhythms to his site! And I'm finally listening to "Perpetual Motion"!
There seems from this recording page that there were more Merry Go Rhythms EPs. The first one seems o date from 1986 and was titled "Famous Lies EP". Was this released in any form? Maybe as a tape? It had three songs: "Only the Lonely", "Famous Lies" and "See What I Can See". Another EP dates from 1988 and was called "Living on the Edge" with the songs "Let You Down", "Suffragette City" and "Living on the Edge". I wonder if this was properly released? And then I see the song "Rain" that he mentioned in his bio. It was part of an EP called "Somethings Missing EP" from 1989 that had the songs "Rain", "Perpetual Motion 1989" and "Somethings Missing". These songs were never released.
So the band was quite productive! But only one release? I would like to know what happened with these other songs!
Then I found the website for Paul Hayes. Two band members have their own websites. That is not very common! I'm in luck. Here Paul has a while section for Merry Go Rhythms. I see that he has a little jukebox and I learn a few things. "Famous Lies", "Only the Lonely" and "See What I Can See" were recorded at Accent Studios. And there is also a live song playing the song "Listen" at Promises gig. And then two songs taken from rehearsal tapes, "I Don't Know" and "Is This Love". What does Paul say about the band itself? He says that Gary and Alan were the main writers for the band but he wrote a few songs too. That they played many gigs (around 200) mainly as support act to bands like Redgum, Allniters, Jeremy Oxley (ex-Sunnyboys) and Chain. At the end David Frazer left and Andy Harris joined on drums.
There are also a bunch of press clippings where I got some interesting information. I see the band played gigs at the Oatley Hotel, at Sylvania Hotel's Promises Dance Club, Kings Head Tavern in South Hurtsville, St George Sailing Club alongside Laugh in the Dark and Hipsters, Powerhouse at Carringbah Inn with the support of Southbound Train and The Royal Hotel in Sutherland. Also I find that for their single they did a proper tour playing in so many places! The list goes like this: City Limits/Hornsby, St George Sailing Club, Caringbah Inn, Lansdown Hotel, Racecourse Hotel/Randwick, Fairfield RSL, Bankstown RSL, Royal Hotel/Sutherland, Nth Cronulla Hotel, Connections/Penrith and Iron Workers/Club W'gong.
That's a lot of details I found! I'm quite happy about this indiepop investigation! On top of it all I heard many of their recordings! There are still many questions to be answered, but this has been good work. Still missing the single, if those other EPs were released, when and why did they call it a day, what did they do afterwards, and if anyone remembers them?
::::::::::::::::::::::::::::::::::::::::::::::::::::::::::::::::::::::::::::::::::::::::::::::