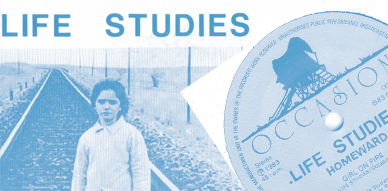 Paul Hopkins, who played with Life Studies (read about them here) just before they broke up, has kindly shared with me some songs from a practice session.
I joined the band for one gig after they'd released the single. Martyn the bass player had gone to Israel and Phil and Graham needed a bass player. I bumped into Phil on a Gloucester -bound coach at Heathrow airport and he asked me if I wanted to play – hence the practice session recording at Spadger – just myself, Phil and Graham. They formed the Trout Faced Few not long after  with some people from the Erratic Strides.
The songs were recorded on a cassette recorder as part of a practice session in preparation for a gig at the Flying Machine, Brockworth between the release of the 45  'Girl on Fire' and the demise of the band.
This is Leave Me Alone, a New Order cover.
This is Inside Out.
This is 1000 Closing Doors.